Hulu Error Codes: Ever since its release back in 2007, Hulu has been on a spectacular rise, amassing more than 20 million customers in the US alone. Hulu has become a perfect alternative to cable TV and a perfect companion for your travels with Amazon Prime and Netflix.
With additional features like Hulu Live TV which comes at a higher price, Hulu is the complete entertainment HUB. Besides offering an impressive roster of movies and on-demand content, it also has its own exclusive content called Hulu Originals. Whether you're looking for comedy, drama, action, or something else, Hulu has you covered.
With a basic subscription fee of $8 per month, Hulu offers quite a fun experience. It's all good fun until you come across some pesky errors that hinder your experience. Well, a customer has the right to get value for his money and you are no different.
Therefore, we will be looking at some Hulu error codes like Hulu error 5003, 301, 500, 400, 137, etc., and providing a step-by-step solution to get rid of them. Without further delay, let's proceed.
Hulu Error 5003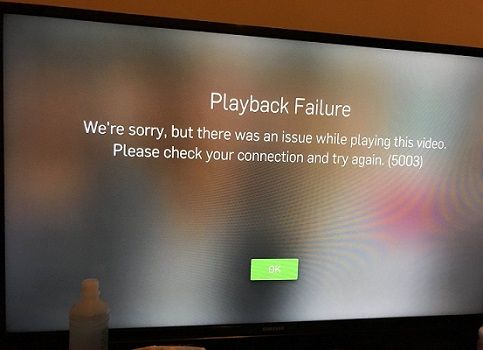 Causes of Hulu error 5003
Though Hulu is highly popular in streaming content, it is prone to throw errors similar to what we faced Netflix errors. These are unfamiliar errors even for service providers. It is not entirely your fault as there may be an issue from the service side. Or, there can be an internet connection issue.
Fix Hulu error 5003
Hulu error 5003 pops up and asks you to check your internet connection. We can confirm that reinstalling Hulu will not solve the issue. Therefore, follow the multiple solutions provided below.
Solution 1: Reset the device
Switch off your device.
Now, turn off your router.
Wait for 2 minutes.
Power on your device and the router.
Launch the app and try loading content.
Solution 2: Troubleshoot Hulu error 5003
This method is beneficial if you are using Apple TV or PlayStation 4.
Check your internet connection status.
Ensure that your devices are updated to the latest version.
Disconnect other devices if any.
Forcibly quit Hulu and see if the error persists.
Finally, restart your devices and launch Hulu.
Solution 3: Contact the service provider
If nothing else seems to work, you need to contact either Hulu or the service manufacturers like Sony and Apple. Mentioning service provider over Twitter will be a really good idea as well. Only try this as a final resort.
Hulu Error 500
Hulu error 500 is a very common issue and there is no specific fix for this problem. This error occurs due to a problem on behalf of the server like the case of server overload. Well, this is a temporary issue.
You will get messages as follows:
There was an error on this page
Sorry – We've encountered an unexpected error
Solution 1: Troubleshoot Hulu error 500
Reload the web page by clicking the refresh/reload button or by pressing F5 or Ctrl + R buttons. You can also try hard reloading the web page by pressing Ctrl+Shift+R.
Try clearing your browser's cache.
Delete the cookies associated with the Hulu website.
Try again later. Although it sounds weird, visiting the website later might solve this issue. Especially, if the website server is overloaded.
Solution 2: Check your internet connection
You should try using a different web browser, or a computer as well. Testing your internet connection is another good idea.
Visit any internet speed testing website. speedof.me is a good choice.
Close down all the other apps you are using.
Now, follow the on-screen instructions and you will obtain your Download and Upload speed.
If the speed is abnormally low, then there is something wrong with your internet connection and that is the root of the Hulu error 500. You can directly contact your ISP and ask for the solution to a slow internet connection.
Hulu Error 301
If you keep getting Hulu error 301, then the best bet is to use a different browser or clear the cache. Clearing the cache is different for all browsers.
Google Chrome
In the top right corner, click on the three vertical dots(settings).
Next, select the More tools option.
Tap on the Clear browsing data option.
Select a time range. To clear everything, choose All time.
Tick on the boxes for Cookies and other site data like cache, images, etc that you need to remove.
Finally, click the Clear data option.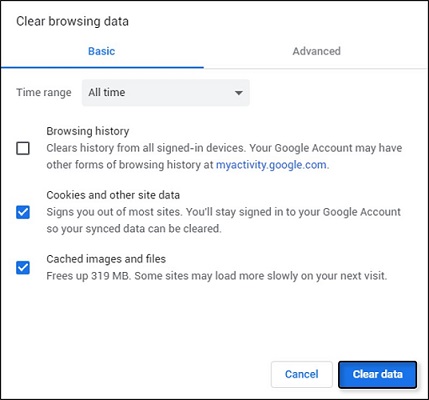 Mozilla Firefox
Select the Firefox menu in the upper right corner.
Choose the History option.
Next, tap on the Clear Recent History option.
From the drop-down box, set the Time Range as everything. (This will clear all the cache)
Tick on the box adjacent to Cache, (you can choose to select other options as well).
Tap on the Clear option
Finally, restart the browser.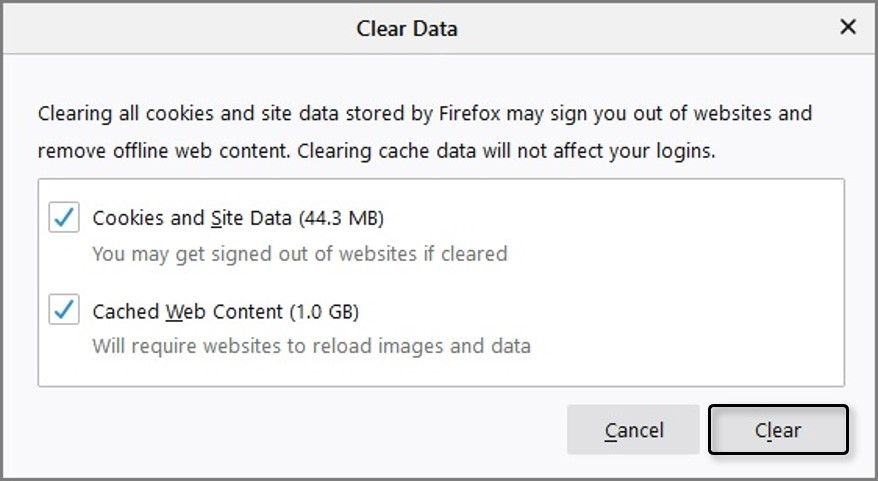 For clearing the cookies on Microsoft Edge and Internet Explorer, we've already provided the stepwise guide here: YouTube 500 Internal Server error.
Solution 2: Change DNS settings
Changing DNS is the ultimate solution while fixing almost any kind of error in streaming services. And Hulu error 301 can also be fixed by changing the DNS. The following guide will help you in doing so.
Google Chrome
First, you need to right-click on Windows Logo and choose the Network Connections option.
Next, you should select the Internet Connection that is currently being used and choose the properties option.
Out of the list of options available, locate and select Internet Protocol Version 4 (TCP/IPv4) and then tap on the Properties button situated at the bottom right section.
A new window will open. Tick the Use the following DNS server addresses option and then enter the given DNS settings in it. In the Preferred DNS Server type 8.8.8.8 and for the Alternate DNS Server use 8.8.4.4.
Finally, click the OK button to save the changes.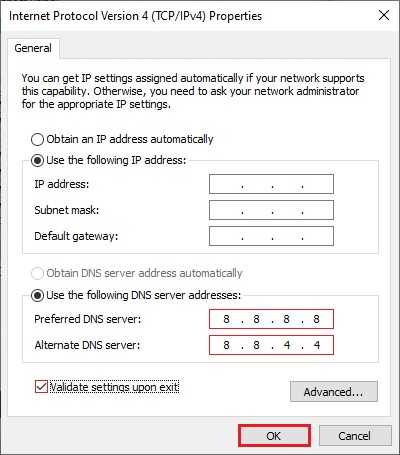 PlayStation
You will be pretty aware of changing DNS in various web browsers. But you may need to be guided to do the same in different game consoles including Xbox or PlayStation. Here's how to do it.
Navigate to Menu > Settings > Network on your PlayStation.
Out of a bunch of questions, you need to choose Setup Internet connection.
Select WiFi/LAN and enter into the Custom setting of the same. (Choose WiFi or LAN based on your internet source.)
Click on Automatic settings of IP Address and DHCP.
Navigate to Manual > DNS Settings > Primary DNS and fill 8.8.8.8 there.
Navigate to Manual > DNS Settings > Secondary DNS and fill 8.8.4.4 there.
Xbox
Using your controller, navigate to Settings > Network > Network Settings.
Search for Advanced Settings out of which you need to choose DNS Settings.
Choose Manual and set the Primary address to 8.8.8.8.
Withing the same navigation, set your Secondary address to 8.8.4.4.
Hit enter and you're done.
Solution 3: Perform off-test on equipment
This is also known as the power cycling of devices you're using to surf the video content. This is another most adopted method for fixing Hulu error 301.
Switch off the device(PC, TV, Xbox, PlayStation) you are surfing video streaming from.
Pull off the power cable from a plug. Press the power button of the consoles for a while. (20-30 seconds will do the thing.)
Plugin your device and turn it on.
Similarly, reset your router as well.
Launch the app and see if it's gone.
Hulu Playback Failure Error

Well, in most cases, this error is not a consumer's fault. The server is not responding to the video you're playing is the cause. As a result, the delay makes the server key gets expire and you are left with a pop-up saying Hulu playback failure.
As mentioned earlier, you are not responsible for the issue and hence you can't do much for fixing the Hulu playback failure error. Once you report, the team will diagnose and fix the issue themselves. But you won't sit tight till it gets fixed automatically, would you? That's why here are some fixes you can attempt to get rid of it.
Solution: Troubleshoot Hulu Playback Failure
Check your internet connection because you need to feed a faster internet connection to such a video streaming service to expect a smooth experience.
Power cycling is another troubleshooting method to fix the issue. If you don't know about power cycling, refer to our guide to fix Hulu error 301.
Clear the cache of the browser you're using. This is the most superficial attempt but it contains the potential to fix your trouble. You can check how to clear the cache from the above guide.
Disconnect all devices connected to your internet router. Connect the streaming device only and check if the error is still there. Placing your router closer to a streaming device is another good idea.
Domain Name Server (DNS) change can also be performed to entirely solve Hulu playback failure error. We have already provided the guide for changing DNS for PC, TV, Xbox, and PS. Check it out.
Solutions provided for Hulu error 5003 can also be applied here. If it is still showing the same, tweet them on Twitter about the issue.
Hulu Loading Error
If you are stuck on the welcome screen or receive an error message saying that "Hulu was unable to start. Please exit and try again" then follow the steps below.
Close Hulu and all the other apps running in the background. Now, wait for a few minutes and start Hulu again.
Switch off the modem and router for a few minutes and power them back on.
Remove all the cache from the Device settings.
Make sure that the app is updated to the latest version.
Check your Internet Connection for any issues and try adjusting the position of the modem.
If nothing seems to work, remove and install Hulu again.
Hulu Connection Error
If you get this error along with the message saying that "Your network disconnected during playback. Please check your internet connection and try again." then you should note that the problem is not with Hulu, but with your internet. What you need to do is-
Visit the website of your ISP.
Check your internet connection bandwidth.
Now go to an online speed testing website and run a test, and see if the speeds match.
If the test speeds do not correspond with what your ISP is saying, then you need to contact your ISP provider.
Even a difference in speed of 4 Mbps could cause connection errors like Hulu Error code: 5005.
Too Many Videos Error
There are three different scenarios in which you might get the 'too many videos' error.
When trying to stream on more than one screen using a Hulu subscription.
When streaming from three outdoor mobile devices using Live TV with unlimited screen add-on.
When trying to stream premium content from more than five screens using Live TV and premium and unlimited screen add-ons.
If you don't fall into any of the above categories then follow the steps below.
Go to your account and review the activated devices. Remove any device that you are not using or outdated.
Sign out of other devices.
Try altering your password.
Wrapping up,
Hulu is the most popular streaming service after Netflix. But digital platforms are prone to throw errors as there's a complex network behind them. But those Hulu error codes can be easily fixed using the above-mentioned solutions.
Many users have reported Hulu error 94 interrupting the streaming. Well, there's not any solution available as the team is currently working on the same. In the end, if you are still facing any kind of error and are not able to fix it, let us know via the comment section.