Hello Folks, If you are a singer then you must know about karaoke apps like Starmaker, Smule or Sargam. If we want to share our cover songs then people on those apps can easily listen to them. But how to share cover songs on Instagram, Facebook, Twitter or WhatsApp? For that, another question arises, how to download cover songs from karaoke apps like Starmaker, Smule or Sargam?
Where there is a will, there is a way. We've already shared a method to download Starmaker songs and it's working like a charm. More than 90% of our work for the Sargam app is finished here. Because Sargam is an upgraded version of the Starmaker app. And there are numerous downloaders available for the Smule app. So, just Google it and find.
What is Sargam App?
As I mentioned earlier, Sargam is a karaoke app. You can sing your favorite songs with this app. Not only that, you can share your covers with the community of more than 50M users. Yes, you heard it right. As Sargam is an upgraded version of Starmaker, all entries in Starmaker is reflected in Sargam and vice versa. I hope now you got the point.
In Sargam, you can post content other than music. That means you can post status, videos, photos, gifs, etc. on your Sargam profile. You can't do these stuff in Starmaker. That's why people like this new karaoke app.
Sargam App Features
I am mentioning some of the features of this cool karaoke app. So that you can better understand the sargam app and sing with ease. Find out Sargam app features below:
Easy to sing with lyrics facility.
Record your cover song and edit with some special effects.
You can change the pitch as per your voice to make your cover awesome.
Beauty filters will make you look cool.
Audio effects like autotune, hall, party, warm, etc. will change your sound like you never imagined.
Different singing experiences like Take The Mic, Vocal Talents and Sing Party.
You can collab with your favorite artist and friends.
Chat with your singer friends.
Take part in various daily, weekly or monthly competitions and win amazing prizes.
Powerful AI technology suggests new content for you based on your tastes and style!
This karaoke app has many other features but you will know as soon as you use it again and again. So, if you haven't downloaded it then install it in your device right now. But the purpose of this article is to help you download Sargam covers. So you can share them with your friends on WhatsApp, Instagram, Facebook or YouTube. So, let's go to that part without wasting time.
How To Download Songs from Sargam App?
If you know our method to download Starmaker songs, let me tell you that it's the same method. Yes, you can follow that method to download Sargam songs. Ohh! Now you won't read below part. It's okay.
But those who don't know how to download songs from Starmaker can follow the below steps to download songs from Sargam. Confused between Starmaker and Sargam? Who cares? Both are like twins.
Open Sargam app in your Android mobile.
Choose and open the Sargam cover you want to download.
Now tap on ➦ Share icon given at the bottom panel.
There will be a number of options to share the Sargam song, such as Whatsapp, Facebook, Twitter, Messages, Email, etc. which includes Repost, Chat and Copy Link.
Tap on Copy Link to copy the Sargam recording link to your clipboard.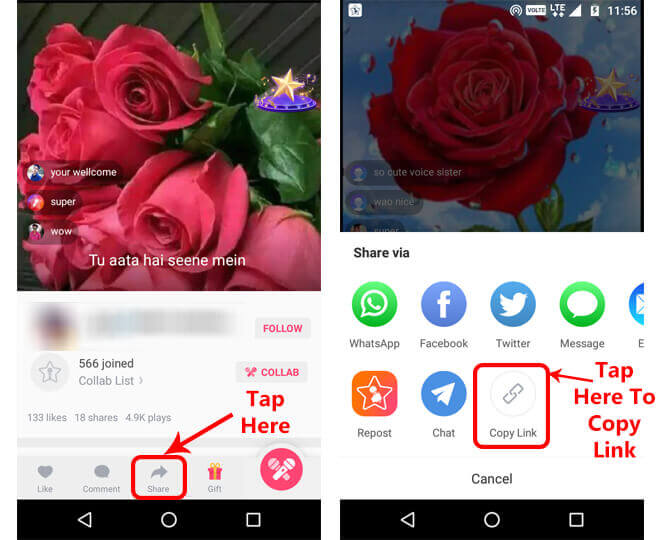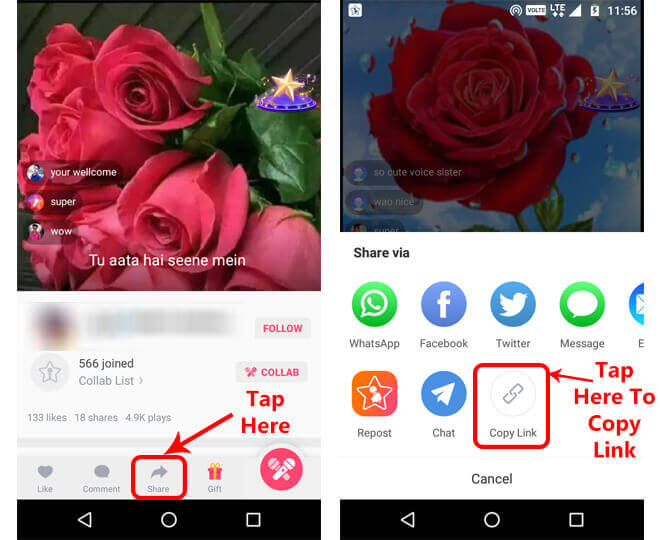 Now, open any browser on your Android device and go to Sargam Downloader.
Paste the Sargam cover link in the text box given there.
Now tap on the Submit button and their system will fetch the Sargam song.
If you want to see the preview of that Sargam recording before downloading then you can do it.
After confirmation, tap the Download button to download Sargam cover song.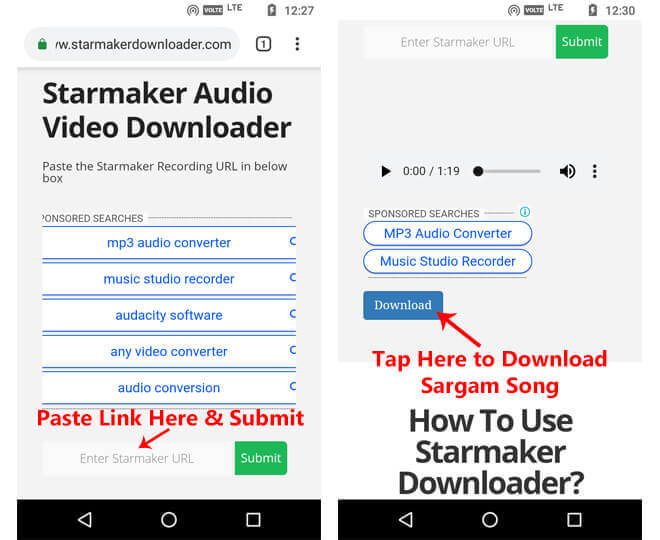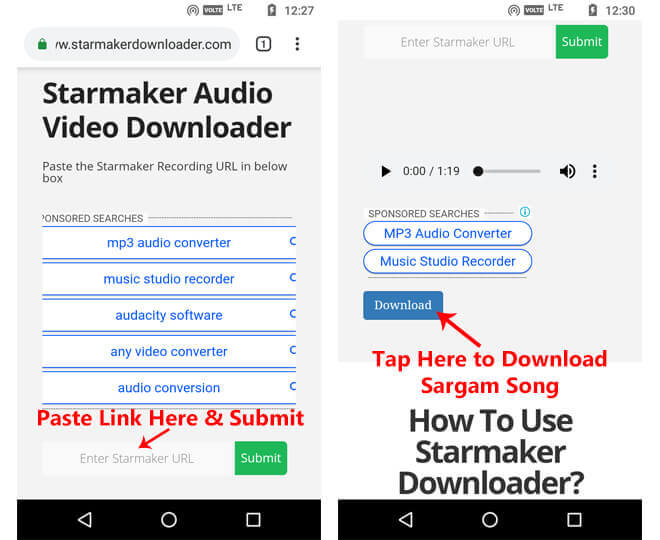 Your Sargam cover song will start downloading on your mobile.
You can find the Sargam song in your Download folder.
Tadah! You have successfully downloaded Sargam song in your device.
Note: After clicking on the Download button, if downloading doesn't start then tap on ⋮ and then press ⤓ Download.
In the above example, I have taken the Sargam audio cover. Similarly, it will work for the Sargam video cover. So now you can play that Sargam song on your smartphone. You can also upload it on YouTube, Facebook, Instagram, Twitter, etc. social media platforms. And of course, you can send it to your friends via WhatsApp, WeChat, Telegram, Viber, Line, Messenger, etc.
This is how you can download sargam song by a recording link. It's a very easy method to save sargam song. Right? Then do a favor to share this method with your friends. If you're having any trouble downloading sargam cover songs then let us know by commenting below. We will try to solve it as soon as possible.