Hello Folks, Are you using Starmaker app? Are you singing songs on Starmaker app? Want to Download Songs from Starmaker App? Finding ways to Download Starmaker Songs to your mobile or PC? Then don't worry. We are here to help you to save Starmaker songs on your android, ios or pc devices. Readout further to know more about it.
What is Starmaker App?
First of all, If you don't know what is Starmaker app then we will talk about it. Starmaker is a free karaoke app that lets you sing your own cover of top songs. Yes, You can sing your favorite karaoke songs like the star available on the Starmaker app. Your song will be recorded while singing and your cover will be made at the end of the song. So, After making a cover, you can share it on your social media profiles like Facebook, Twitter, Google+, Instagram, etc and can get great views with likes and comments.
Now you are thinking that what's new in the app right? Yes, It has many features which we can't find in other karaoke apps. So, Lookout some of the good features given below.
Starmaker App Features
We are putting some of the features of Starmaker app. So, You can use these functions to make your singing experience better than ever. Checkout Starmaker Features given below:
Collab with your friends and favorite artists.
Record song and edit your karaoke songs with a large selection of special effects!
Beauty filters enable you to change the way the world sees you.
New functions like "Chorus" allow for flexible recordings; only sing the best part of your best karaoke songs now!
Vocal & pitch guide help you to improve your performance.
The Cutting-edge voice enhancement technology captures your voice with the best quality sound while you sing your favorite karaoke songs!
Multiple voice effects will change your sound the way you never imagined.
Make new friends through the power of music! Follow other amazing and talented artists! Hear the voice of different covers!
Powerful recommendation engine suggests new content for you based on your tastes and style!
After reading these awesome features of Starmaker app, I am sure if you are not using it till now then you will surely Install Starmaker app on your smartphone and will sing your favorite songs. But how to save it to your device? That's our main goal and we are going to share that part now.
How To Download Songs from Starmaker App?
What if you liked someone's cover on Starmaker and want to download it on your mobile or pc. Ohh!, we forgot that you can't download even your own covers from the Starmaker app. Well, we are here to help you in downloading covers from Starmaker app very easily. You can say it acts like starmaker song downloader. We have given 2 methods below to download starmaker songs in Android/ iOS or PC.
How To Download Starmaker Songs in Mobile (Android/iOS)?
If are using Starmaker application on Android or iOS smartphone and want to download your favorite covers then it's quite easy. Follow the below steps to Download Starmaker Covers:
Open Starmaker app on your Android/ iOS device.
Choose & open the cover song you want to download.
Now tap on ••• icon at the top right corner of the app.
You can see many share options there like Starmaker, Facebook, Instagram, Messenger, Twitter, Email, Copy Link, etc.
Tap on Copy Link to copy the Starmaker recording link to your clipboard.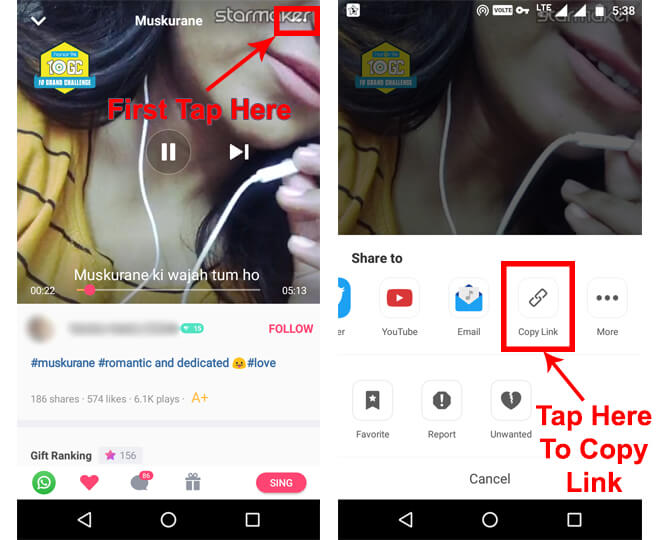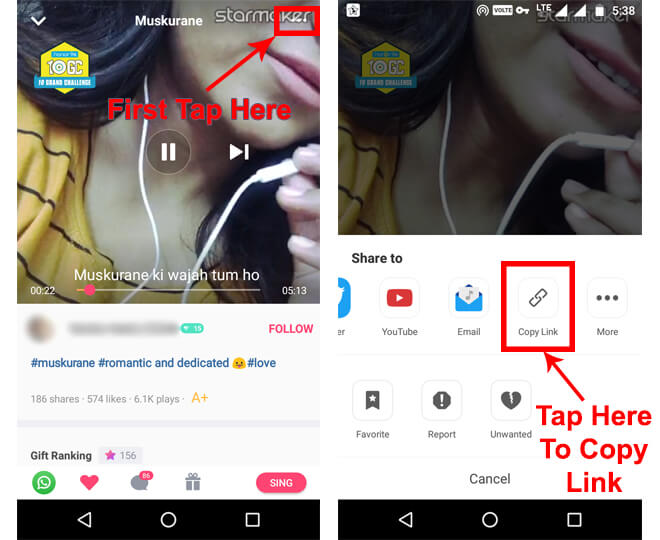 Open any browser on your smartphone and open Starmaker Downloader.
Paste the Starmaker recording link in the text box where written as "Enter Starmaker URL".
Now tap on the Submit button and it will find the Starmaker Song.
You can see the preview of your Starmaker Audio or Video there to confirm it's the same recording you want or not. You can play it there too.
Just below that, you can see the Download button.
Tap on the Download button to download Starmaker cover song.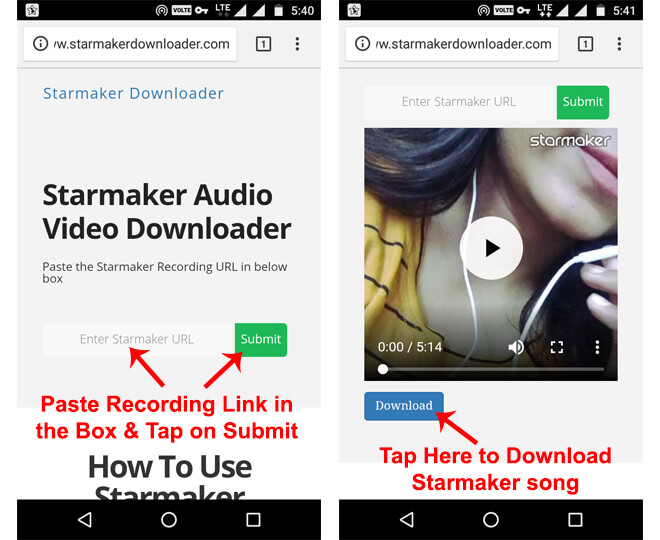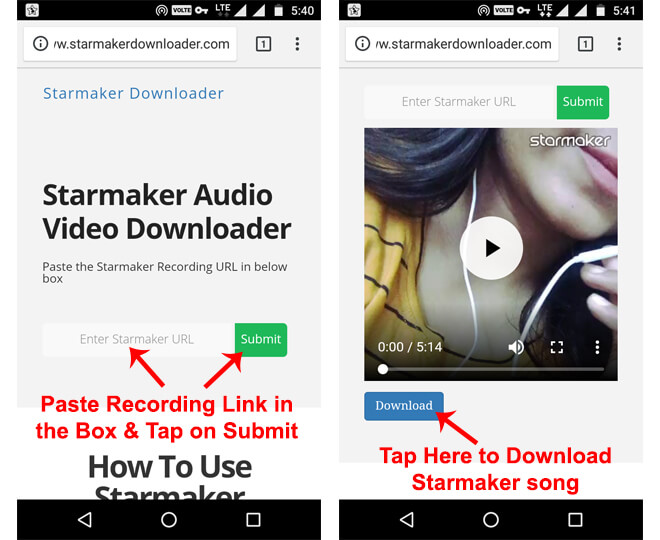 You can see that your Starmaker song is downloading on your device.
You can locate the Starmaker song at Internal Memory -> Download.
That's it! You have successfully downloaded your favorite Starmaker song.
Note: After clicking on the Download button, if downloading doesn't start then tap on ⋮ and then press ⤓ Download.
Now, You can play that cover song whenever you want to play on your smartphone. You can also download starmaker audio. Moreover, you can share that Starmaker song to your friends via Whatsapp, Facebook, Twitter, Instagram, Youtube, Google+, etc.
How To Download Starmaker Songs in PC/Laptop?
If you want to save Starmaker songs in PC or Laptop then we have a solution for that too. To download Starmaker song in PC or Laptop, follow the below steps:
If you are using Starmaker app on PC or Laptop via Android emulator then you can follow the same steps given above. I mean you can Save Starmaker Songs in your PC or Laptop with the same method of downloading it to the smartphone.
If you are not using Android emulator on your PC then you can Download Starmaker Audio on your smartphone and transfer it to your PC or Laptop via Cable, Bluetooth or Wifi.
If you want to download Starmaker song directly to your PC or Laptop then follow the same steps given above till copy recording link.
Open any browser on your PC or Laptop and open Starmaker Audio Video Downloader.
Paste the recording link in the box "Enter Starmaker URL" and click on Submit button.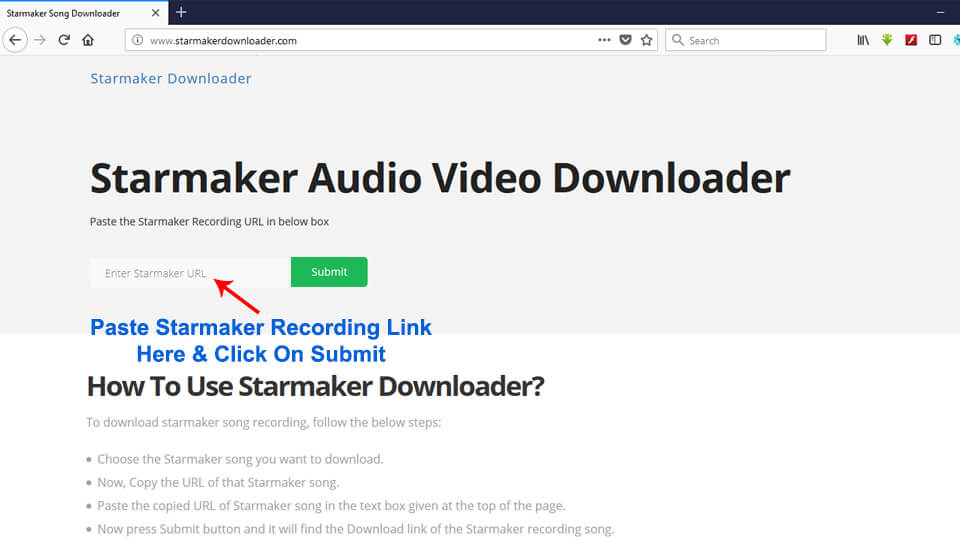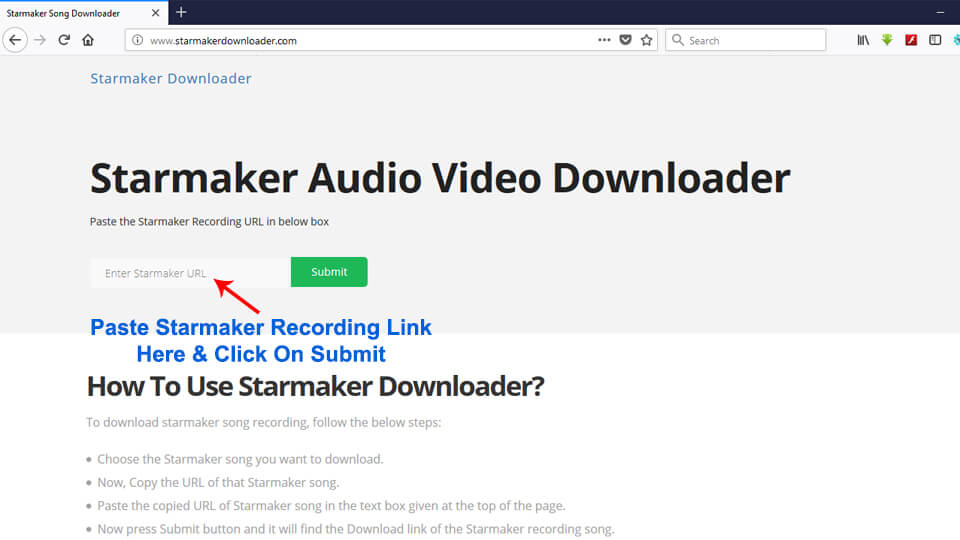 You can see that after processing, the play view of the Starmaker Video or Audio on the display. You can play video or audio of Starmaker on the browser.
There will be a Download button just after that.
Click on the Download button to download Starmaker Audio Video Song on your PC.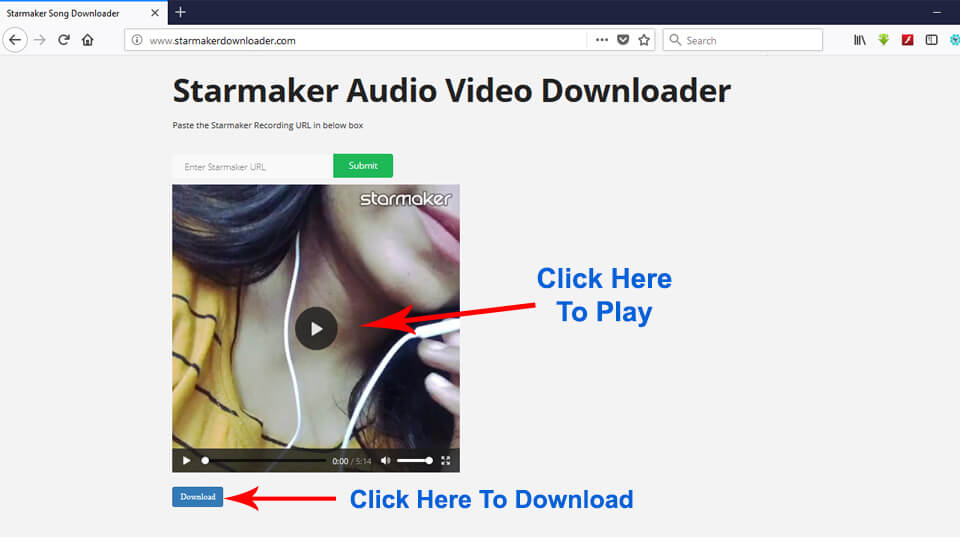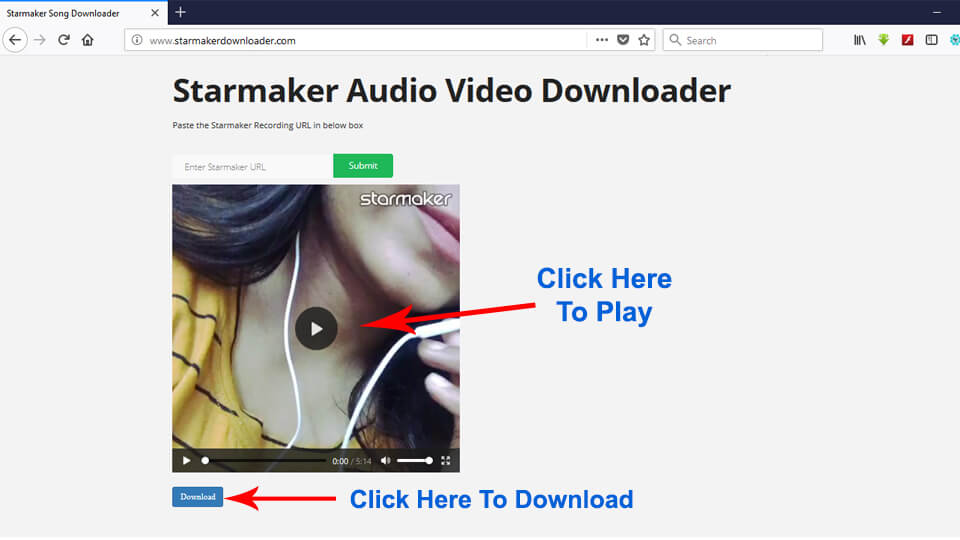 Voila! You have successfully Downloaded Starmaker Song in your PC. Now you can listen to it whenever you want or can share it with your friends on Whatsapp, Facebook, Twitter or Instagram.
So basically you can download starmaker song by link. If you liked our tutorial to download a recorded song from Starmaker then share it with your friends. If you have any doubt or query then comment below. We will respond to you as soon as possible.