Hii Guys, All of the looking for Search Optimization and How to increase traffic on  our website. Here I share some Plugins for WordPress SEO Related. which I Guaranteed to you increase your traffic in WordPress website. So, Install Today all of These Plugins to make your Search Engine Optimization is Better.Best Way to optimize In WordPress By Using this Plugin It is Best Way to Get Organic Traffic in Your Site and Get High Ranking on Google.
Search engine optimization
Search engine optimization, the process of affecting the visibility of a website or a web page in a search engine's unpaid results.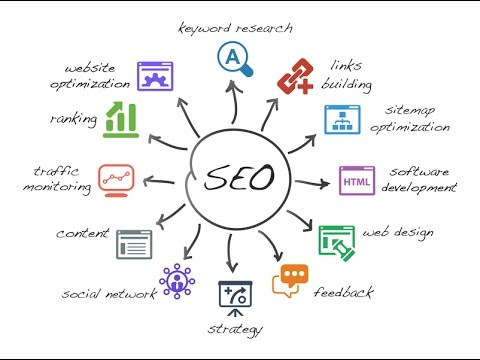 [ ATTRIBUTE: Please check: http://www.flickr.com/photos/128824260@N02/26023397741 to find out how to attribute this image ]
For WordPress Search Engine Optimization, You need to install this some of the plugins and make WordPress Search Engine Optimization Better with Google High Ranking Also. For Best Ranking on google, you need to taking care of some things like Webmaster Tools, Google Analytics & More Websites which Provide tools related Search Engine. Here I share Best SEO Related Plugins which is Help Related Ranking Higher on Google.
Yoast WordPress SEO Plugin:
WordPress SEO Yoast is a free plugin for SEO Optimization and It's also Ranking Higher on Google It Has A Dashing Future to Optimize Search Engine Ranking in WordPress Sites. Yoast Plugin is also Available in Free and Paid Version.It has Snippet Preview for How your Site Look in Google Search and Also Choose a Better Keyword and Keyword Indicator Which says your Keyword is Better or Not.
If You are using other SEO Plugins Then Try to migrate with Yoast plugins It is better than other if you can't like Yoast then there I share another plugin Which you like most I think Because My experience says that many users find Alternatives Of Yoast Plugins. Yoast Plugin Provides
Visual Feedback
Setting Up Your Focus Keyword
On Page Optimization of Every Post and Page
Create Sitemap
Create Meta Tags
Download Yoast WordPress SEO Plugin By Click Here
All In One SEO Plugin
AIOS is Better Plugin To Optimize your Search Engine From Beginning Level.It is available in both Free and Premium Version. It is The most downloaded plugin for WordPress (almost 30 million downloads). Use All in One SEO Pack to automatically optimize your site for Search Engines.

XML Sitemap support – submit your sitemap to Google and Bing and improve your SEO
Google Analytics support
Support for SEO on Custom Post Types
Advanced Canonical URLs
Fine tune Page Navigational Links
Built-in API so other plugins/themes can access and extend functionality
ONLY free plugin to provide SEO Integration for e-Commerce sites, including WooCommerce and Many More
SEO by SQUIRRLY™ Plugin
SEO Plugin By Squirrly is for the NON-SEO experts. Get Excellent Seo with Better Content, Ranking, and Analytics. For Both Humans and Search Bots. which person does not know SEO Perfectly or a Beginner I aways prefers Squirrly Plugin It's Always Better than Other If you want to Migrate SEO plugin then I prefer Squirrly and The TRICKSNTECH also Refer Squirrly Plugin to Getting More Visitor.
Gives You SEO Advice as you're typing your articles
Finds you Keywords and Topics that your Customers actively search
Optimized articles get +285% traffic
It Gives You Professional Advice on How To Fix
analyze any single article. See how it improves over time.
Optimize Your Content for Humans and Much More.
Offer On Squirrly Plugin:
Download and Install Squirrly Plugin and Get 1 Month Free Premium Subscription when You Give Ratting 5 Star on Plugin Page. 1 Month Subscription Price of Squirrly Plugin is $19.
Download SEO By Squirrly Plugin By Click Here
SEO Pressor Plugin
Many Reviews and More Feedback heard about SEO Pressor Plugin so, Here I put this plugin on my List.SEOPressor gives you maximum SEO clarity on your WordPress sites with a host of customization & optimization features designed for controlling SEO with ease.SEOPressor gathers an essential SEO intelligence of your website and presents them in one place.You can gain important insights into your website's SEO health with crystal clear clarity.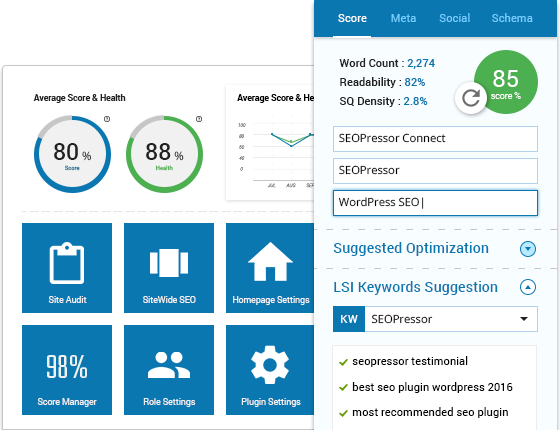 Multiple Keywords Analysis
Over Optimization Check
Progressive LSI Keywords Engine
SemantiQ Density Analysis
Site-wide SEO Audit
Score Manager
SEO Trends
Seo Pressor Plugin Premium Version at 9$/Month. It id The Disadvantage of SEO Pressor Plugin Because It is Only Available in Premium Version Not For Free 🙁
More Plugins List I Frequently Update here for any Other Query Just Comment Here.