IMVU is a cool platform where global community members can play amazing 3D, VR-based games while making private chatrooms by making friends with custom 3D avatars. People are quite attracted to the platform and freedom it provides live the virtual life using a customized stylish avatar. However, after getting bored with the same, you may require to delete IMVU account.
If you ever feel like you have had enough and want to delete your account, there are plenty of ways to do it. You are gonna find multiple ways to delete the same. So, let's start.
How to Delete IMVU Account Easily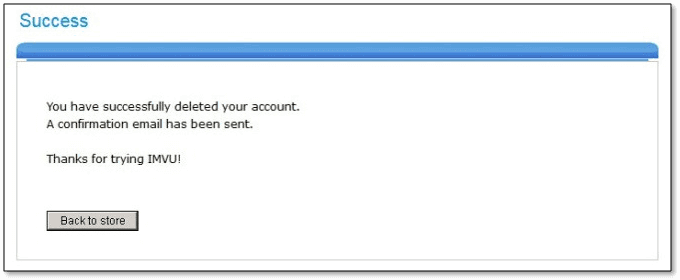 Method 1: Delete IMVU account through Settings
This is probably the most simple and most straight forward way to get rid of your account. Though it might have quite a few many steps, it is really is a simple procedure. This is how you do the process:
So go to IMVU's official website.

On the top-right corner of the page, you will see the

login

button. Click it. 

The next page will let you access your account. But you have to type in your

email

and

password

in the designated area. 

After you are done, choose the

Login

option.

Now, we can start deleting the account. Select the

Account Settings

tab.

In that tab, look for the

Delete Account

page and then open it.

Now, you will be asked to type in your password. 

After you are done with that choose the

Continue

option.

You will next be treated with a screen confirming the delete. 

If you choose the

Back to store

option, you will go to IMVU's store. But you won't be able to access your account any longer. This is because your account has been deleted forever.
Method 2: Deleting your account through an Email
Taking things down officially is somewhat of a trend these days. And there is no easier way to do that than through emails. Companies have taken a liking to this method as well. 
A word of advice though. This method to delete IMVU account may not work on devices with new accounts because of some compatibility issues. But accounts that are 2-3 years old are good to go.
Get to the login page of Google or any other account that you use.

Type in the password and other necessary details. Now click on the login button.
You are now going to write an email to the folks at IMVU. So, explain all the reasons why you want to delete your account.

But before sending the email, you will need the receiver's email ID. For that copy IMVU email address from their website.

You can then paste it where you need it. 
Send the email once you are done with the contents and subject.
Wait for the confirmation that your message has been sent.
You will receive a confirmation email from the people at IMVU probably after a couple of hours. 

Give then the details of your account that they enquire for and you are done.
Method 3: Deleting your account through a Phone Call
Well, nothing gets easier than calling the company and telling them to delete IMVU account. This method is favored by many people because it is similar to many other customer care stuff that deals with every day. None the less, it will get your issue fixed.
Go to IMVU's official website. 
Just like before log in to your account by providing your email address and password.

This time around, get to the

Help and Support

page of the account.

You will see a Customer care number somewhere down there. 
Note down the number.
Call the number and follow the instructions to get in line with a customer care member.

They will enquire about some of the account details that they might need to delete your account. Provide them with it and that's it.
Method 4: Cancelling your Subscription
In this method, you are not really deleting your account but canceling your subscription. But no one will know that you were behind the account and you won't be able to log in to your account ever again.
Go to the IMVU website.

Click on the

login

button at the top-right corner of the screen.

Just like you did before, enter the necessary details to log in to your account.

Choose the

Account

option.

Scroll down to look for

Manage Subscriptions

.

In it, choose the

Cancel

option to cancel your subscription.
Method 5: Deleting your account on your Phone
This method is very similar to the first method in this list except that you do it on a phone. IMVU does have a mobile application but you won't be able to delete your account using it. So you are gonna have to use a browser on your phone to delete your account. 
As I said, the procedure is as same as that of the first method. So I'm not going to spell it out for you. Just follow those steps.
Conclusion
IMVU is a very exciting site to use and explore. But if you ever get sick of it and want to get rid of it for good, you can always delete IMVU account. The article shows you how to do it with ease. Let us know if you are unable to delete the same after following above methods.