By 2020 your audience will base their brand loyalty on customer experience, leaving today's key differentiators like price or product far behind. Profitability will be driven by customer experience and there are a lot of research-based statistics to back-up this claim.
According to Survey Monkey, 78% of customers have stated that sub-par customer service experience makes them lose trust in a brand, another survey by Zendesk shows that 95% of your customers will share their bad customer experience and 85% – the good. Brands need to keep up with customer demands and expectations, or they will take their business elsewhere.

A great way to connect with customers in order to gain their loyalty is by embracing digital signage. DS signage helps brands to build a personal connection, deliver beautiful interactive content, entertains, informs. Scroll down for the top 10 digital signage widgets with the power to help you effectively engage your customers.
10 Best Digital Signage Widgets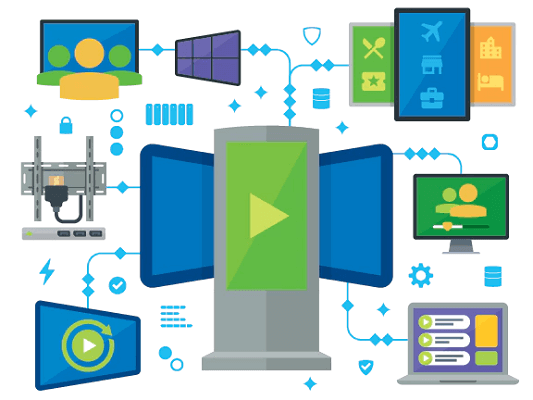 #1 Clock Widget
Clock widget is one of the most popular ones and it is offered by almost every digital signage software company. They come in different forms and colors; usually, the background is customizable.
It is a rather simple though very customer oriented tool. Consumers express appreciation for a well-placed easy to see the clock. Sometimes clock widgets are also designed to display date, month and year.
#2 Calendar Widget
Also very popular, though companies have a very different approach to the calendar widget. Usually, calendars are simple enough: standard calendar widget will let you display date and time and some offer font, color and size customization so text matches your brand.
Though, there are those who go the extra mile with their calendar widgets. For example, professional digital signage software company Kitcast TV offers an amazing Google Calendar widget: you can easily keep your team updated and on the track by delivering and displaying events on your displays, share any events you have scheduled on your Google Calendar.
Keeping your team informed and updated significantly betters customer experience. For the big stores that have product launches, special sales and events coming up on a daily basis a digital signage calendar widget is a lifesaver. (for more info check out https://kitcast.tv).
#3 Weather Forecast Widget
A very helpful widget and one of the easiest ways to engage your customers with desired information. The weather widget is usually designed to be noticeable occupying as little space as possible. You can show the current weather report rotating it with weather conditions, and a forecast for the next couple of days (3 to 5 days).
Most widgets can be combined with weather maps and the choice to switch to a weather forecast to any city.
#4 News Feed Widget
Up-to-date headlines and/or a concise overview of the latest news are always a good idea for customer engagement. It is a great way to keep your customers informed and make the waiting time much less annoying.
Newsfeed widget apps can be categorized to better suit your customers, you can choose the US or international news, business, sports or entertainment. This is indeed one of the best digital signage widgets out there.
# 5 TripAdvisor Widget
An effective strategy for customer engagement is Kitcast TripAdvisor widget for displaying reviews and star ratings. Accumulating and sharing customer reviews and star ratings will help you boost brand awareness and build trust towards your brand, as customers always favor other customers experience over information presented by brand.
TripAdvisor widget will give your client the social proof they need to make an informed shopping decision.
#6 Social Media Widgets: Twitter, Instagram, Facebook, YouTube
Social media widgets are another highly effective way to connect with your customers. These must-have widgets will help you create playlists of YouTube videos, display your client's tweets, you can also share your Instagram or Facebook feed so your customers have a chance to get to know your brand better.
#7 Quotes Widget
There are many ways to gain motivation and keep going, quotes widget is a great way to effectively deliver a daily dose of great motivational quotes right on your displays. Search for a great Quotes widget to keep your clients engaged, inspired and motivated.
#8 RSS Widget
The RSS widget will help you to keep your content hot off the press and continuously changing. With RSS widget you can either create your customized scrolling text or just display the RSS feed. If you're really looking for customer growth, digital signage widgets like RSS should be your permanent choice.

#9 Match Score Widget 
Here's an example of how to effectively entertain and engage your customers. Match score widgets help you to display real-time information on the game. With this widget, you will be providing your client a chance to follow their favorite team even on-the-go. You will literally glue the fans to your displays during the big game.
#10 QR codes widgets
QR code widgets will help you to make your digital signage interactive without needing a touchscreen. They are a great way for your customers to interact with your content. You can help your customers to assess your website, offer them to download information (event announcements, coupons, and menus), etc. 

Conclusion:
We just concluded the best digital signage widgets that can really grow your userbase. Engaging with more customers can be the only aim of any business. And, one is running an online business whether it is selling of service or product, such digital signage widgets come handy. Experiment them and observe the result.