Today's generation is using YouTube as a daily habit just like taking a cup of coffee. From small kids to aged persons, all are watching videos on YouTube. Some people watch YouTube video for study, while some people watch YouTube videos for entertainment. Since YouTube is the second largest search engine after Google, you will find almost every kind of video on YouTube. But, how can you benefit from YouTube? Well, if you are a Youtuber then you know it better. But you should always keep yourself updated with the things around you. So, Let's talk about latest feature of YouTube – YouTube Premieres.
What is YouTube Premieres?
YouTube premieres is a feature that lets you (creator) and your viewers watch and experience your new video together. You will think that what's new in this thing, right? Let me explain it more in depth. It's like a movie or TV show premiere where actors, directors, producers and other peoples watch the movie or TV show together. Got some idea about it?
Have you ever done YouTube live streaming? If yes then it will be easy to understand for you. YouTube premiere is same like live streaming but here we upload our video before and then enjoy it with the audience. In the live streaming, either you are doing live with the camera or you are streaming game screen, movie trailer, or other things. You have to take care of both things, live streaming and interaction with the audience in YouTube live video. But in the YouTube premiere, you don't have to worry about live streaming. YouTube will take care of streaming your video. You can enjoy YouTube premiere with your fans and interact easily.
In fact, you are creating an illusion that you are streaming live but in reality you are not streaming live as you have uploaded the video earlier and sheduled that. Now, I hope you have understand what is YouTube premiere. So, Let's move forward to use YouTube premieres feature.
How to use YouTube Premieres?
At earlier stage, YouTube premieres feature was limited to some users and country. But now it's opened up to all users around the world. So, Any YouTube creator can use this feature now. Let's see how you can use YouTube Premiere.
How To Premiere a YouTube Video?
Open YouTube on your Desktop or Laptop browser and sign in to your account.
Click on Upload at the top right corner of the page.
Select Scheduled from the dropdown.
Note: If you will select Public then after the video is done uploading, the premiere will start immediately. So, Be careful while selecting it. Also note that Unlisted videos cannot be premiered.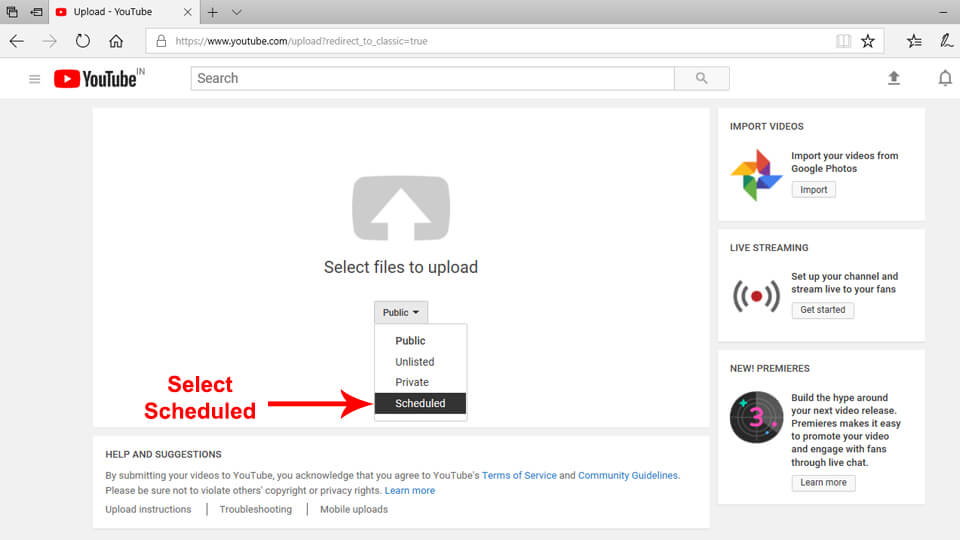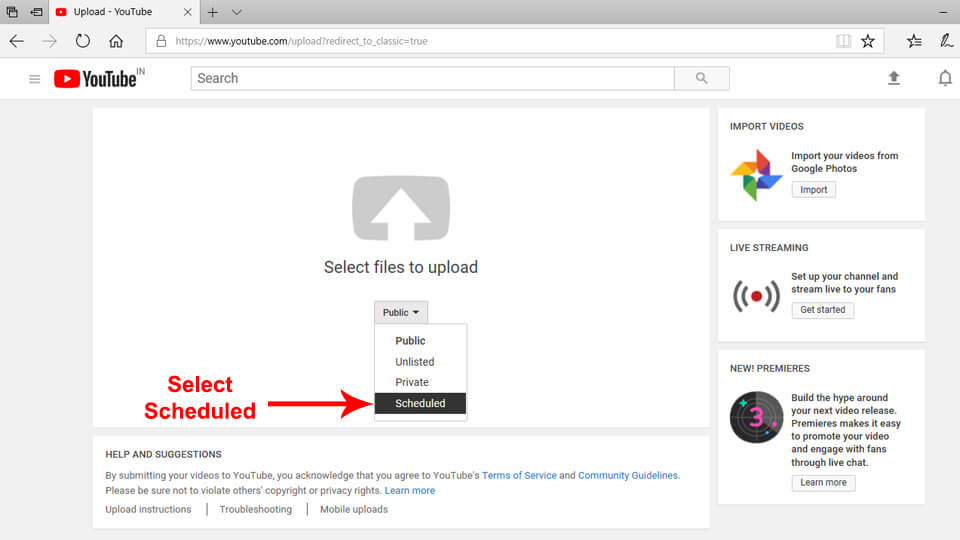 Select the video you want to premiere.
Note: Right now an output great than 1080p and 360/vr180 is not supported for premieres. So, Take care about it.
Now, on the next page, toggle on Premiere.
Set the date and time of your premiere.
Add title, description and tags of your premiere just like you add for your normal videos.
Also add custom thumbnail to your premiere video.
When the video is done processing, click "Premiere" in the top right hand corner.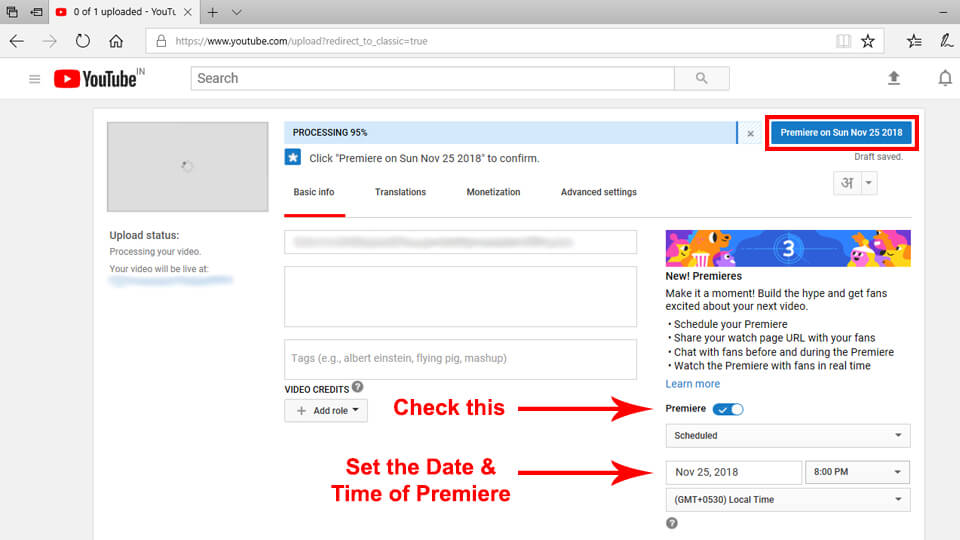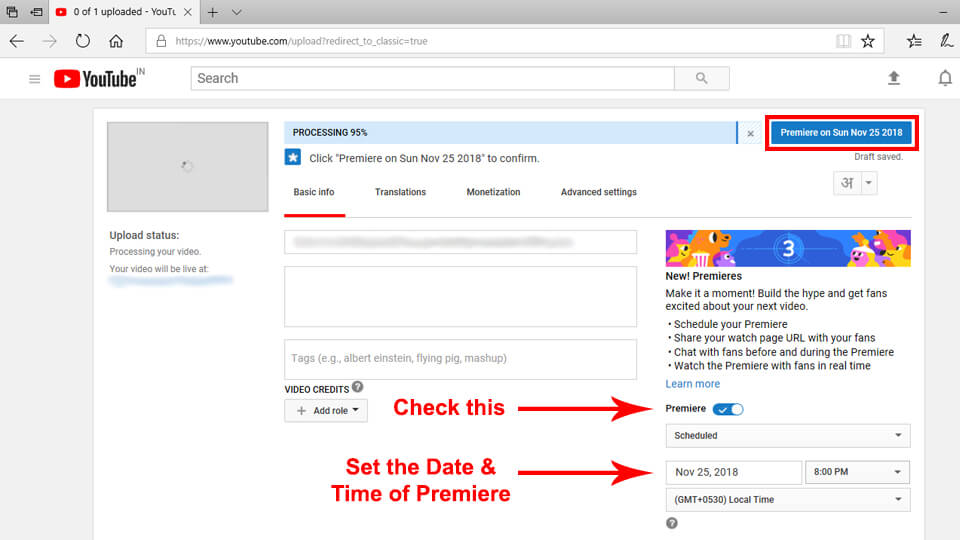 Tadah! You have successfully configured your Premiere video. You will get a link of your premiere video which is called a watch page. The video will be premiered on this watch page. On this watch page, you and your audience can communicate in comments, live chat, and if enabled super chat.
How to promote YouTube Premiere Video?
Now, you've set up your Premier Video, but how do you promote it? Dont worry. We're here to help you get the most out of your premiere video.
Add proper title, description and tags about your premiere.
Make a catchy custom thumbnail of your premiere as it will be the main image your viewers will see when they come to the watch page.
Share the watch page URL with the community tab and your all social media networks like Facebook, Twitter, Whatsapp, Linkedin, Google+, Instagram, etc.
Tell your viewers that you will be there during the premiere to chat with them. You can also respond directly to chats by typing "@" and entering the chatter's username. It will impact more.
Tell your viewers to 'Set a Reminder' for the Premiere.
Tell your subscribers to ring the bell to ensure they receive the notification about the premiere and other future uploads.
What will happen before, during and after the Premiere?
Here, we will let you know about the things happen, before premiere starts, during the premiere and after premiere ends. So, you can get idea how it works.
Before the premiere starts
As we told earlier, a public watch page is created.
Subscribers who have pressed bell icon and all viewers who clicked 'remind me' for the premiere, will get a tune-in notification around 30 minutes before the start of a premiere.
After that, second notification is sent at the starting of the premiere to letting viewers know about it.
You and your audience can interact in comments, chat and super chat (if enabled).
During the premiere
2 minutes of countdown will begin before the premiere starts.
When the countdown is over, you and your viewers can watch the video together in real-time.
Viewers can't scrub forward, but they can scrub backwards during the stream.
You can see a concurrent viewers count that shows the number of viewers watching.
And yes, you and your viewers can interact in comments, chat and, if enabled, super chat.
After the premiere
The video remains on your channel as a regular uploaded video.
People can watch it same as other regular videos.
For viewers who want to experience the premiere chat after it has ended, Chat replay is available. Although you can disable chat at any time.
How to monetize YouTube Premiere Video?
I know that you were looking for this part because it's all about earning more money. There are some ways to earn money from the premiere video. Let's see it one by one.
Serving Ads
If your channel is eligible to monetize YouTube videos then you can earn money with ads. Here, YouTube will serve automatic pre-roll ads during the premiere. But mid-roll ads will not be available during the premiere. However, once the premiere is over, both automatic pre-roll ads and mid-roll ads will be served same as they do on normal uploads.
Enabling Super Chat
If you enable Super Chat, it will allow your viewers to buy chat messages to highlight their messages and standout in chat. After enabling Super chat, you can chat with your audience before and during the premiere. This option also available for YouTube Live Videos.
Channel Memberships
Channel memberships allow viewers to join your channel through monthly recurring payments and get members-only benefits like loyalty badges, custom emoji, live chat and other goods you offer. So, Check if you are eligible for channel memberships or not. By the way, Channel memberships is previously known as sponsorships.
YouTube Premieres Video Guide
In this video, you will get all the information about YouTube premieres. Therefore, to get quick information about YouTube Premiere, check it out.
Wrapping Up
I hope now you have got enough information about YouTube Premieres. I have tried to cover everything you need to know as a YouTube creator. Now, you can easily setup YouTube premieres on your channel. Let us know your experience after doing your first premiere. If you are facing any difficulty while setting up premiere video then mention it below in the comment section. We will try to solve your query as soon as possible. Share this article with your YouTuber friends. So that they can get one more way to get more views, likes, comments, subscribers and of course money. Signing off. Bye.