Hii. Folks, Hope you enjoying reading of Tricks N Tech… 😉 So, today we are going to discuss Windows 10 appearance, looks and feel. there are many people are searching for some good looking theme in that especially people more searching about dark windows theme. so, let we know why dark themes are more important and what is the philosophy behind the windows 10 dark theme.
Why Dark Windows Themes are more essential?
The Dark design has extra features that it does not distort your eyes, It's more and more suitable when there is less lighting, Dark Themes providing is more suitable when a person spent hours in front of the PC. It's more suitable reason for the people choosing Windows 10 dark themes for the pc.
There are the various choice of lists for selecting windows 10 dark themes As you like a most go for that. Every time using the same theme with that same color make the person too tired. so, sometimes give essence to your windows PC to make a Better Look and Feel. I'm sure you would love to change the look and appearance of windows 10 machine. Here is the list of official and unofficial themes available for your windows 10.
Top 10 Windows 10 Dark Themes For Download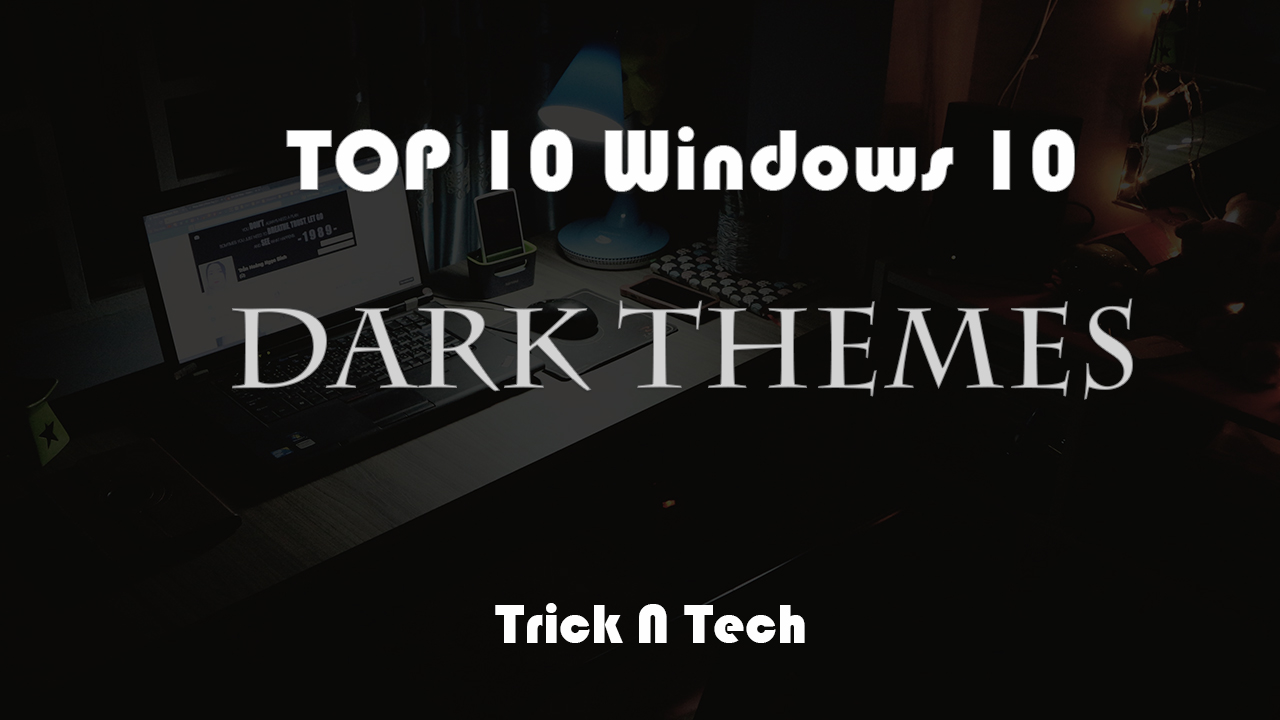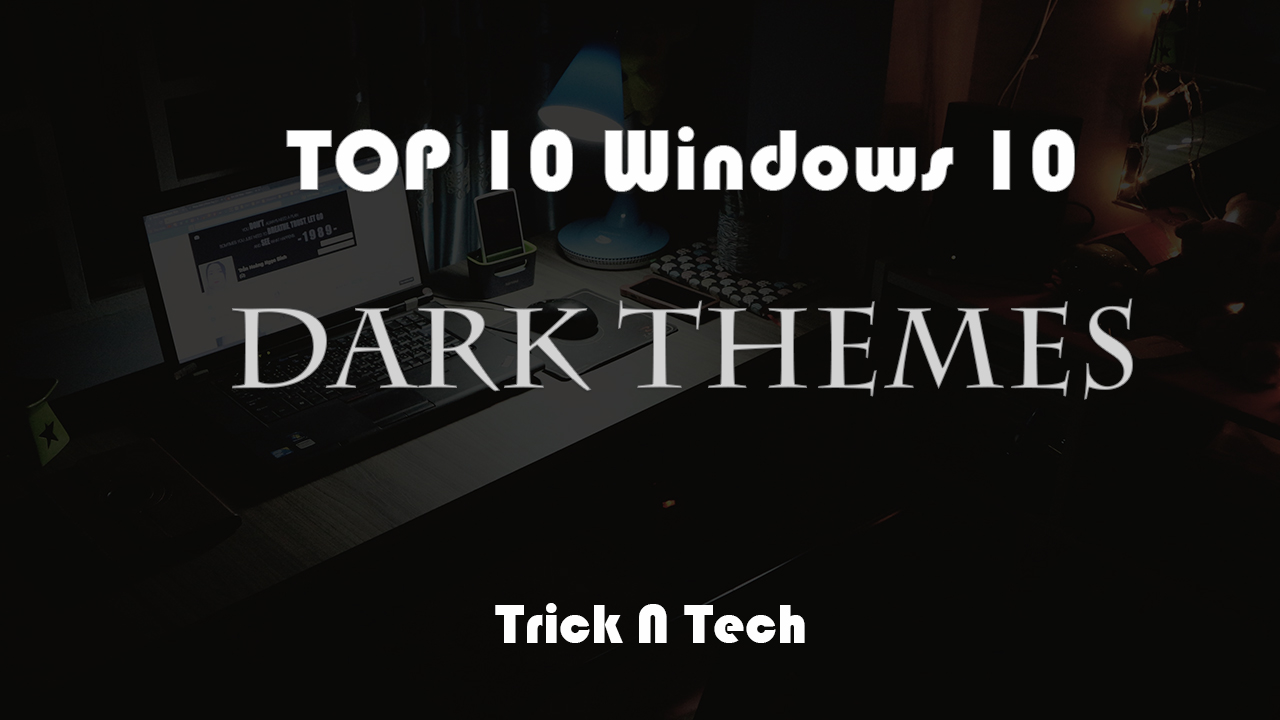 1. Official Windows 10 Dark Themes
There are lots of dark themes available in the world but there are many peoples not know that in windows 10 there is an official dark theme provided. If you are really enthusiast for win 10 dark themes there is good option to go for official Windows 10 dark themes. Just you need to enable dark theme in Windows 10 by going in personalization settings. you can go to Settings > Personalization > Colours. there you can change between light and dark themes. if it's not working then there are also other methods are available.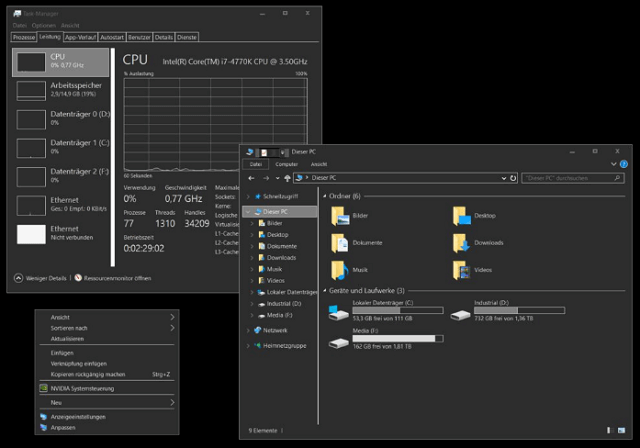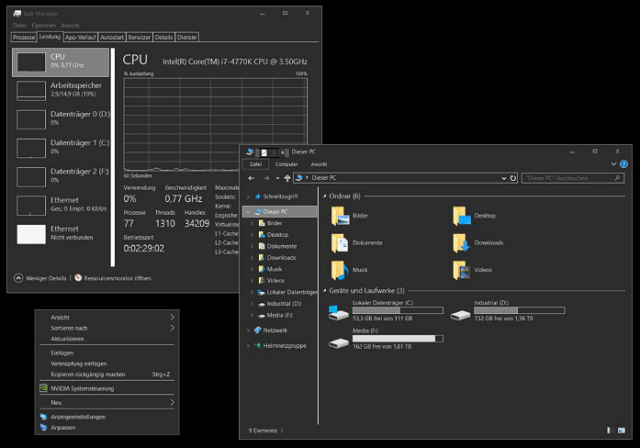 Before that, your windows 10 operating system must be updated with Windows Anniversary Update. But if you don't have updated don't worry there is also another method available for enabling that.
Start > Run or Windows Key + R
Type 'RegEdit' in The Run Command Box.
Particular Window go to,
HKEY_LOCAL_MACHINE\SOFTWARE\Microsoft\Windows\CurrentVersion\Themes\Personalize
Create new DWORD with name AppsUseLightTheme and Value '0'.
Once it did You need to Reboot your PC.
Now, your Windows PC running in DARK Theme. If you updated your pc with the latest version then the first best method to complete these all steps in very few minutes.
2. Penumbra 10
If you are want to change whole Windows 10 Experience you must go with Penumbra 10. It will be mixing colors into a good-looking interface. It has natural dark colors. It would work with latest updates. Everything is good but little bit trouble to installing a theme. It's complicated to install particular theme easily.
There are you need to install some other links in order to complete and themes will be work properly. Themes need to install other two files.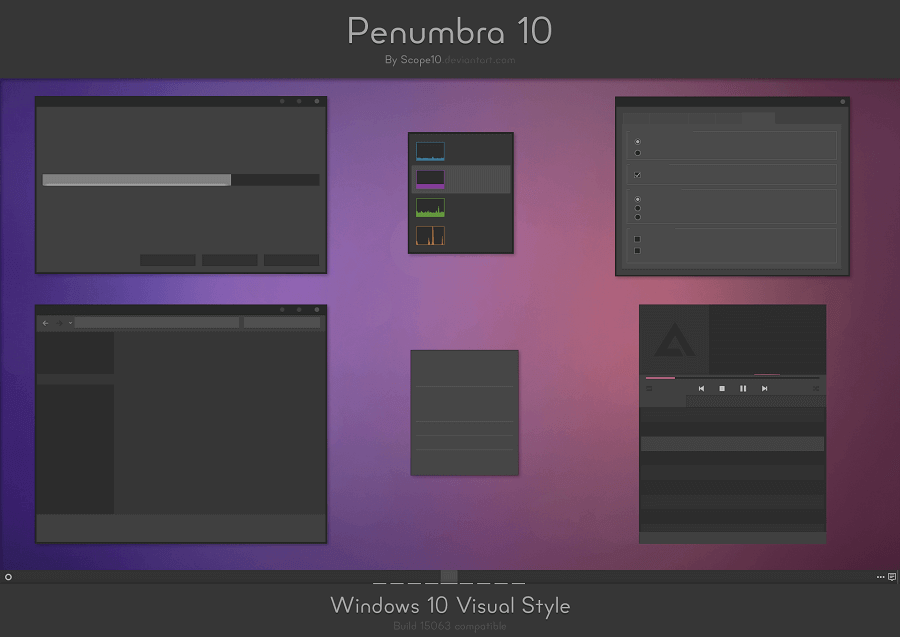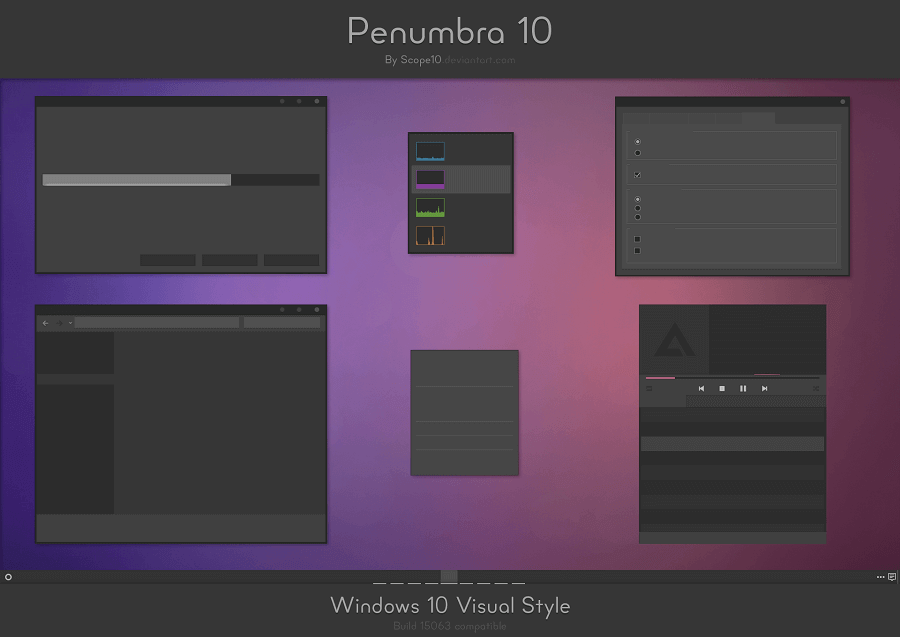 To Install & Enable Windows 10 Dark Theme Simply Follow Below Steps.
First, download and install UXStyle Patch. You can download it from here.
With the help of this tool, You can disable Ribbon UI.
Now downloaded theme package, Copy 'Visual Style' Folder into C:\Windows\Resources\Themes.
Go Theme menu – Right Click > Personalize > Themes > Theme Setting.
There is a list of available theme, you need to select Penumbra 10 and activate.
3. Nocturnal W10 Dark Theme | Windows 10 Dark Themes
If you are looking for best experience in Dark Windows 10 themes. The Nocturnal Theme is Best & Better than others. The nocturnal theme has not support in Windows 7 and Windows 10 Operating system. From control panel to at last folder appearance it will change the whole Windows UI. Windows 10 Totally interface changed to the dark layout. but it's not easy to install as you think. It brings simple layout, clean & dark experience of Windows 10.
Installation of Nocturnal Windows 10 Dark Theme:
For installing, You need to download four third-party apps and theme content. The tools that you must need to download.
After downloading everything you just need to official guide for installing this theme. In the theme, you need to install a font called Sans Semibold for the complete experience of the theme. you need to give every type of effort to install the particular themes. Here all the steps we included so, you can download windows 10 dark themes easily.
4. Ades Dark Theme – Best Dark Theme for Windows 10
Ades is the highest quality themes for Windows 10 Dark Theme. Why Ades theme diffrent from other? Its answer is Ades theme have darkness with the addition of Grey and some soft colors which attract your eyes more. Ades themes use some sort of soft blue, green and grey combinations in diffrent parts Like folders, taskbar, icons and much more. You can check below image for how windows interface looks like better than other..!!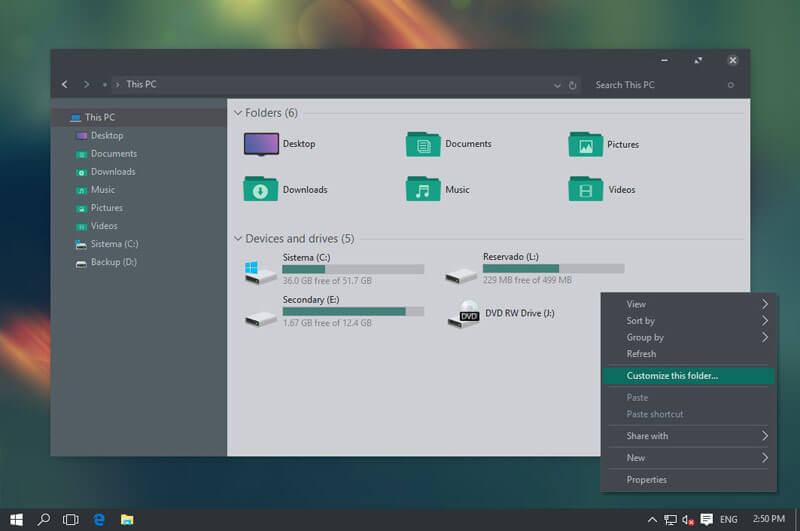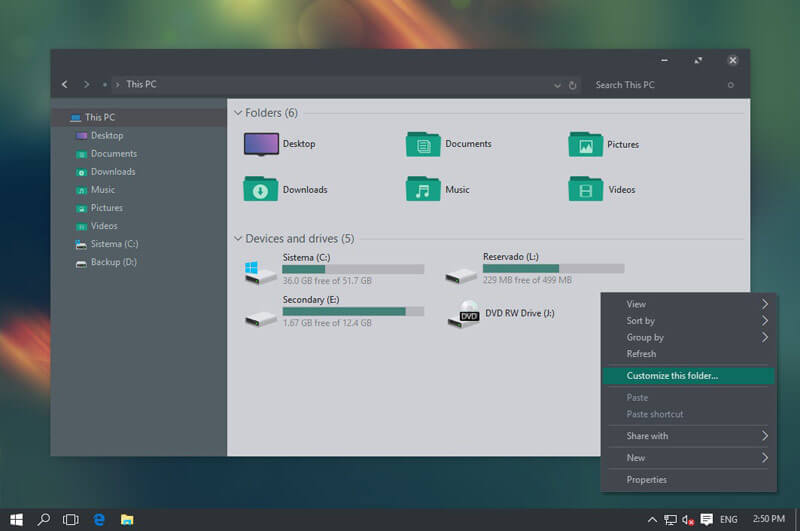 It's work fine and smooth with Windows 10 Build 10586 and Windows Latest Anniversary Update. Note if you are working older version of Window then might you get some installation issues or errors. It's giving some amazing experience of user interface with the latest environment and some diffrent colors combination which not simply catch your eyes only but its fall down you to or make you habitual to use this theme every day.
5. Hover Dark Areo
Preferring some unique things, modern layout, simplest view..!! I can tell you go for the Hover Dark Areo Theme. It gives your user interface to some awesome look It comfort for your eyes, you will never tired of using this themes, fancy outlook and with two types of design black and white mode. There are some levels of transparency and opacity gives this theme to the better look.
For the installation is not as easy as much you thought. with the help of PatchUxtheme, you can install this theme. It's third-party software, after the installation of software. Move all downloaded file to C:\Windows\Resources\Themes. Once this step completed the move for the next, It will present in the list of themes. Just go to and select that Hurrah..! you activated the theme.
6. After Dark Cyan
Running windows 10 with November Update..? Yes then this theme is for you only 🙂 For completely dark experience or you need to customize some unique things in the personalization of windows, then After Dark Cyan is the best theme for the Windows operating system. You need to install PatchUxtheme for installation and personalization of windows. One of the best windows 10 dark themes to download for the machine that gives you the killing experience of Windows 10 Black Edition.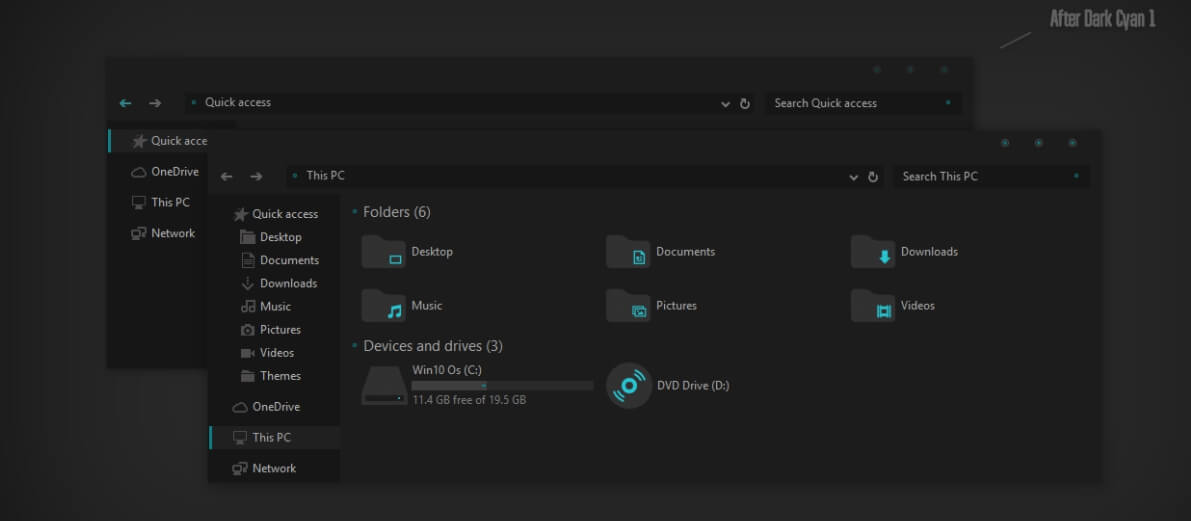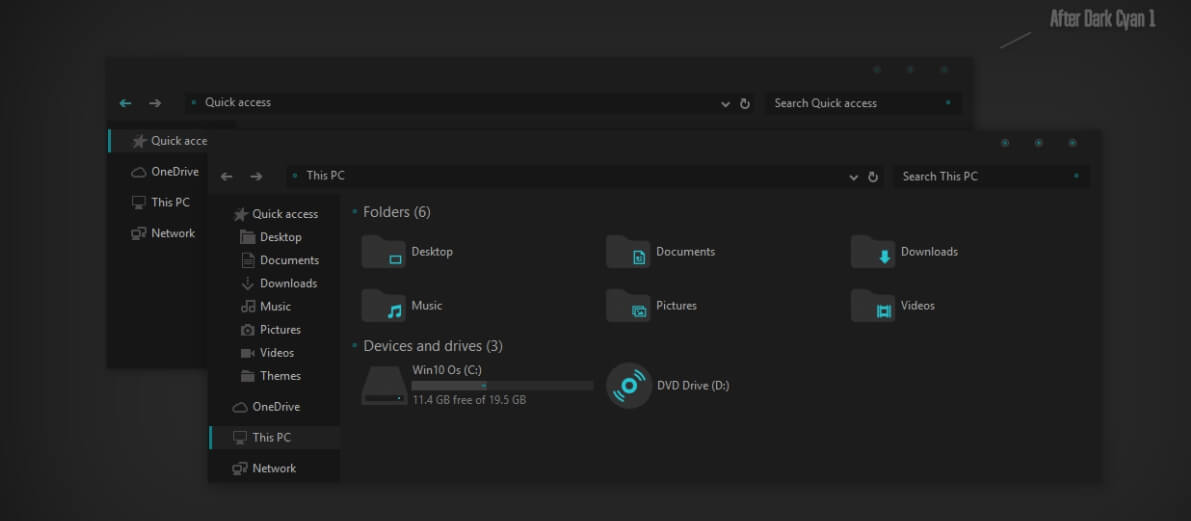 Main features of all the themes there are custom personalization & all themes are free there is no hidden cost. These all themes are well optimized for speed and run smoothly in Windows 10 there is no error or there is no anything glitch inside because it's well-tested themes. In this themes readme file, you will find all the documentation regarding After Dark Cyan themes. want to transfer your Windows 10 Operating System to fully dark then, I will definitely suggest you go for this theme.
7. Hatspy
It's diffrent types, unique and some amazing UI interface provided by Hatspy theme. As per name suggest Hatspy means you never spy In short it does not change just UI but It changes everything experience of the user. As you see below screenshot you can fell how the theme looks..! In every theme, it's working on native looks of Windows 10 but It changes some UI things with the help of some color combination and more.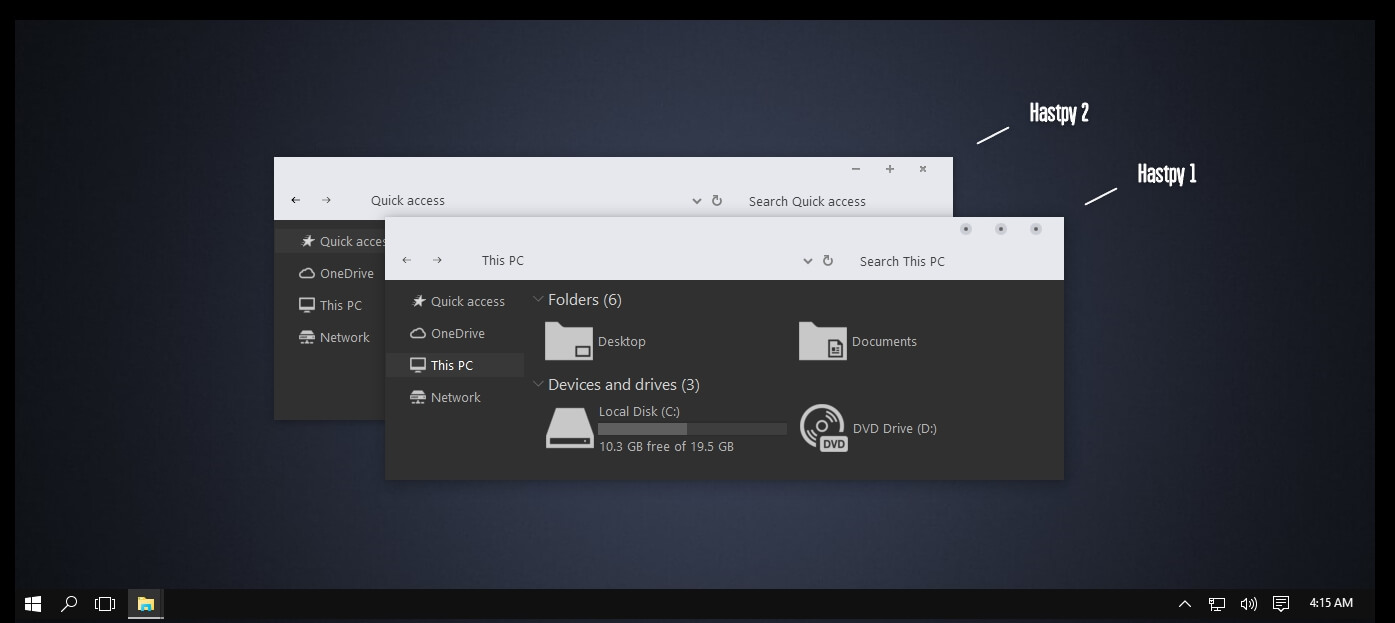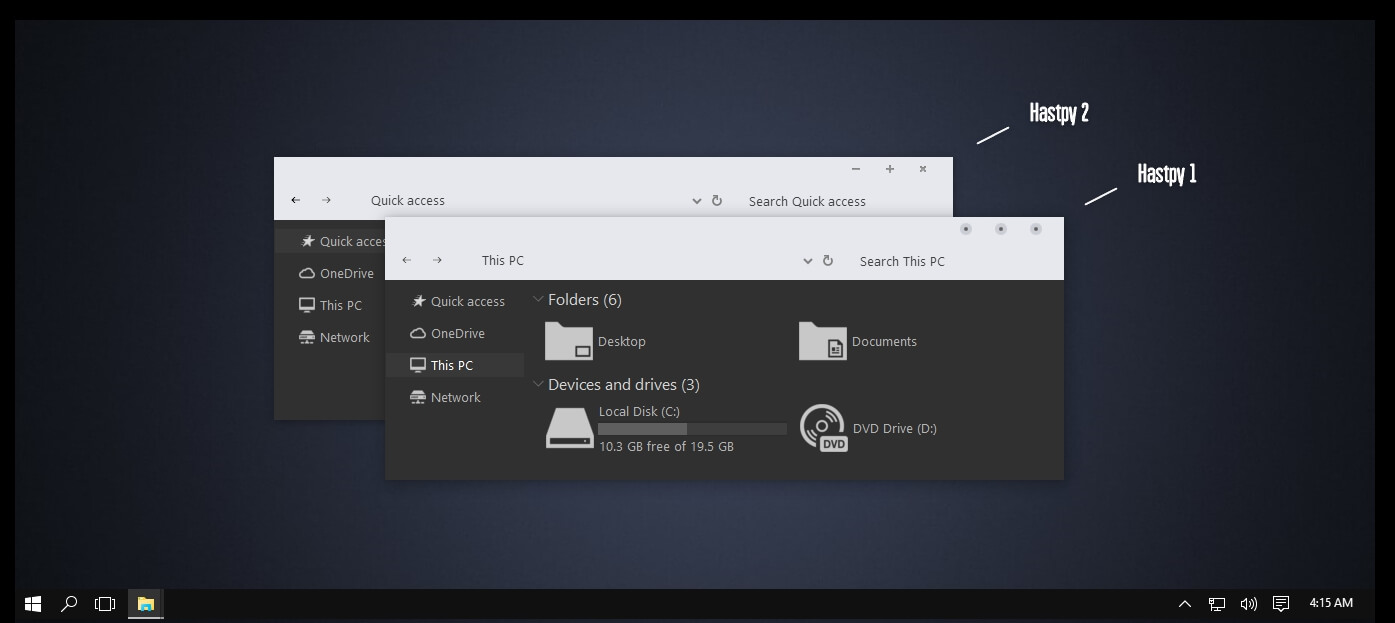 So, Confused..! :p yeah sometimes it happens when you have the list of themes and you need to select in of that so, Hatspy is fully customizable with great UI experience because It's changes everything. If someone is more like black and white background then Hatspy is the best choice for the best Windows 10 Dark Theme Download and the good thing about is this theme is installation process is too much simple.
8. Nost Metro
Nost Metro is a same theme which belongs to the developer of Dark Cyan Theme. It's especially this types of Windows 10 indows10 Anniversary Update 1607, Windows10 Creators Update 1703 or Windows10 Fall Creators Update 1709. If you have this type of version then go for it and try Nost Metro Theme. It has two combinations one is the white background and another one is the black background.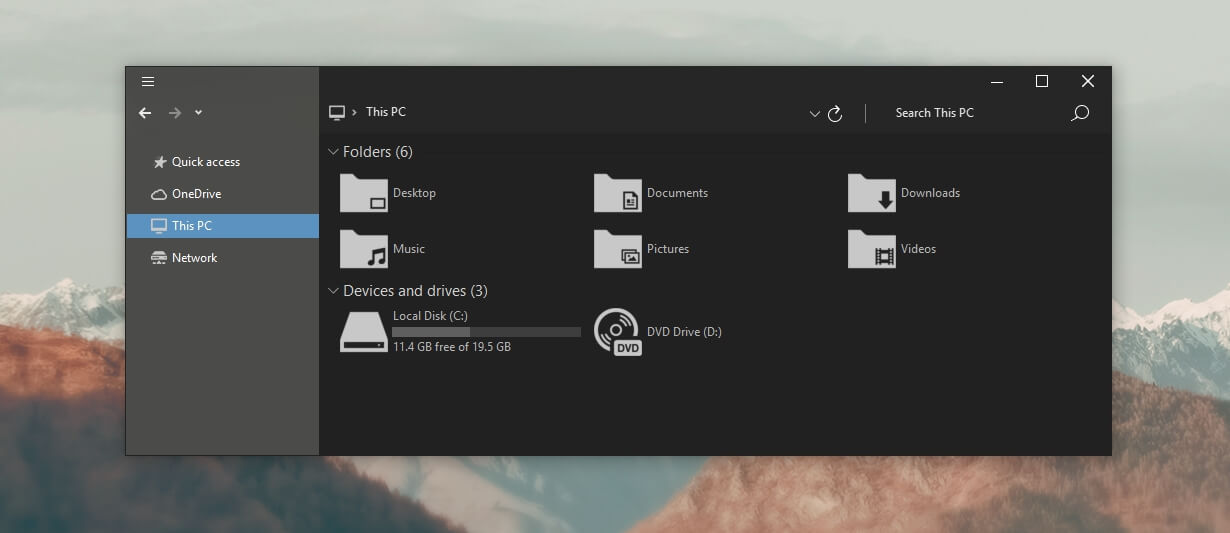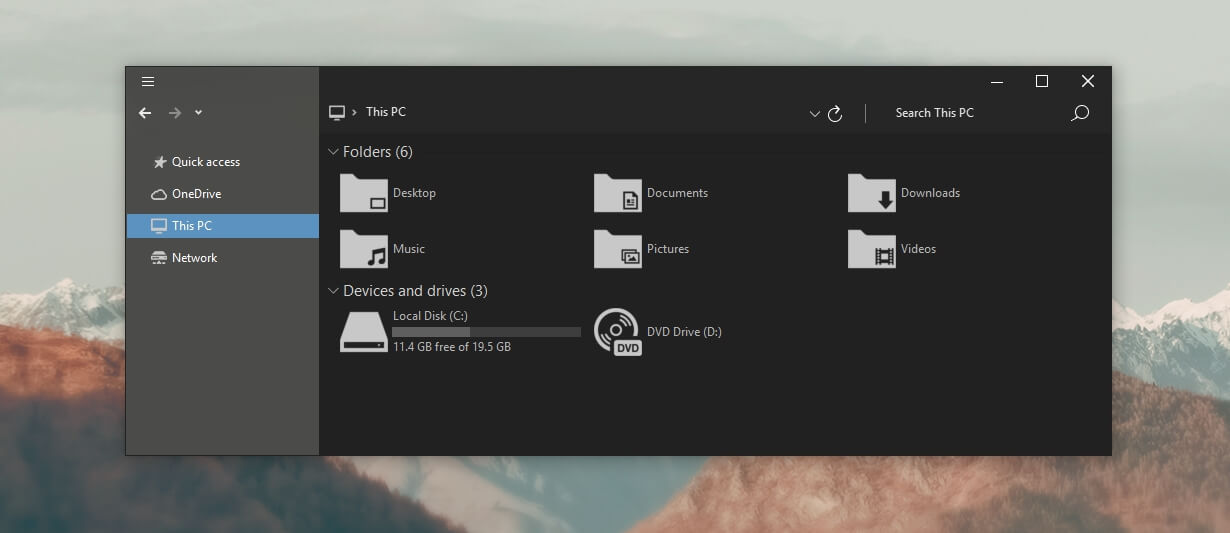 If you look at the picture you can Identify it's eye-catching with dark and true black color. It gives you elegant eye-friendly background. If you like a black or white combination more then go with it.
9. Dark/Grey Windows 10 Dark Theme – Windows 10 Black Theme
If you want to Windows 10 without no more appearance, just simple UI. There is some Dark and Grey effect of Windows 10 Theme give it to extraordinary look. You can use it for free. From content to folder and Task manager to Control panel everything you see Dark Windows 10 Themes.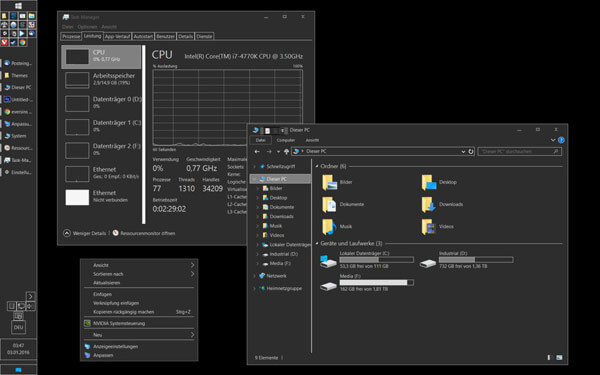 Installing a theme is very easy as compared to other.  You can download the file from DeviantArt or Pastebin. After downloading that file and copy those file inside "%USERPROFILE%\AppData\Local\Microsoft\Windows\Themes". Then after when you open themes windows, there is you can get Windows 10 Dark Theme in the list. It's whole Dark Experience.
10. Ubuntu Dark Theme
Yeah, Suprised…! It's Ubuntu Dark Theme if you Interested more in Linux then here is Ubuntu Dark theme for you. Some people are every day working with Ubuntu or Linux environment they have habits to use ubuntu But there are diffrent in Operating System not provide that type of look. so, People changing it's environment to Ubuntu. There is design based on unity desktop environment even you can customize these things also.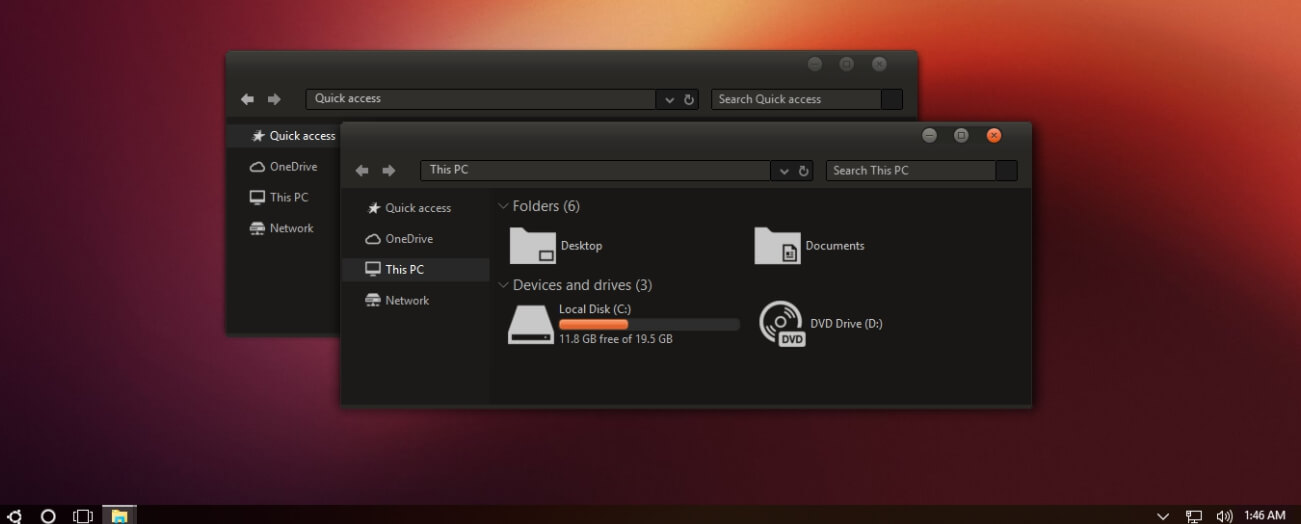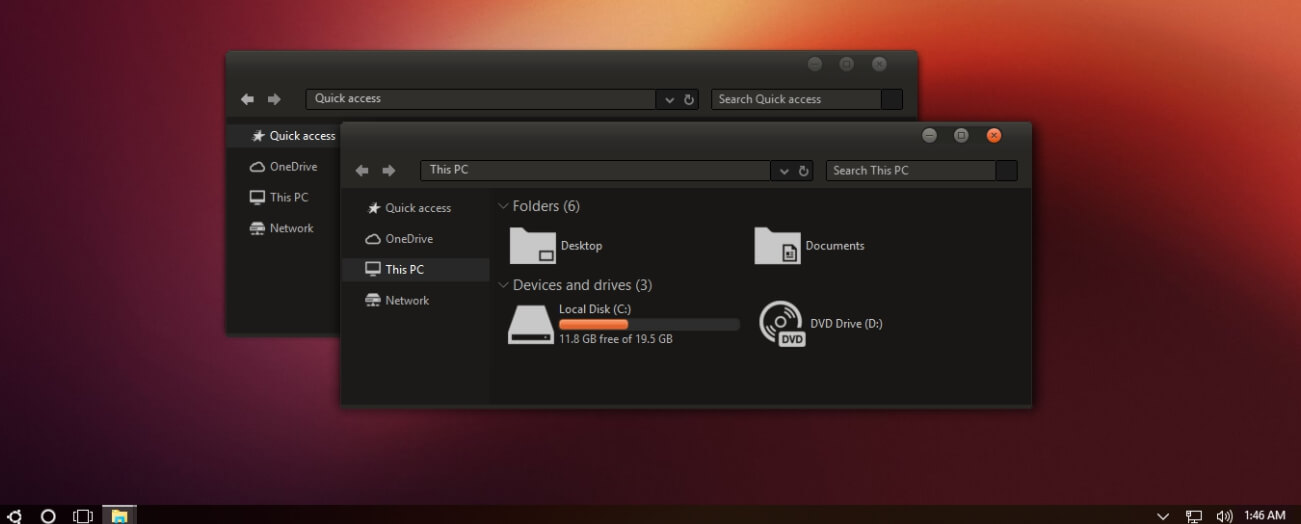 It's better than all theme is and Ubuntu dark theme is without ads. Enjoy the theme without the third-party advertisements. It's not darker but It's eye-catching experience to use Ubuntu UI inside Windows Operating System. It's completable only Windows 10 Fall Creators Update 1709 only.
Dark Themes for Windows 10 – Conclusion
There are 10 themes anyone which you like most you can use in your PC. There is some manual and documentation for the Penumbra or Nocturnal so, you can move based on steps for installing the particular theme. You can also customize and personalize your theme as per your theme because of some need for darkness so, as per your need download Windows dark theme.