What if I say You can Earn Gift Cards or Vouchers without Doing Nothing ? Yes, Its Damn True too ! Today I am Sharing a Trick for MobileXpression by which You can Easily Earn Amazon, Jabong or Many e-Commerce's Gift Card or Vouchers by Doing One-Step Registration Only. Its Same as Screenwise Panel Media Earning and Where You get Paid By just Running MobileXpression Application on Your Phone. In This Post We have Included MobileXpression Download and Its Stepwise Procedure.

What is MobileXpression ?
MobileXpression is a Market Research panel Designed to Understand the Trends and Behaviors of People Using the Mobile Internet. Finding which are the Most Popular Sites on the Internet and Also the Most Popular Sites on the Mobile Internet? is Function of Market Research Panel. It includes where are People Surfing to and What Mobile Applications are they using?
In order to Participate in This Research Community, Registered Members Need to Install Software on their Mobile Device. The Research Software will Monitor the Community Member's Mobile Internet Activity, Allowing MobileXpression to Develop an Understanding of How They use the Internet on Their Mobile Devices. We never monitor any phone calls, only online activity. Occasionally, MobileXpression invites its members to participate in optional surveys that help companies understand their interests regarding their mobile device activity.
Occasionally, MobileXpression invites its Members to Participate in Optional Surveys that help Companies Understand Their Interests Regarding Their Mobile Device Activity. As an Active Member of MobileXpression, You Have the Opportunity to Earn Rewards Like Cash, Gift Cards and Merchandise which can be very Month by Month.
MobileXpression Reward Procedure:
Within Almost 4 Weeks, You will get Rewards from Mobile Xpression. The Best Part of It is that Very Small size of MobileXpression Application Unlike Screenwise Media Panel. For Each week You are Rewarded with 2 Credits and Minimum Redemption is at Just 10 Credits. Rewards may vary from Country to Country. If you do Search on Google, You can Find that Rewards are given In terms of Pounds or Dollars in Some Country. But for India Previously Rewards are in form of Jabong Gift Cards while Nowadays It is Rs.200 Amazon Credits quite Useful rather than Jabong as You All Know 🙂
Hurry Up 😉 The things That You are Need to Do is Having an Android Smartphone with MobileXpression App and Internet Connectivity.
Stepwise Procedure for MobileXpression App Registration:
Step 1: Install MobileXpression Apk From Here
Step 2: Sign Up for New Account by Providing Your and Your Household's Basic Information.
Step 3 : Participation Mail will be sent to Your Mail with Your Password as Given bellow.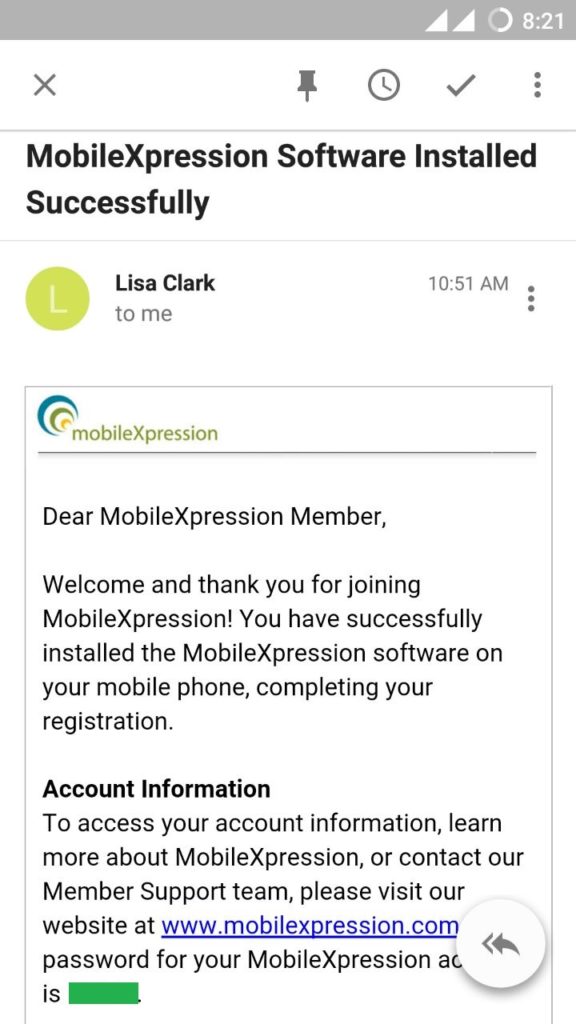 Step 4 : After Successful Registration, By MobileXpression Login, You can check Your MobileXpression Tokens or MobileXpression Credits Easily by Just Tapping on App.
That's It and You're Done. Just Keep MobileXpression Meter Switched On. And You will get Mobile Xpression Gift Voucher within Few Weeks.
Note :
The process of MobileXpression Registration Many be Vary Place to Place. Ex. After Registration, Activation Mail can be Sent to Registered Mail ID. And Also, You will Face Some Other Information on Registration Page.
Therefore, Give it to a Try and Punch Comment Down Regarding Getting Rewards.
MobileXpression Review For Getting Amazon Vouchers:
Trick That Can be Applied For Getting Multiple MobileXpression Gift Cards:
Step 1: Use Multiple Same App Installation Tricks Such As Parallel Space Application, App Cloner.
Step 2: Make 2 Times Installation of MobileXpression App and Create Separate Accounts.
Step 3: Make Multiple Copies of that App Login with Different Details.
Step 4: Bingo ! You will Get Multiple Numbers of Apps Depending on Number of Installation.
If You Have Still Query Regarding This Then Feel Free To Comment Here.