Encountering errors can be both frustrating for your system and a source of stress for you. However, if you've landed on this article, it indicates you're facing a particular issue – WerFault.exe application error, to be precise. Rest assured, you're in the right spot. This article will guide you through various methods to help eliminate this error message effectively.
What is WerFault.exe?
In your Windows 10/11 OS, you will find WerFault.exe in the system32 folder, alongside WerMgr.exe. It is a crucial component for Windows Error Reporting services, playing a vital role in keeping your system up-to-date. It also serves as a notifier, providing valuable information on application faults, unresponsive applications, and other issues related to Windows apps.
Encountering the WerFault.exe application error caused by file corruption can lead to various troubles. This error may significantly slow down your computer due to high CPU usage, and if left unresolved, it can worsen and trigger additional issues.
Causes of WerFault.exe application error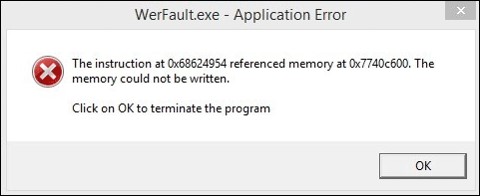 The error arises from damage or corruption of the WerFault.exe or WerMgr.exe file. Multiple factors can contribute to this issue. Here are a few common ones:
The WerMgr.exe or WerFault.exe file may be affected by a virus.
The files get replaced with other system files during updating.
Sometimes the files get deleted by accident.
Not installing or uninstalling an app can also cause the same.
How to fix WerFault.exe application error?
After discussing the nature and causes of the WerFault.exe error, let's now focus on exploring the solutions to fix it.
Solution 1: Run Windows Memory Diagnostic tool
To eliminate unwanted errors and improve your computer's performance, you can utilize the Windows Memory Diagnostic tool. Here's how you can operate it:
You must be familiar with the Windows Search bar near the Windows button. Go to it and type in Windows memory diagnostic tool. Hit enter.
Click on Windows memory diagnostic tool from the search results.
On running the tool, you will see an opened window as depicted below.
In that window, you will see a Restart now and check for problems Choose it.
Wait for the process to finish. It will probably get rid of the error on restarting.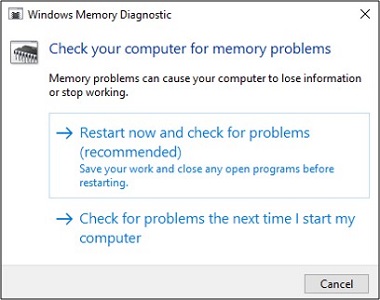 Solution 2: Use system file checker
The System File Checker (SFC) is a tool designed to scan and restore Windows files, potentially preventing system crashes. To fix the werfault.exe error in Windows 10 using SFC, follow these steps:
Open the Command Prompt. (Click the Windows button and X button on your keyboard to open it.)
Choose Command Prompt(admin).
Opening it will lead you to a black screen. Without moving the cursor, type in sfc /scannow. Hit enter.
The command will run by itself. If it finds any damaged or corrupted files, it will replace them with a cached version. These are stored in the windows dllcache folder.
Once the process ends, restart your system.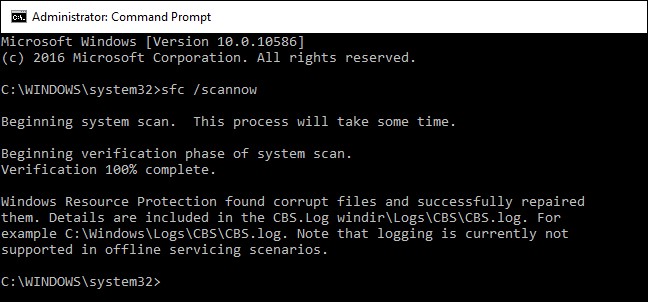 Solution 3: Reinstall display drivers
Occasionally, display drivers can be the root cause of these errors. Luckily, fixing this issue is straightforward. Simply follow the steps below:
You need to open the Run dialogue box. Click the Windows button on your keyboard along with the R button to make this possible.
A small dialogue box appears. Type in devmgmt.msc in the area provided and click on the OK option or hit Enter key.
You will be taken to the Device Manager. Spot Display adaptors option and expand it by clicking the small arrow to it's left.
Right-click on the display driver under the Display Adaptors tab. Now choose the Uninstall device option from the drop-down list.
After it completes, choose the Action tab from the top left corner.
From the drop-down list that appears to choose Scan for hardware changes.
Now the device will reinstall the missing hardware by itself. You won't have to break a sweat.
Solution 4: Disable Windows Error Reporting Service
Rest assured, this method is highly effective and can address both WerMgr.exe and WerFault.exe, resolving the werfault.exe application error. Follow the steps below to fix the issue:
Open the Run dialogue box just like you did in the above solution.
Type in services.MSC in the space provided and click OK or hit Enter
You will be taken to Service Manager.
Look for Windows Error Reporting Service and open it by double-clicking it.
A new window appears. From its options for Startup type, choose Disabled. After you choose Apply, finally click on OK.
Restart your computer and you will be done.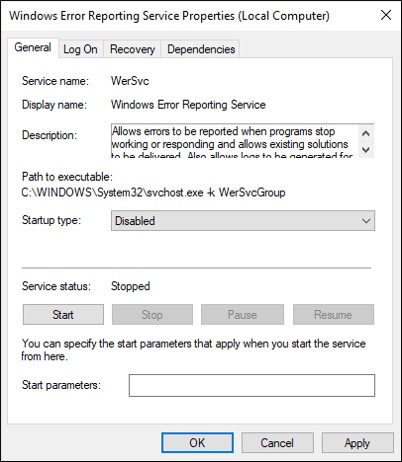 Solution 5: Scan using Windows Defender
Occasionally, the WerFault.exe application error can be triggered by viruses. Fortunately, you can resolve this issue by using simple software such as Windows Defender. Follow these steps to tackle the problem:
OpenWindows Defender Security Center. You can locate it by using the Windows search bar.
Click on Virus & threat protection.
Go to Scan Options > Full Scan and hit Scan now button.
Restart your computer after deleting possible threats.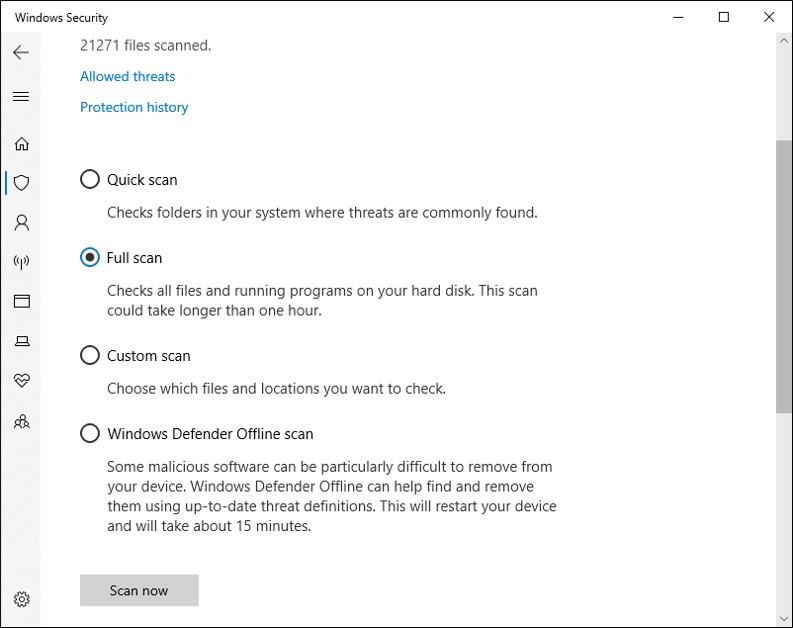 Wrapping up,
Among the numerous frustrating error messages encountered by an average Windows user daily, WerFault.exe is one of them. We have discussed the potential causes of the error and aim to provide solutions. We hope the provided methods have helped you resolve the issue by now.