While you are trying to access a site using your browser, you might come across an error causing "the proxy server is refusing connections". There are many things that can cause this. A wrong or dead proxy configuration or the use of a VPN maybe some of the reasons. Whatever the reason maybe we will show you how to fix it.
Fix Proxy Server is Refusing Connections Error

Solution 1: Checking proxy settings in your browser
You can make a lot of variations that you can make in the proxy settings of Firefox. So, if you see a 'proxy server is refusing connections' error then the first thing you wanna do is to check the proxy settings of your Firefox browser.
Open Firefox.
Go to the menu and select Options.
Choose the General
Go down to Network Settings and choose the Settings option under it.
In that window, choose the No proxy option and save the changes.
You can also choose Manual proxy configuration, but be sure to set it up correctly.
If you want to set your proxy settings as per a network near you, choose the Auto-detect proxy settings for this network

Solution 2: Disabling proxy server for your LAN
You certainly use a lot of internet. While it is very useful, sometimes your computer may ger exposed to viruses and malware. This will happen no matter how careful you are. And this malware or adware change your network settings to show spammy ads. So all you need to do is to tinker with the settings a little bit to turn it back.
Go to the windows search bar.
Use it to look for Internet Options.
Open the first among the search results.
Choose the Connections
Select LAN settings.
Look for an option called Use a proxy server for your LAN.
If the box against it is checked, then uncheck it and save the new settings.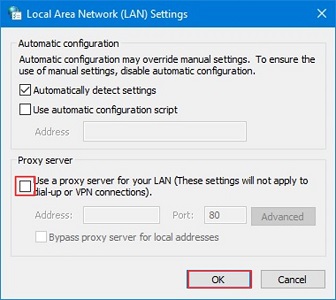 Solution 3: Disabling manual proxy setup from Settings
There is more than one way to set up your proxy. In Windows 10 there is a section within the settings that allows you to change proxy settings. Disabling it for a little while is completely worth a shot when you are confronted by this kind of an error.
Got to the start menu and choose the Settings icon. Alternatively, press the Windows + I key to open Setings.
Choose the Network & Internet
Now, go on to select the Proxy
On the right pane, check if the Automatically detect settings option is enabled. If that's not the case, then toggle it on.
Get your attention under the Manual proxy setup and make sure that the Use a proxy server option is disabled. If not so, then toggle it off.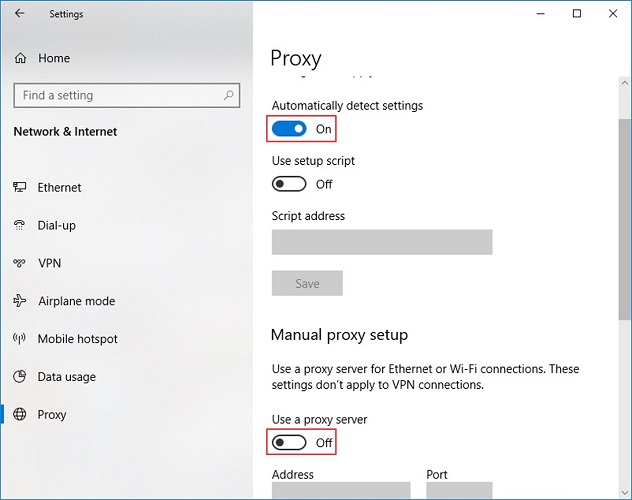 Solution 4: Checking your VPN 
VPN is a great tool and helps out a lot. It is no wonder that so many people have installed it in their systems. In case you don't know, VPN stands for Virtual Private Network and it does the job of keeping your IP address away from concerned authorities in case you are accessing restricted content.
These are things you should try if you are using a VPN app:
Switch off the VPN for a while and try opening that website again.
Choose another server and see if the website is opening.
Finally, try using another VPN app. There are plenty of trustworthy ones out there.
Solution 5: Scanning you PC for malware and adware
Like we said earlier, you might catch some malware or adware software off guard while using the internet. These will then alter your proxy settings and cause the proxy server is refusing connections error. So, it is advised to scan your entire system for such software and to get rid of them. You can do this by using trusted antivirus software or trusted Malwarebytes.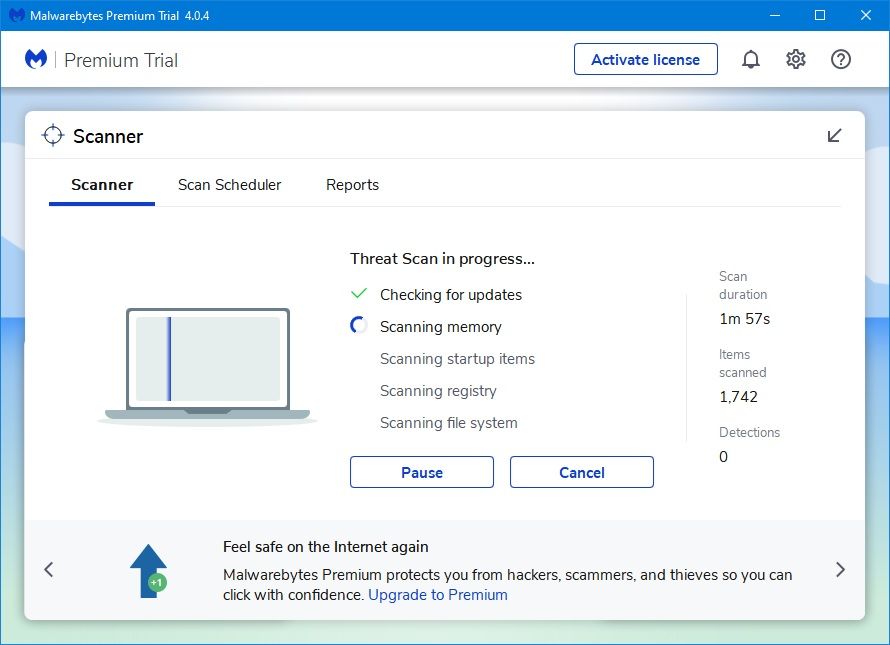 Solution 6: Clearing the Internet Cache
The browser keeps building copies of everything on a webpage, every time the page loads or reloads. These copies are stored in an are called cache. Long story short, it makes the whole browsing thing faster. If nothing you did has worked, you can try clearing the cache.
Go to Firefox's menu.
Select Options and then choose Privacy & Security.
Look for the Clear Data You will find it below Cookies and Site Data.
Check the boxes against Cookies and Site Data and Cached Web Content. And then click the Clear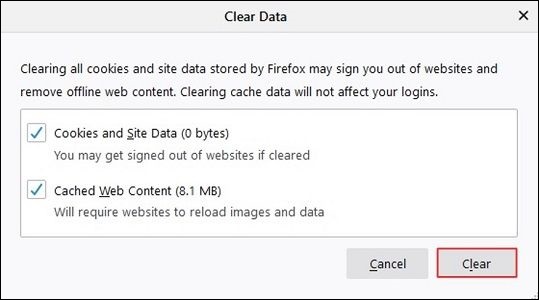 Solution 7: Resetting the Network Settings
You might as well try this method too. It is not just concerning Firefox. You will be resetting the network settings for all the browsers and your computer. This can be done simply with the help of the run command prompt.
Go to the Windows Search bar.
Type in Run and hit Enter. Open the first among the search results.
Run the commands below one by one
netsh int reset all
netsh int ip reset
netsh winsock reset
netsh winhttp reset proxy
Conclusion
The article shows you various ways to deal with the "the proxy server is refusing connections" error. Now you can fix it and get back to the site you want.