Windows 10 has dethroned its predecessor, Windows 7 to emerge as the most popular operating system available. In terms of features, user-interface, and ease of use, it stands a cut above its contemporaries.
Millions of users are currently using the OS and until now, there haven't been any glaring issues with this OS. However, nothing is perfect and there are a few errors that pop up here and there.
One such error is the 0xc004c003. If you want to resolve this 0xc004c003 error, then you ought to know the causes and possible solutions. Therefore, in this article, we will be providing you with a complete guide on how to fix error code 0xc004c003 once and for all.
What exactly is the 0xC004C003 error?
This error is usually encountered while trying to activate Windows. As a result, you are unable to use your PC. Some of the problems that users ran into include:
Causes:
Microsoft error code 0xc004c003 – In this case, the activation servers are busy and you need to come back after some time to activate Windows 10.
Error code 0xc004c003 – The activation server determined the specified product key has been blocked. This implies that the product key is not valid. Here, ensure that your Windows is genuine and report this problem to Microsoft.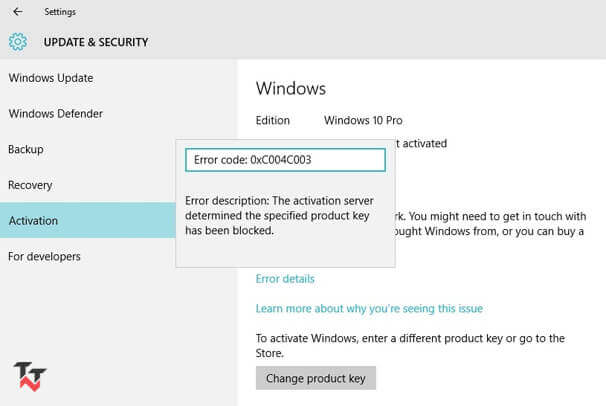 Windows 10 activation error 0xc004c003 – When you haven't performed an upgrade correctly, then you can get this error. In this case, you can either perform an in-place upgrade or revert back.
Error code: 0xc004c003 – The product key used on this PC didn't work with this edition of Windows. It means that you have a different product key which can't work on your current edition of Windows.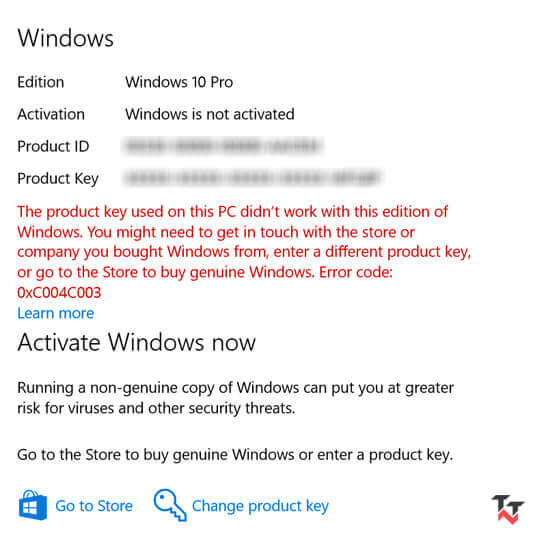 0xc004c003 after hardware change – As the name suggests, there is a problem with a newly installed hardware. You will get the error like unable to activate windows after hardware change.
Windows 10 error 0xc004c003 – It means that the key you entered is invalid or you don't have a valid digital license.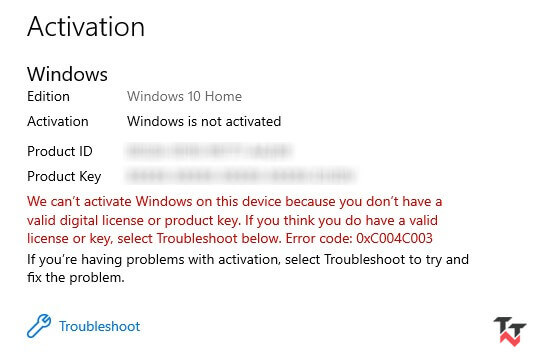 You may face another type of error 0xc004c003. But don't worry when we are here to help you resolve the error code: 0xc004c003.
How to Fix Error Code 0xC004C003
As we have seen that there are many reasons for the 0xc004c003 error, so the solutions will be also many. Let's check solutions to fix windows 10 error 0xc004c003 one by one.
Solution 1: Windows troubleshooter
This is the first method you should try if you are getting error code: 0xc004c003. Let's see how to troubleshoot Windows 10.
Open Windows Settings by pressing Windows + X together or click on the Windows button and then Settings.
Click on Update & Security option. [These 2 steps will be common for many methods.]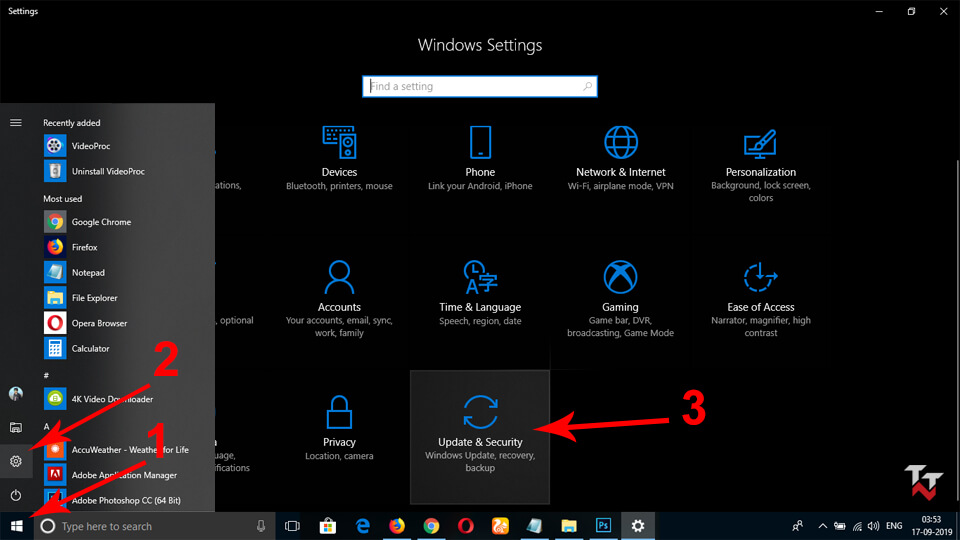 Go to Troubleshoot from the left pane.
Now, select Windows Update and click on Run the troubleshooter.
The troubleshooter will run automatically and find the bugs.
Check out what's causing the problem. The troubleshooter will automatically solve the problem.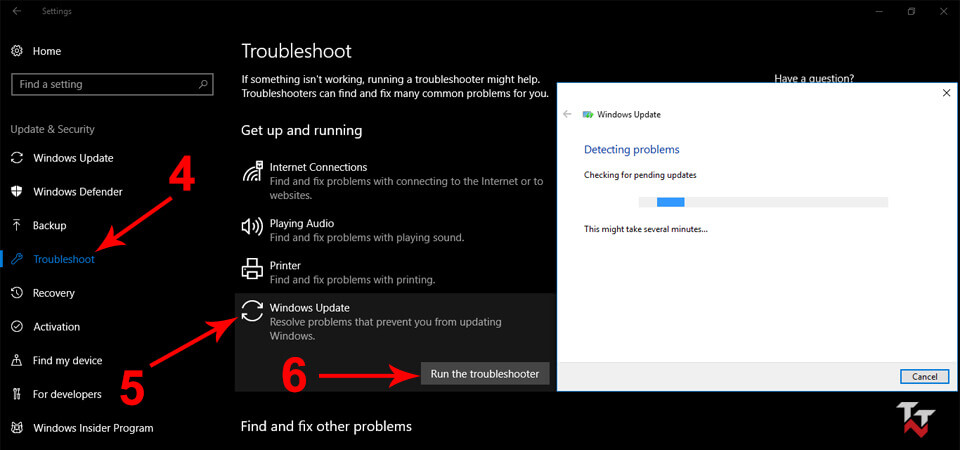 It's very easy to solve the issue related to Windows update using this method. Restart the system after troubleshooting. Now, check windows error code 0xc004c003 is fixed or not. If not, check other solutions given below.
Solution 2: Resetting the PC
A simple reset can solve this problem. However, there is no guarantee that it can work. But it is worth trying.
Click on the Windows button and head over to the Settings option.
Next, select the Update & Security option.
From the left pane, go to the Recovery option.
Now, you can see Reset this PC option.  Click on the Get Started button.
It will ask you to choose from Keep my files or Remove everything. Click on the desired option.
Wait a few minutes for the process to get completed.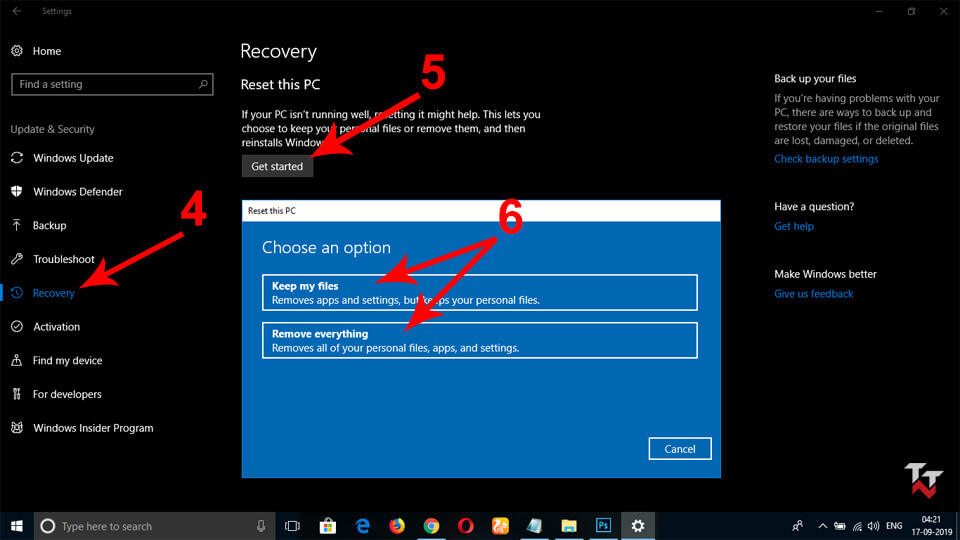 Now, after restarting the PC or laptop, check if the error 0xc004c003 fixed or not. If not then don't worry, we have other methods to solve 0xc004c003 error.
Solution 3: Using Command Prompt
Here, we will be using a command in the Command prompt to fix error code 0xc004c003.
Press the Windows + X key simultaneously and select Command Prompt as an Administrator [or Windows PowerShell (Admin)].
After launching the command prompt, you should enter this command.
wmic path SoftwareLicensingService get OA3xOriginalProductKey
Now, hit the Enter button. Your product key will be displayed on the screen. Copy that.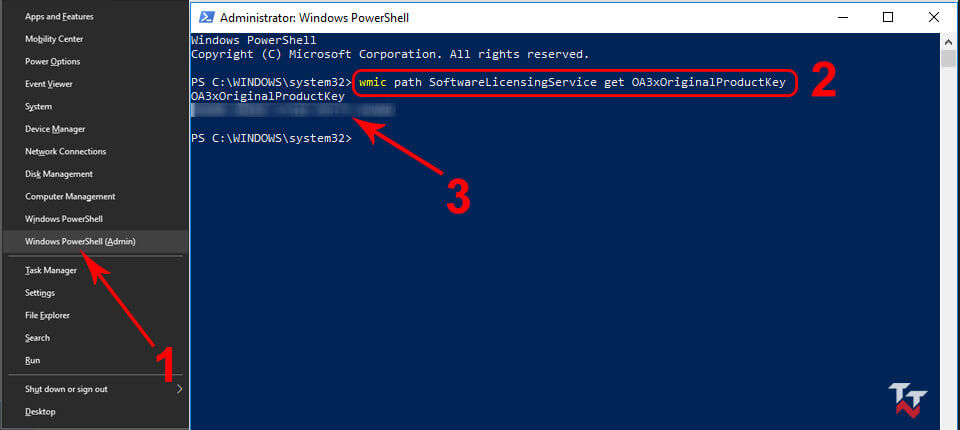 Press the Windows + I simultaneously and open the Windows Settings. Now, visit the Update & Security section.
In the left pane, you can view the Activation option. Click on the Change product key button.
In the popup window, enter the product key you copied earlier.
Finally, click on the Next button.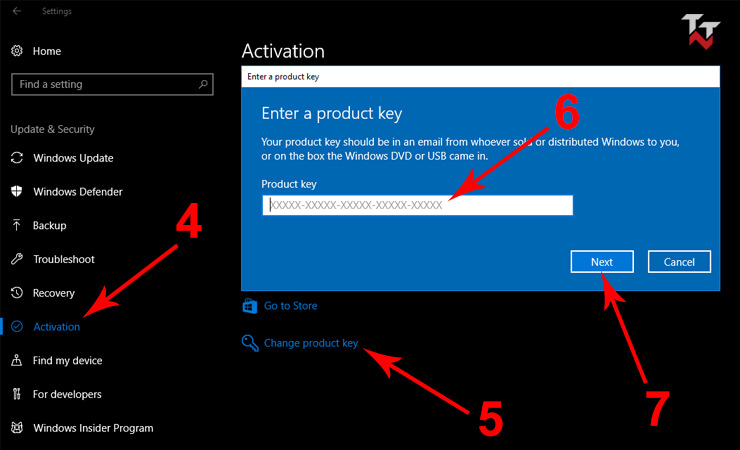 Restart your PC or laptop after entering the key. That's it! You can see that Windows 10 activation error 0xc004c003 is solved now.
Solution 4: Force Activation
We know that everyone is upgrading from Windows 7,8 and 8.1 to Windows 10. This is why Windows 10 activation servers may be overloaded and may refuse to upgrade some connections. They get windows 10 error code 0xc004c003 while activating Windows 10. In this case, users should try to activate Windows 10 after some time.
If you know that you have a valid license of Windows 10 and want to activate it quickly then you can try this method.
Press Windows + X together and select Windows PowerShell (Admin) (Command Prompt as Administrator).
Write the below command and press Enter.
slmgr.vbs -rearm
Now, wait for some time and then Restart your system.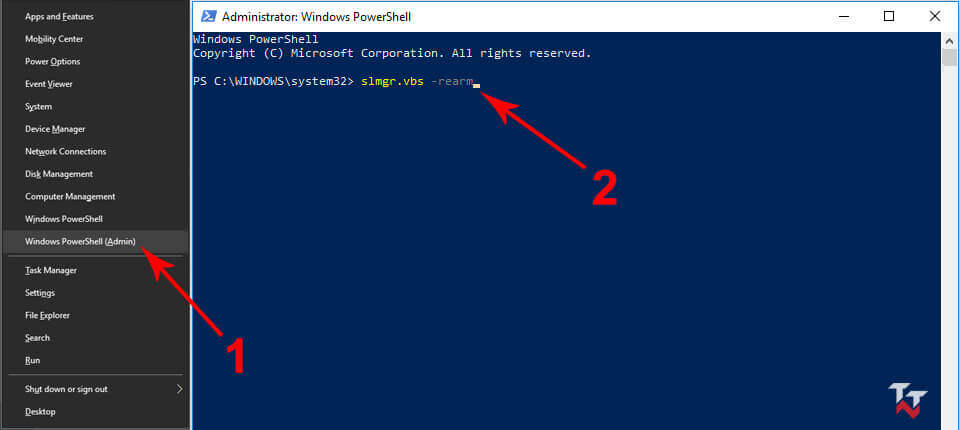 After the system reboots, check that windows activation error 0xc004c003 gone or not. Your Windows 10 should be activated by this method as we have done force activation.
Solution 5: Installing Windows 7/8 then Upgrade
In this method, we will be installing a previous version of Windows and then upgrading to Windows 10.
Input your Windows Installation Disk and ensure that you have the valid Product Key of the CD/DVD.
Next, start your system through the disk. (For that set the boot priority in the BIOS)
Now, install Windows 7 or 8 through disk.
Make sure that the version of Windows that you finished installing is activated.
Now, if you want to upgrade your OS to Windows 10, then you should install the entire available updates. After completing updates, you can see the Windows 10 upgrade notification from the tray.
If your PC is not displaying the Windows 10 upgrade notification, then you have to download the Media Creation Tool from Microsoft.
After downloading the tool, Run it as Administrator and Accept the license terms.
Now, select Upgrade this PC now and then select Next.
Follow the further steps and then Install Windows 10 when it's ready.
Make sure you don't shut down the system because it will restart a few times while installing.
Once, the installation process completes, you have an activated Windows 10 operating system. That too without any errors like 'we can't reactivate windows on this device. try again later' or 'error code: 0xc004c003'.
Solution 6: Contacting Microsoft
If none of the above methods works and you're still getting the 0xc004c003 error, you ought to contact the Microsoft customer service and request for help. You can call Microsoft's support for your area and explain them the problem you're facing. If you have a valid Windows license and are having trouble activating Windows 10, they will definitely help you.
Conclusion
The above methods will help you to install Windows 10 without any error code: 0xC004C003. Therefore, you have found ways to fix error code 0xC004C003 in Windows 10. If you are still experiencing an issue then try contacting Microsoft customer care. Astalavista!