Hey crypto lovers! The entire crypto market is really becoming interesting and going crazy nowadays after I reviewed Quanstamp.(security protocol for Ethereum smart contracts). I am unable to find a word that has to be replaced with crazy! The time when i reviewed Qunatstamp (security protocol for Ethereum smart contracts) , bitcoin was around 5000$ level and now look at the current price(boom!) from which you are aware of.
But if you would have taken my call of Quantstamp, you would have made double/triple as its ICO price was 0.06$ and on the 3rd day, it was 0.2$. But if you are a player in crypto space to just make some bucks, it was easy x2 according to the current rate. Where even without investing in BTC, you can be made easily x2 or x3, you shouldn't seem to be astonished.
Well profits aside, my first advice will be not to enter in the crypto market to have some extra bucks. You can't even imagine the ROI(return-on-investment) you are gonna get for which you have invested in. Just have a look here. Here you will get best ico reviews in terms of idea they are representing. Therefore, today i am going to share my review and analysis on Experty.io ICO which has really a huge potential in the future.
What is Experty.io?
Experty.io can be defined as information exchange based on blockchain, where experts can provide their knowledge directly to a particular seeker on regular phone calls and get paid instantaneously on ethereum blokchain. The main advantage of using this platform includes the elimination of third parties between the information providers and hunters. Did you really understand? Follow this example.
Suppose, I am an SEO executive and have a well-established profile of Experty on social media like LinkedIn, Facebook, Twitter and almost everywhere. On the other hand, my friend Rachit is seeking a help in some off-page SEO stuffs. Now, he will find any other experts within the same field including me from my Experty profile and call me right away. I will provide complete information and guide him according to my best and as soon as he finishes this call I will get paid immediately on my ethereum wallet connected to my experty.io account.
A demonstration or Established Experty.io Prototype:
So, this was the basic understanding concept of experty.io and which is a unique idea that i haven't faced in terms of blockchain. Let's see how it actually works.
How Experty.io Works?
In India, what will you do when you are in need of some help such as buying bulk commodities or things at an affordable price. You will go to Justdial and search there your specifics and contact suppliers via them. Now, Justdial is acting as third-party which is going to get a commission on your deal completion. But, Experty is providing a decentralized platform works that are basically a 3-step process.
Step 1: Experts like lawyers, medical experts, professors, consultants, etc. will share their Experty contact information on social media platforms with his/her per minute rate with a view to providing the best knowledge to people.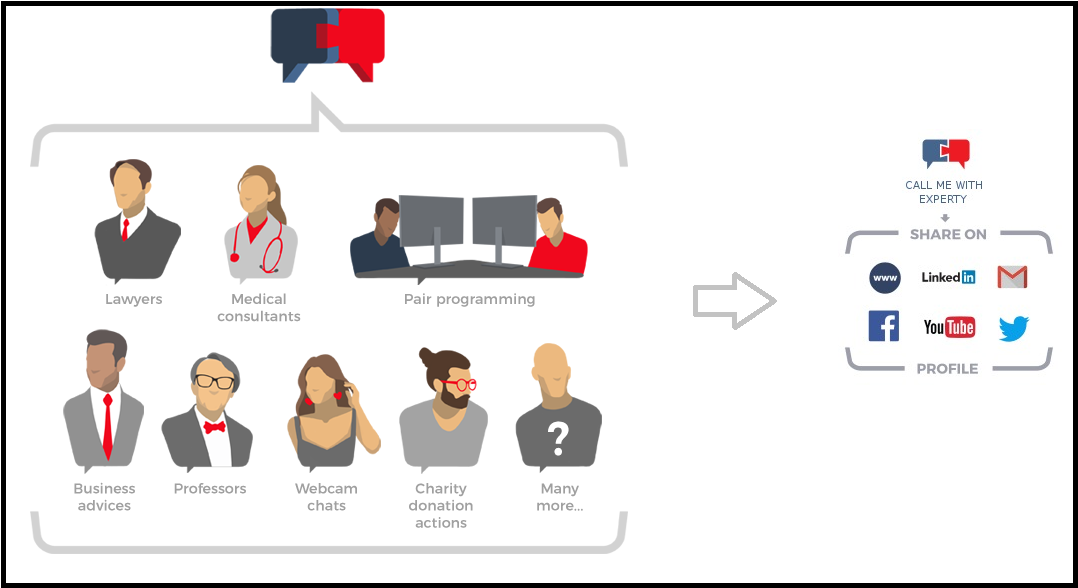 Step 2: Information seeker calls specific experts based on his/her demands of information through Experty profile.


Step 3: After completion of information exchange, an expert will be paid from users on  ethereum multi-sig wallet.


Experty.io Review and Analysis
Website Domain:
Content translation into multiple languages

Complete explanation using whiteboard animation

User-friendly interface including the whole project
Great Team:
Usually, success of any ICO depends on how talent and commitment of team members. And as a plus point, their core technical team comes from the web consulting company ReactPoland. They have years of experience developing applications, as well as a deep understanding of consulting and the problems that arise when billing clients. Partnered with experienced leaders and international team members, the Experty team is prepared to take on challenges and ensure the success of the company.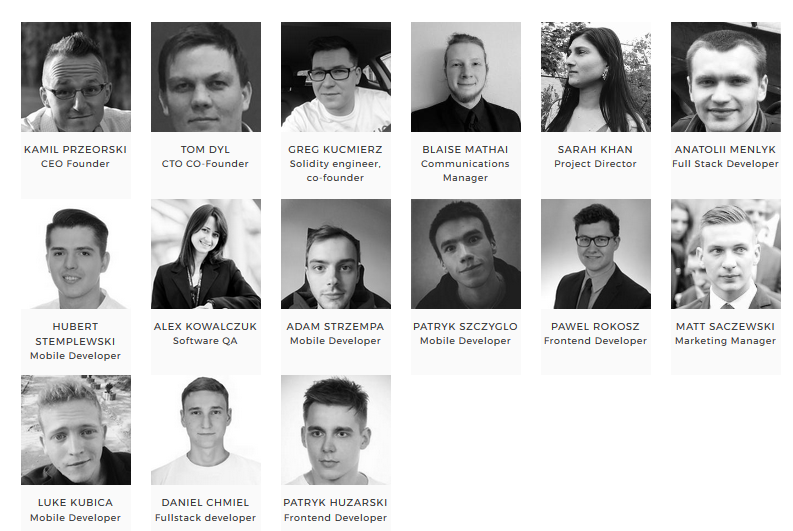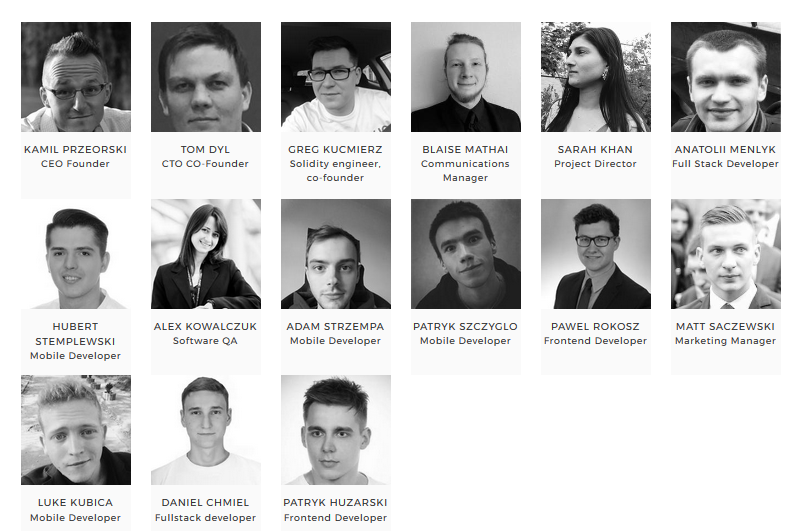 Road Map: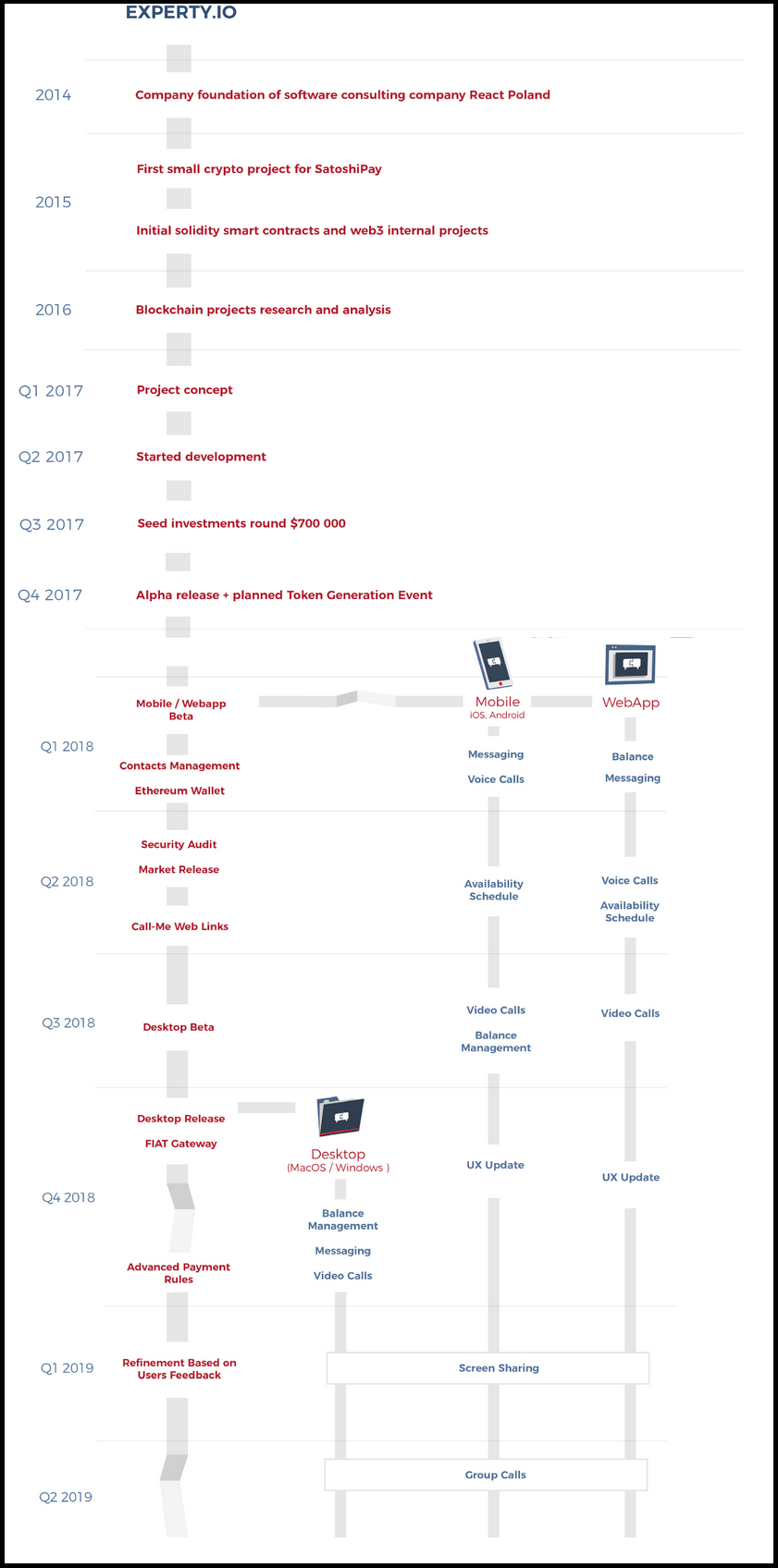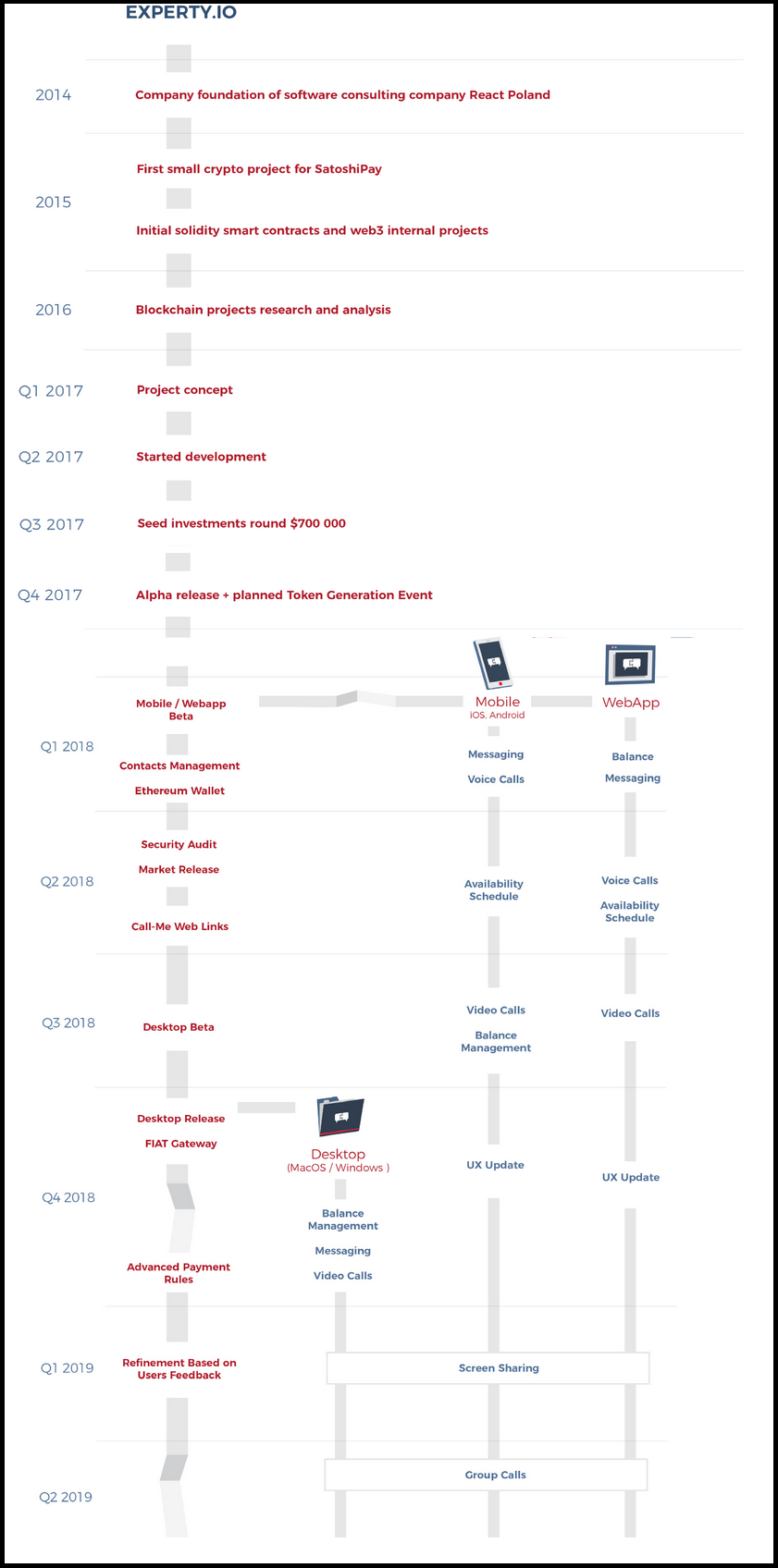 Status:
Already establishes prototype. You can see above video.

This is the first product development on the blockchain concept and hence there is no competition.
Token Sale:
Token Form

ERC223*(updated ERC220)

Maximum Cap
33,000 ETH or 9M$

Total Token Supply

100,000,000 EXY

Contribution Mode

Ethereum

EXY Presale

Based on Proof-of-Caring*

Presale Date
After 15th January,2018
EXY Token Price

1 ETH = 1000 EXY +

60% bonus + 5000 EXY extra

[Partner Tier Contribution]

 

1 ETH = 1000 EXY +

40% bonus + 1000 EXY extra


[Tier #1 Contribution]

1 ETH = 1000 EXY +

20% bonus

[Tier #2 Contribution]
1 ETH = 1000 EXY +

10% bonus

[Tier #3 Contribution]
1 ETH = 1000 EXY [Crowdsale #Tier4 Whitelist]
EXY Crowd Sale

Based on Whitelist(Maybe)

Crowd Sale Date

17th December(Extended)

EXY Token Price

1 ETH = 1000 EXY
ERC223: ERC is updated version of ERC20. ERC223 requires less gas than ERC20, prevent the risk of tokens being lost when they are sent to incompatible contract and also fully compatible with ERC20 for the purpose of exchange listing.
Proof-of-Caring: It is a unique way of organizing ICO nowadays founded by Richard Ma, CEO of Quantstamp. In order to get into Tier 1 and Tier 2, you need to show them how valuable this project is to people. I believe, language won't be a restriction as you are educating your people about this project. These are the steps to follow:
read the medium article

Share the love

Upload the proof-of-caring

Experty reviews the proof

You will get assigned to tier 1 or tier 2
Note: You need to fill POC at least to get a crowd-sale allocation.
Token Distribution and Usage: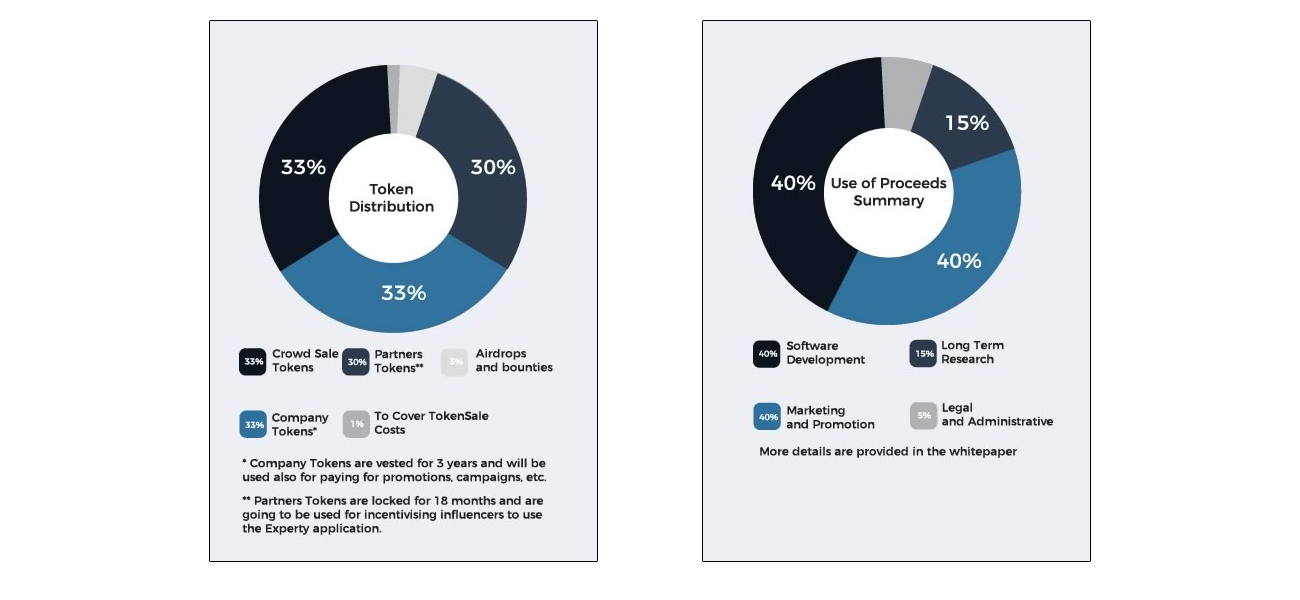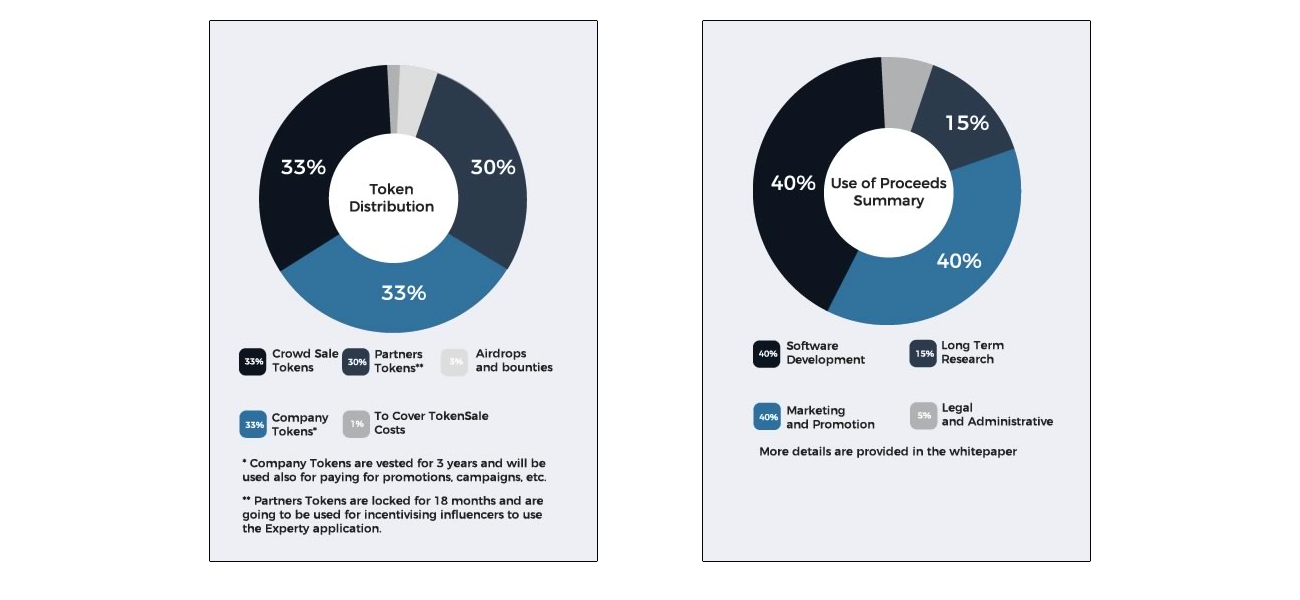 Future Growth Potential:
They will be directly introduced to consulting industries having revenues about $488B in 2017 as soon as the product hits its full functionality.

They can develop this platform based on NEO blockchain and it will add more users of highly populated China.

Development of chat features will lead to saving time as both of the parties can schedule their call.

So, after completion of ICO, it is recommended to hodl EXY tokens at least till the end of 2019. (complete development of Experty functionality)
Risk Prevention:
The Ethereum Network[EN] at the current state is not able to process many frequent transactions and would be bottlenecked using current architecture at scale. Implementation of a lightning network[LN] Raiden-like network instead of direct messaging the EN would be the proper solution for prevention. In that case, the communication scheme would change from,
[Caller] <—–>[Recipient]<—–>[EN]
into,
[Caller] <—–>[Recipient]<—–>[LN/Raiden-like]<—–>[EN]
Meaning, architecture is designed to accommodate the possibility of LN-type architecture if needed. It would take more time for paying to strangers on call but who cares if an expert on the other side having solid skills to meet seeker's demand. 🙂
Wrapping Up,
I know this is late recall or review but at least get your self to be able to participate crows sale. As this project comprises completely unique idea, it is recommended to go in. You need to sit tight for really great ROI as aforementioned. If you really liked this project, don't forget to share with your loved one. Any of your suggestions are warmly welcomed in the comment section.