Do you want to earn free crypto tokens? We know the answer is obviously, Yes. But how? It's really simple with Binance's latest mini game – Crypto WODL. In which you can earn crypto rewards as well as understand the latest market developments. That's interesting. Right? However, you have to understand the theme of the WODL and give the correct answers to the crypto WODL game. But don't worry, we are here to help you by sharing the possible correct Crypto WODL answers today.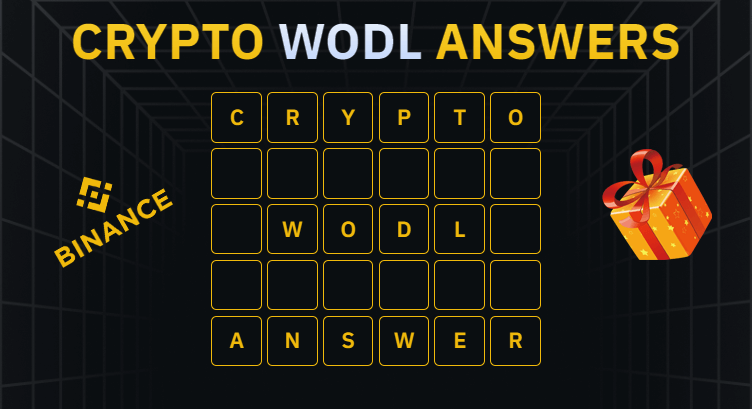 What is the Binance Crypto WODL Game?
The Binance Crypto WODL game was launched to celebrate the fifth anniversary of the Binance crypto exchange. In an effort to engage users and gain more consumer support, Binance has created a game in which users can unlock free crypto rewards by guessing the correct blockchain or cryptocurrency-related word. This game is one of Binance's many innovations that seek to increase user engagement.
Each week Binance set a theme for the Crypto WODL game. The theme of this week's WODL is Binance Gift Card. So, you need to guess the correct WODL word related to Binance Gift Card. If you participate in this week's WODL and give at least five correct answers then you will qualify for an equal share of $5,000 in BUSD token vouchers.
How to play the Crypto WODL game on Binance?
First of all, if you haven't signed up on Binance yet then create a Binance account and complete the KYC. Now follow the steps given below:
Log in to your Binance account.
Tap on More and you will be redirected to the Services page.
In the Gift & Campaign section, check WODL and tap on it.
Now it's time to guess the correct crypto WODL.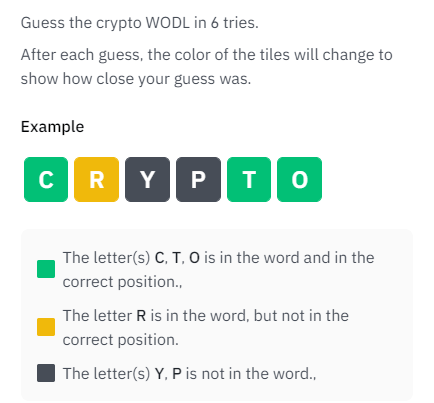 Enter a word into the game and the color of the tiles will change to show how close your guess was.
Green Color: It indicates that the letter(s) is in the word and in the correct position. Good job!
Yellow Color: It means that the letter(s) is in the word, but not in the correct position. So, you need to change the position of that letter(s).
Gray Color: The letter(s) is not in the word at all.
You will get a total of 6 attempts to guess the correct crypto WODL. You can play up to 2 WODL games daily and then after 24 hours, a new WODL will arrive. Users with 5 wins will share $5,000 in BUSD Token Vouchers rewards! So, hurry up and play right now.
How to get the Second WODL of the day?
You can get another chance to play the game if you win or lose on the first attempt to guess the correct crypto WODL. Simply follow the below steps:
After your first game, click "Get A New WODL".
Share one of the top news of Binance on social media.

The

second

W

OD

L

game

will

be

unlocked

once

the

shared

link

is

clicked

.
Tip – You can click on the news you shared to get the second WODL of the day.
Binance Crypto WODL Answers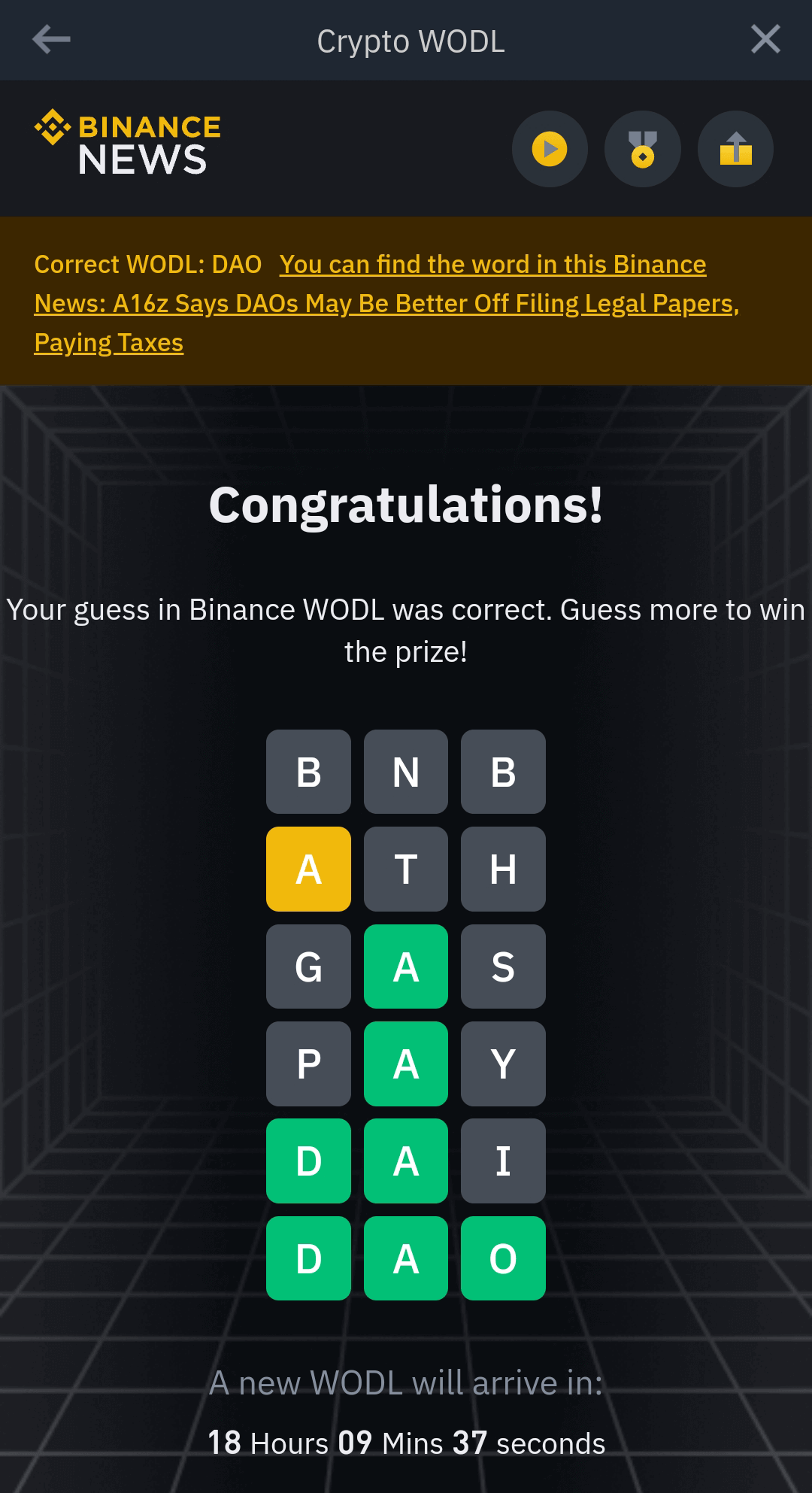 As we said earlier, we are here to help you guess the correct crypto WODL answers. To make things more difficult, not every word has the same number of letters. So, we have categorized wordle game answers according to the number of letters.
8 Letter Binance Crypto WODL Words Answer
TRANSFER
FLEXIBLE
RESERVES
SNAPSHOT
RESEARCH
INTERNET
PAYMENTS
INTERACT
PROPERTY
PLATFORM
PHYSICAL
WITHDRAW
SOFTWARE
VALIDATE
DELEGATE
PRIORITY
CONTRACT
PROPOSAL
SOLUTION
SHARDING
NEGATIVE
EMISSION
FRIENDLY
SECURITY
IDENTITY
FOOTBALL
HOLDINGS
MEMECOIN
CONTRACT
EXCHANGE
PROTOCOL
7 Letter Binance Crypto WODL Words Answer
CONVERT
DIGITAL
SPECIAL
AIRPORT
JOURNEY
BOOKING
EXPLORE
FLIGHTS
RESERVE
CUSTODY
ACCOUNT
DIVERSE
PROTECT
CREATOR
REALITY
WRAPPED
VIRTUAL
CONNECT
OFFLINE
NETWORK
UTILITY
FREEDOM
BSCSCAN
AUCTION
CREATOR
MINTING
PRESALE
ROYALTY
DISPLAY
APPROVE
ROADMAP
UPGRADE
DEPOSIT
TESTING
SCALING
PRIVACY
MONITOR
BITCOIN
CLIMATE
FORMULA
PARTNER
RONALDO
NEUTRAL
AIRDROP
PRIVATE
MAINNET
TESTNET
HOLDING
STAKING
LENDING
FARMING
HALVING
GENESIS
ESPORTS
6 Letter Binance Crypto WODL Words Answer
CREATE
REWARD
CRYPTO
REDEEM
DESIGN
TRAVEL
LEDGER
SAFETY
WALLET
VERIFY
MERKLE
ONLINE
ASSETS
GAMING
WORLDS
PHRASE
SECURE
BLOCKS
BRIDGE
RARITY
UPDATE
SERVER
ROLLUP
STABLE
ESTATE
BEACON
CODING
PROOFS
PLANET
CARBON
FOREST
ENERGY
OFFSET
FUTURE
MINING
ORACLE
AVATAR
METAFI
GAMEFI
5 Letter Binance Crypto WODL Words Answer
GIFTS
HOTEL
TRUST
SWEEP
AUDIT
LEARN
FUNDS
TOKEN
STORE
TRACK
BUILD
CHAIN
ASSET
BRIDE
SKALE
LAYER
ETHER
SHIFT
SERGE
SHARD
MINER
GREEN
EARTH
POWER
PERKS
STATE
LAZIO
ALPHA
PRIZE
STAKE
BLOCK
TRADE
MERGE
WAGMI
PROOF
YIELD
4 Letter Binance Crypto WODL Words Answer
GIFT
SEND
EASY
RIDE
SAVE
HASH
LEAF
SAFU
EARN
SCAM
DYOR
DEFI
KEYS
SAFE
DAPP
NODE
VOTE
DATA
CLUB
GEAR
SAND
LAND
MOON
SALE
BURN
BUSD
SWAP
CEFI
FORK
GWEI
LABS
VOTE
POOL
HODL
TOLE
WODL
FUND
3 Letter Binance Crypto WODL Words Answer
PAY
POR
KYC
IOT
IGO
NFT
DAO
WEI
POS
EIF
ECO
SBT
FAN
BAB
ATH
BNB
BTC
GAS
DEX
APY
BSC
KEY
TVL
POS
Wrap Up
So, that's it. We have given a number of possible crypto WODL Binance answers today. Try to solve the crypto WODL with them. However, future crypto WODL answers may differ from those we listed above. If you find any other answers please let us know in the comment section below. This will help our readers like you to solve Binance Crypto WODL as quickly as possible.