Hello, Friends in Every Lenovo users After Updating Windows 10 all of the getting problems of OneKey Theater. First I say in Windows Lenovo OneKey Theater audio driver is awesome Because It has the functionality to set automatic mode changes to the system. But Lenovo OneKey Theater Windows 10 stand many problems in the system.
What is Lenovo OneKey Theater?
OneKey Theater gives users an easy way to adjust the PC's display and sound effect settings. Users can switch from normal mode to movie mode on the fly to optimize the picture when watching movies or playing games.
The Lenovo OneKey Theatre activates the surround sound system and changes the color settings when you press it.
about battery, if you think you use extra speakers, it is possible that reduce the battery life. So it is recommendable to use this software for lenovo users. But i have encountered issues while installing and i found it was driver related problem.
Therefore here, I am providing solution on how to the aware problem of Windows 10 Lenovo driver of OneKey Theater in a system. You can also take the answer of Lenovo Windows 10 Upgrade issue From Lenovo forum, but you can't get the proper response from there.
Should I Remove It? -No. It is recommendable to use.
Download Lenovo OneKey Theatre For Windows 10
OneKey Theater Windows 10 Solution
Step 1: Download Lenovo OneKey Theater Windows 10 Driver From Here.
Step 2: After Download Lenovo OneKey theater audio driver Install it.
Step 3: Then, Restart Your PC.
Step 4: Now See in Taskbar there is an Icon of Lenovo OneKey Theater Click on It.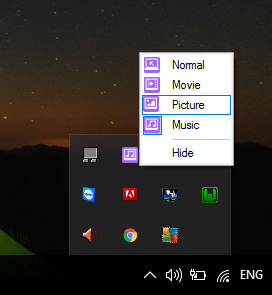 Step 5: Now change the modes Like Music, Movie and More and See Different in Sound. There are Dolby effects will come in Music and Movie Mode.
lenovo onekey theater download audio driver from here just install it. It is working with all upgraded Operating system like windows 8, 8.1, and windows 10 also. So Lenovo OneKey theater download from above link
Lenovo OneKey Theater Solution Video Tutorial
Must Watch If you not able to do then watch it and do it step by step. you understand all the things related to lenovo onekey theater problem.
If You Have Any Problem Regarding This Then Feel Free To Comment Here.