For an exciting communication, emojis are highly considered to be a part of it. Generally, emojis are not only allowing the user to have fun but also help to convey the feelings through messages while having a communication. When it comes to having a conversation containing various emojis, people don't get usually get bored while chatting. Generally, there are different numbers of stickers and emojis are available on most of the devices to make the conversation better and interesting than ever. But there is a lack of expressing some of our feelings as the availability of best emojis is limited. Therefore, the users basically try another best emoji apps for doing so.
Here, I am sharing some of the different emoji applications for an easy chat with friends through social networking sites. For making your conversation really fruitful, follow the given list of best emoji apps for Android & iOS devices.
Top 10 Best Emoji Apps for Android & iOS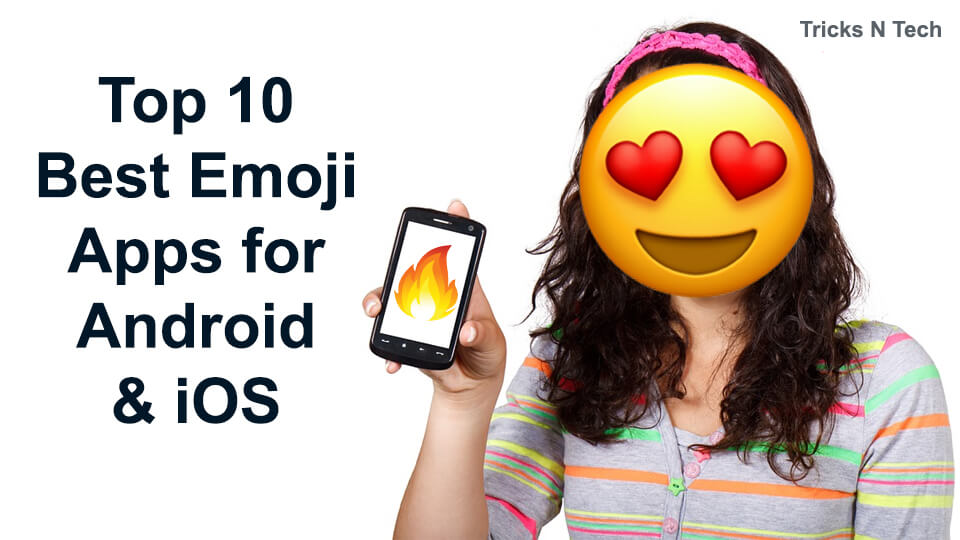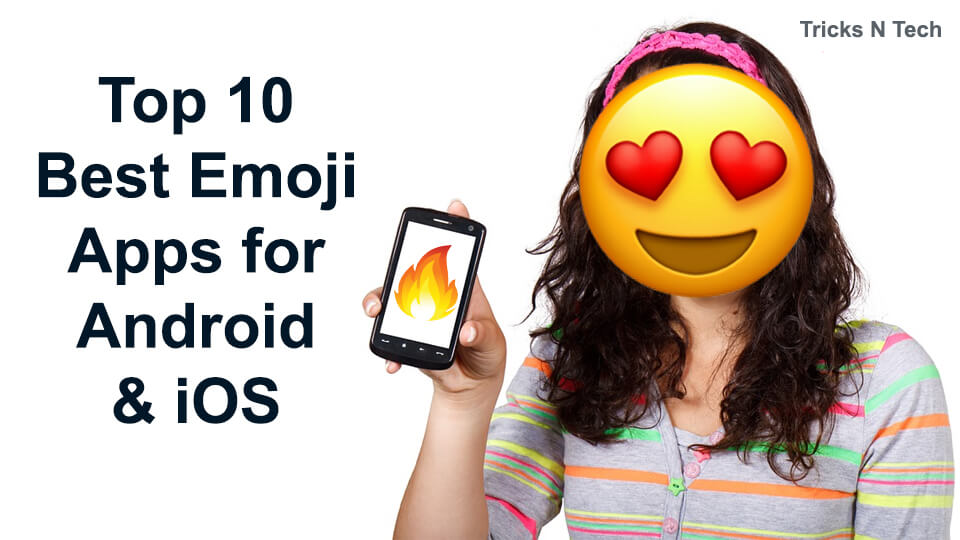 So, We have shared top 10 best emoji apps for iOS & Android below. Check it out one by one along with its description.
Bitmoji


Bitmoji is the best free emoji app when it comes to Android as well as iOS devices. The application has the option of making personalized as well as a unique collection of emojis. People who all are expecting some better emoji to experience on the device, then this application could be the best choice when it comes to installing on devices. Also, the user can create an attractive cartoon avatar for a unique experience during a conversation. They have a huge library of stickers to send to your friends while chatting. If you use Bitmoji in Snapchat then it will unlock friendmoji where 2 person bitmojis feature you and your friends. Interesting right? Then try it on your Android or iOS device right now.
Kika Keyboard – Emoji Keyboard


This application is considered to be one of the best emoji keyboard applications to download by visiting the PlayStore or iTunes. By using this application, one can choose and share the collection of stickers, GIFs, and emojis. This could be the main reason that makes Kika Emoji Keyboard the best application. It also has a number of key sounds, keyboard themes, fonts, language options and more to experience. Kika Keyboard has 3000+ emojis and emoticons, trending GIFs, stickers and colorful themes with the support of more than 150 languages. The app allows you to choose QWERTY, QWERTZ or AZERTY for phone mode and other layouts specifically for pad tablet. One of the good features of the app is Smart stickers pop-up to help you express yourself quickly while chatting.
SwiftKey Keyboard


It is considered to be one of the best keyboard applications when it comes to emoji. This application will be helpful in terms of predicting the right emoji for the text during the conversation. By using this application, one can find a lot of emoji to make the texts interesting on devices. When it comes to handling, it is easy for the users at any time without hassles. AI-powered predictions will help you to type faster without any typo mistake. The keyboard supports 300+ languages is the key advantage of the app. So, You can use it to type in your regional language with cool emoticons and smileys. It's available for iOS and Android smart devices.
Gboard


This could be the latest keyboard application for Android as well as iOS users. By using this application, one can get hide typing, emoji option, GIFs on devices. Also, it allows the user to get nearby stores, news, restaurants and more search engine applications with the help of this Keyboard. It also has the private browsing option where the user can type the personal data when it comes to privacy mode. The application will also allow the user to voice to text option so that anyone can easily text it with the help of voice. Gboard allows you to pin keyboard to the left or the right of the screen if you are using large screen phone. Multilingual typing help you to autocorrect and suggest from your enabled languages. Google translate quickly translate as you type in the keyboard. The cool stickers, gif and emoji search option also works great as it's app by Google.
GO Keyboard


GO Keyboard has more than 250 million users till now I am writing this article. With the GO keyboard, you can personalize your texting with 1000+ colorful emojis and funny stickers. Also, you can personalize your chatting with beautiful and fancy fonts. You can set your favorite photo on the keyboard is one of the good features of this app. If you want to set customized themes on the keyboard then they are providing more than 10,000 themes for that. Moreover, it supports 60+ languages and covers 100+ countries from all over the world. This keyboard emoji app is available for both Android and iOS users. So, Check it on your smartphone.
TouchPal Keyboard


The TouchPal keyboard is a keyboard with fun emoji, autocorrect, glide typing and predictive text. With this app, you can type with a single hand and easily without worrying about typing mistake as it comes with excellent AI feature. This emoji keyboard has 5000+ themes, 300+ emojis, gifs, stickers & pop smileys. The TouchPal keyboard comes with Emoji prediction, Next-word prediction and text faces prediction, including happy text emoticons, yawn face and wink face. Moreover, It supports over 150 languages. They have wear version and pad version of the app also. So, If you are looking for the emoji keyboard app like this then give it try.
Disney Emoji Blitz


This Disney emoji application is said to be the free as well as popular one among the Android and iOS users. By using this application, the user can find more attractive Pixar and Disney emoji character. Also, this application can be used for a game with expressive emoji. At the same time, it is also easy for the users to access on Smartphones. You can select Disney, Pixar, and Star Wars emoji characters and items from The Lion King, Cinderella, Zootopia, The Little Mermaid, The Muppets, Monsters, Inc., Disney Pixar's Toy Story, Finding Dory, etc. The Disney emoji app has more than 2000 emojis and items to share with your friends. So, If you are a Disney fan then you should definitely download this application.
Emojidom Smileys and Emoticons


Emojidom emoticons have more than 4000 emojis, smileys & stickers for Facebook, Whatsapp, Instagram, Snapchat, Kik, LINE, Hangouts, Viber, WeChat, etc. They have over 130 popular themes. The emoticon app has emojis and stickers for categories like Christmas, New Year, Valentine, Easter, Halloween, Thanksgiving, Flowers, Birthday, Sports, Celebrities, Naughty, Romantic, Zombie, Dirty, etc. They have emojidom sticker store from where you can buy new emoji pictures with free coins. The emoji app supports most of the phone models like Samsung, iPhone, Huawei, Moto, LG, HTC, Sony Xperia, Xiamo, etc. So, Try this cool emoticons app on your desired model.
Elite Emoji


Elite emoji app makes a great impact among other best emoji apps. This emoji app has more than 1000 high definition emojis and stickers to choose from different categories. You can send emoji, sticker or gif with one touch in Whatsapp, Messenger or on any other chatting app. The good part of this emoji app is you can select gif from their huge collection or you can make your own animated images. That's really cool, right? Also, you can discover which emojis are the most popular. So, You can use those popular emojis & gifs also. Elite emoji is available on iOS as well as Android. So, Give it a try now.
Adult Emoji App


As per the name of the app – Adult Emoji App, this app contains best adult emoji collection which you can't find anywhere else. The adult emoji app offers 700+ adult emojis in 7 different galleries (some of them are premium). This is app great for the naughty couples to send naughty emojis rather than just texts. They are frequently updating flirty, romantic, drunk and provocative emojis for their users. It works with most of the chatting apps like Whatsapp, Messenger, Kik, Snapchat, iMessage, Instagram, etc. So, If you like to send naughty and adult emojis then this app is perfect for you. Download Adult Emoji for your Android or iOS device.
Bonus
I have added one more best emoji keyboard application for Android and iOS. I hope you will like this emoji app too.
Facemoji Emoji Keyboard


Facemoji Emoji Keyboard has a good number of user ratings. That's why I am recommending it as a Bonus Best Emoji App. This emoji keyboard has 3600+ Emoji, Emoticons, GIFs, and Stickers. You can easily add emojis in text messages, chat apps, social media posts, emails, etc. You can personalize the keyboard by choosing your photo as keyboard background, choosing keyboard buttons, tapping effects, and music by yourself. They have thousands of trendy, customized stickers and GIFs to express your emotion while chatting. They also have features like autocorrect, word prediction, swipe to type, Emoji prediction, and Emoji combos. Facemoji also works fine while playing games like Clash of Clans, Mobile Legends: Bang Bang, Rules of Survival, Free Fire, Garena Liên Quân Mobile which will give you best gaming experience. The best feature to use this app is Facemoji. For that, you can use Emoji Maker to turn your face into an Emoji. Take a photo or short video and use the cool & awesome filters to make your photos into Face Emoji. Yes, Facemoji is available to install on Android and iPhone.
Conclusion
Thus the above-mentioned emoji applications are highly helpful in terms of making the texts between friends and family more interesting. Also, the emoji apps are easy to access on Android as well as iOS devices as per convenience. If you are using any other good emoji apps or keyboards then let us know in the comment section below. If you liked this article then don't forget to share it with your friends.