Android offers its users the utter freedom that any OS doesn't provide yet. Android apps are always incredible to perform just any work conveniently. Take an example of automating apps that perform several tasks easily.
The automation apps are just right if you expect your phone to do some really smart things like you instruct your phone for a particular task and it executes it at the right time and condition.
So it is automation that makes your life easier by executing your tasks and today I'm going to take you to best android automation apps that provide all automatic features on your phone just by installing these apps and setting your desired task to happen.
There are several things to automate, and each app has its own features and terms, so you just need to choose the best one according to your needs and be ready to set your first task, have a look at these top android automation apps.
Best Apps to Automate Android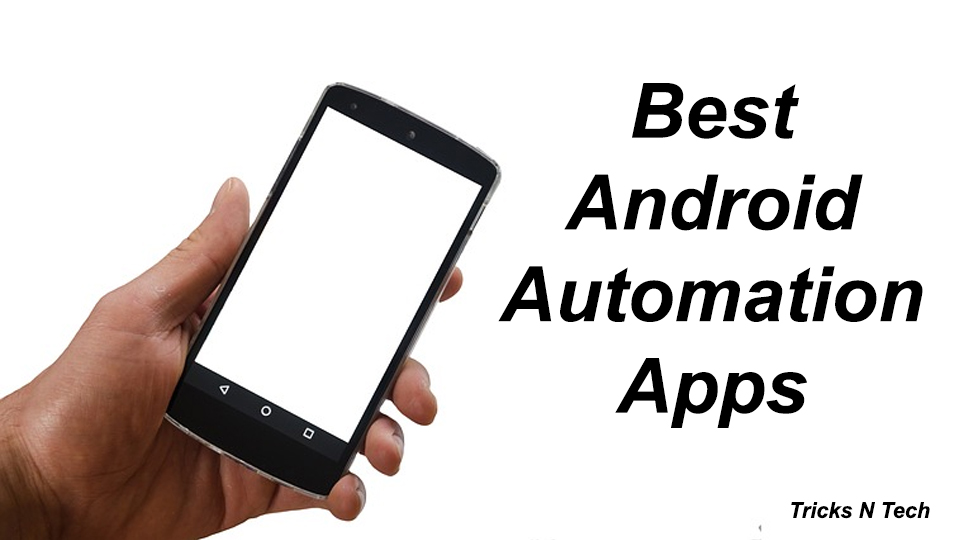 1) Tasker
Tasker is the first app that comes to anyone's mind while thinking about the best automation apps. You can take it as one of the top apps to automate android devices.
Tasker is made to take the automation features to the top level and with minimum hassle. New users that haven't used any automation before may face difficulty, but by time, you can take advantage of this huge app that provides you just any control on your device.
It can control your device in the best way and execute the given instructions by keeping an eye on the set conditions by the user.
There are likely 20 plugins that take you to the advanced level of automation, and as you all know plugins provide the extra features, so you can download your favorite one.
You can use factors like date, time, place, etc. and create your task to happen according to these factors.
If you are new to Tasker, check out these 10 awesome Tasker profile to automate your device easily. And for any confusion, read this depth guide on How to use Tasker.
2) Automagic
It is also a perfect automation app same as the Tasker with enough features and actions for any android user who want some features to happen automatically.
You can create a profile here or your first task by using flow charts and use the given settings accordingly. In the same time, you can use other apps as well.
It is mainly for keeping a backup of your work or files, so you can instruct the app to auto-record your desired files. It surely deserves a place in best apps to automate android as it guides you effectively from initiating any apps to ending it up.
3) AutomateIt
AutomateIt is another best app to automate your android device efficiently by using a different set of situations and conditions as set by the user.
You can also import rules from the market and install it to access it. The app provides various automation features like SMS settings, phone settings, call settings, the screen on/off and much more.
There are several types of triggers so you can choose your action to perform according to them. Like when do you want a notification to appear, which ringtone do you want, what should be the level of volume, location track or not, keeping the device's screen light on/off, etc.
The app already comes up with certain rules that are basic and advantageous to any new user if you're not good at defining rules by yourself. So don't forget to try this one of these best apps to automate android.
4) Automated Device
There are some basic things that you all need to do by yourself, and this automated device is the perfect one for all those basic and daily needs.
By installing it on your device, you can set those tasks once and let them happen every day or just as you want. For example, you need to keep your phone silent every day after 10 pm, then you can choose from the given profiles in the app, set time, ringtone and other factors and your phone will automatically go silent as per the instructions.
In the same way, you can also choose to keep your phone in the ring mode by choosing a particular profile in the app, make your desired settings and let your phone come to the ring mode automatically. You can also use this app to automatically send messages to your friends at your desired time.
5) RepetiTouch
Like its name, the app is for automation, and it records all your inputs put by yourself on the device.
It can be really helpful when you need to repeat these inputs again and again, so the app records your actions/inputs given by you, and you can repeat them anytime, anywhere without using all those actions over again.
There are two versions, free and premium and free allows you only for 10 minutes recording with no loop mode and no multi-touch input. To access the limitless version, you can purchase its premium form for $5.49.
6) SkipLock
Many times unlocking your phone may seem like an unnecessary feature because you're in the state of doing any task on your phone and after a few seconds of inactivity requires you to face that lock screen.
If this thing annoys you very much, then you can install this app SkipLock and get rid of unlocking that screen. For this, you can make settings like disable the lock screen when the device is on Wi-Fi network. So every time you access your device on Wi-Fi, it won't ask you to unlock your phone.
7) Velis Auto Brightness
The app is useful if you want your device's brightness level to automatically adjust according to the environment. You can instruct it when you want it too dim or when you want it a high level of brightness. So the app is capable of adjusting your phone's brightness levels as per the light sensitivity.
Conclusion
Our phones are smartphones because android, iOS or windows provide us that freedom and manipulating power that our handsets can really work smartly. Automation is a great feature that enables the device to perform certain tasks by itself, so these best apps to automate android device can be helpful to you and can handle many things at once. If you know any other good android automation apps then let us know in the comment section.