Hey, Guys! In the Increasing Demand of Using Social Media Apps Such As Facebook, WhatsApp, Messenger, Twitter, Instagram etc, It is Very Difficult to Get Followers or Friends on Such Platforms. And Of Course, It is Nessecery that You Have Some Pleasant Amount of Followers to Create Some Impacts Among Your Friends 😉 Don't Worry Because Today I'm Going to Teach How to Get Auto Followers on Instagram Shared By One of My Friends. Yes, You can Say that It can be Proved to Get Unlimited Instagram Followers.
There are Many Methods to Get Auto Followers on Instagram or Get Unlimited Instagram Followers. Instagram Like Bot Can Grow Your Post Likes Rapidly and Followers Eventually. However, Today's Method is Very Safe and Convenient In Order to Get Auto Followers. It is Based on "Do Follow" Motto. You Just Have to Like a Page and Follow Who They Follows. And You will Get Pleasent or Unlimited Instagram Followers Whatever You Want 🙂 Just Follow the Procedure Step By Step.
How to Get Auto Followers on Instagram :
Procedure :-
Step 1: Download and Install Instagram App From Here
Step 2: Open the Instagram App and Login/Sign Up.
Step 3: Search for Popugram and Open That Page.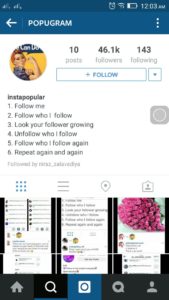 Step 4: Just Follow this POPUGRAM Page.
Step 5: Follow the List Which They are Following.
Step 6: Now Maintain Your Patient, You will Get Notifications from Instagram Followers.
Step 7: Follow Your New Followers to Get More Followers From Them.
Step 8: By This Way, You can Get Unlimited Instagram Followers.
Note :-
It is not a Part of Promotion. I am Just Sharing This Tricks to Get Auto Followers and Actually This Works Fine. Just Repeat Above Steps Again and Again to Have Good Amount of Followers.
If You Are Still Having Query Regarding This Then Feel Free To Comment Here.