Every day the content authors do their best to make it interesting, diverse, thereby attracting the attention of the audience and getting new subscribers. This is, indeed, a headache for many – you should look for ideas every day, come up with the topic of the post/article, prepare quality material and visualize it, and at a good level. But when you have convenient tools for work, then the job will be done much faster. Are you ready to add more tools into your arsenal? Then be prepared to learn how to create short loop videos that can vary your newsfeed in social networks and will be a good additional (and maybe basic) element that will catch the users' eyes.
Why does not everyone have a video? I think the answer lies on the surface. To make a video, we need additional resources (except for financial ones, there are a lot of others), determination and interesting life or activities. It's not a very common "set." Meanwhile, many authors would love to add videos to their content.
We must understand that professional videos made by professionals are of course cool, but often there is no need for a huge budget to do something interesting, noticeable. For example, short videos last up to 40 seconds and loop videos have length near 10 seconds. If necessary, everyone can do them. Well, almost everyone. And for free.
Why are short loop videos good?
Here, We will point out why loop videos are good.
The shorter, the better. It is the ideal format for our overloaded life when a user needs to get content quickly and easily.
Loop videos have some kind of "hypnotizing" effect, encouraging people to watch it longer than the usual video, and hence the percentage of audience retention will be higher.
Loop videos are very popular now and attract the attention of your audience.
They can be articulately formulated and briefly conveyed the basic idea.
A looping video can be viewed several times. If a visitor failed to understand a part of a video, they don't need to click any buttons to re-watch it. The video will start playing again automatically.
With the help of loop videos, you can create a mood and surprise the audience.
Loop videos can be used to vary the main content. For example, you can create quotes or funny jokes.
In this video, you can focus on one thing, very important for remembering and recognizing. If you want users to remember the address of your site, then consider that it has already been remembered. It will play endlessly.
Loop videos can be used as a mobile object, which attracts more attention than static ones. The 3-second Instagram loops are very popular.
Using loop videos instead of photos in the usual post, you increase the involvement of subscribers and followers.
How to create a loop video on iPhone?
If you are an iPhone user and want to make a loop video then we are providing steps to create loop video below.
Open the Instagram application on your device and click the camera icon in the upper left to create a new history.
On the screen, make a swipe up, so that the bottom panel with photos appears. Choose what you want to add to your story in the Instagram. Your photo will be uploaded to the editor.
After that, you need to tap the screen with your finger with the gain, using 3D Touch technology. For a few seconds in the center of the screen, you will see the wheel and the word Boomerang.
You've created a boomerang video from your live photo.
If you want then you can to do the usual actions (add a signature, sticker, gif, emojis, etc.) and share your story with the rest by clicking on the appropriate button.
Alternatively, you can download a free boomerang app and create short loop videos right into it. This type of looping app has only one button – Start recording. Tap it when you ready to create a loop video. It will be saved to your Camera Roll. After that, you can edit and share the loop video with your friends.
In case you don't have an iPhone, you can create a short loop video on PC or laptop too. Let's check it.
How to create a loop video on PC?
Well, If you want to loop video on PC or Mac then it's also possible. You can upload the existing video to loop video online. You can use a web camera also to record it live and loop it. In addition, you can loop videos from YouTube or Vimeo. Exciting right? Let's check how to loop video on PC.
Go to the site coub.com and follow a simple registration. You can register on the site through your account on social networks Facebook, Vk.com, Twitter, Google+. You can also create your account through a mailbox.
After registration, you will be transferred to the main page. Now you can create your Coub videos. To do this, click the Create button in the upper right corner of the page.
If you want to loop a video from a personal library of your PC, click Upload a video. Note that you will not be able to upload videos larger than 400MB and longer than 20 minutes. If you want to use a video from YouTube or Vimeo, click on Paste a link or you can use Web camera also to record live video.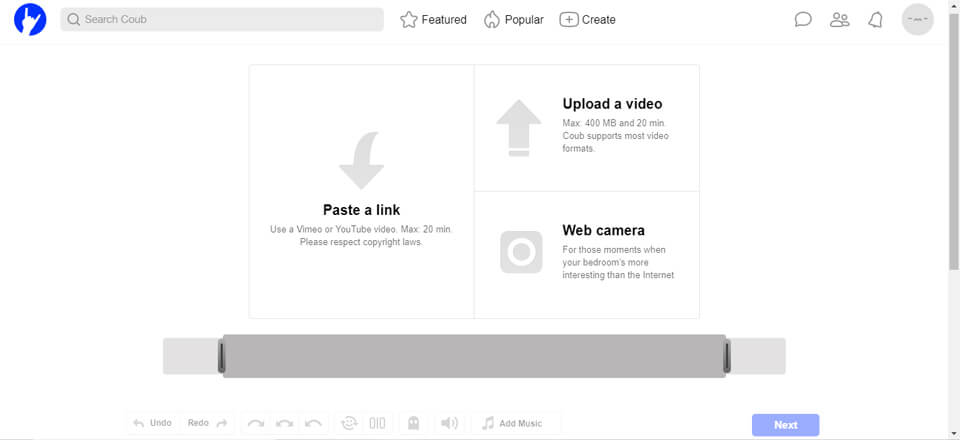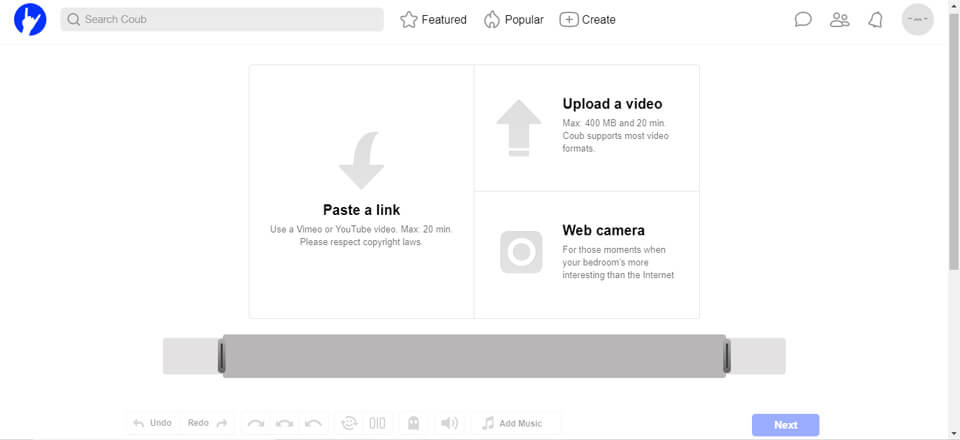 After the video is loaded, a single-frame track appears in the lower screen. Use the slider to select any video section for the clip. Its length will not be more than 10 seconds.
You can use a loop, back loop (reverse) or ping pong loop (forward and reverse) to make a video. In addition, if you want to add random reaction after the loop video then the feature is available there.
If you want you can preview your loop video. It is possible to add your music (MP3 only!) using the Add Music button below. When all the work is done, click Next.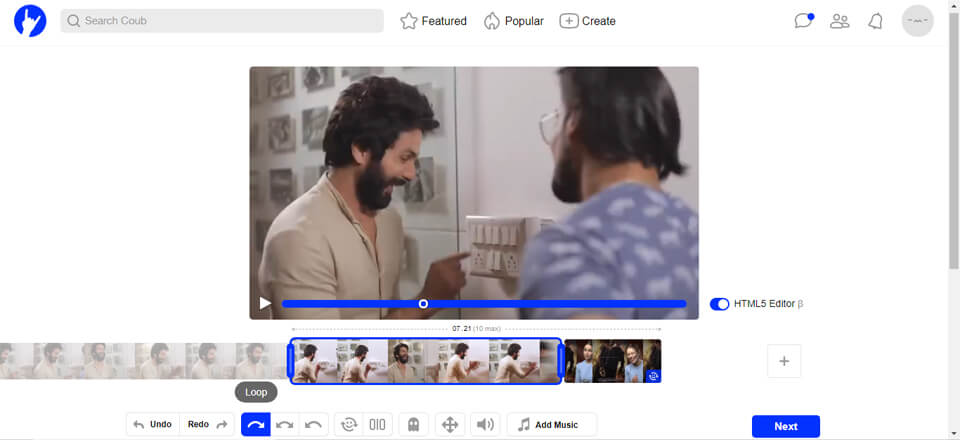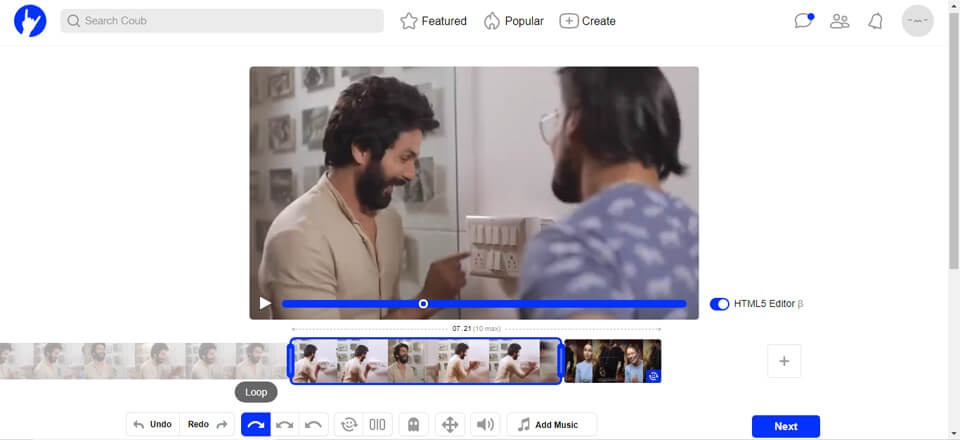 In the appeared window, give the title to your Coub, write a description, and select tags and category for the video. Set the privacy settings for the video – public, unlisted or private video just for yourself. When you are done, click the Publish button. You will have to wait a little while the video loads and publish.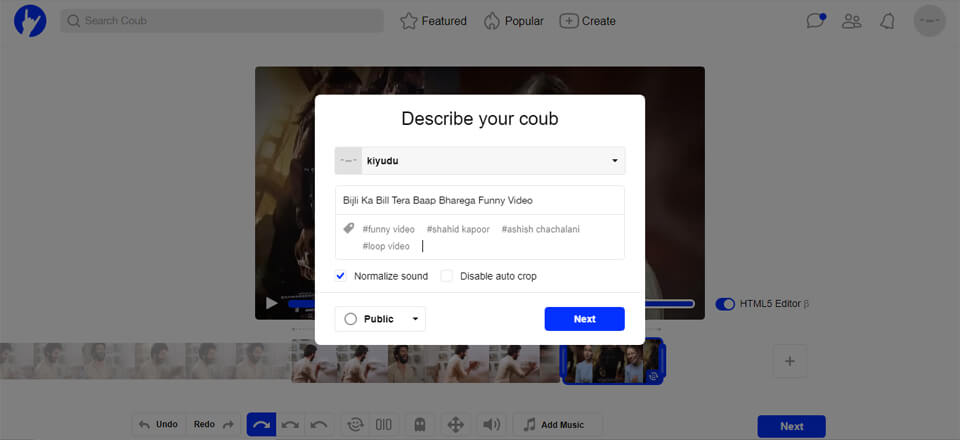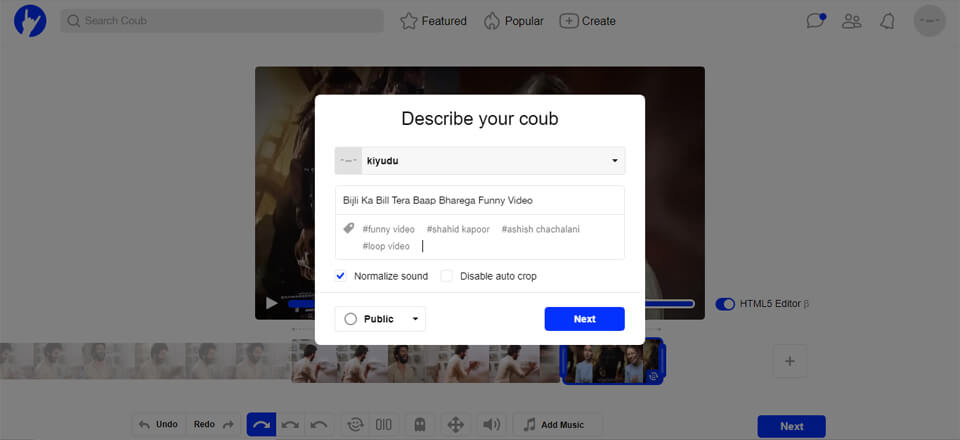 Coub provides very simple video editing options. Thus if you need to add effects to your video or edit it more professionally, you will need to get a good video editor. Here are 10 Top Video Editing Software to choose a free video editor. Read detailed information about each video editing product and select the one you need depending on your scope. For example, if you need to cut some undesired video moments, to rotate a wrongly shot video or to merge several video parts into one, you can go for free Freemake Video Converter. It provides a user-friendly built-in video editor that can help you perform simple editing tasks in a couple of steps.
That's how you can create a short loop video to publish it on your social channel. What other tools do you use to create video content for your company or for yourself? Let us know in the comment section. If you liked the article then share it with your friends and colleagues.