A logo is vital for a brand and a company. Effective logo always helps to promote business as well as attract potential consumers. These aspects make logo design become expensive in the market, creating barriers for an array of small business owners to start up their own brands. In this circumstance, DesignEvo is created and designed to deal with logo designs. DesignEvo sticks to Simplism and simplifies the process to design a logo. It offers full pack solutions for a logo design with an unprecedented attractive price – FREE. At the same time, it optimizes the phrases of brand creation to the utmost.
As an excellent online logo maker, it has an intuitive and sleek interface with a myriad of icons, shapes, and texts. With simple drag-and-drops, you are allowed to build a logo in a minute. Even without any design knowledge, you can still play with DesignEvo like a professor and get a professional and effective logo in a matter of minutes.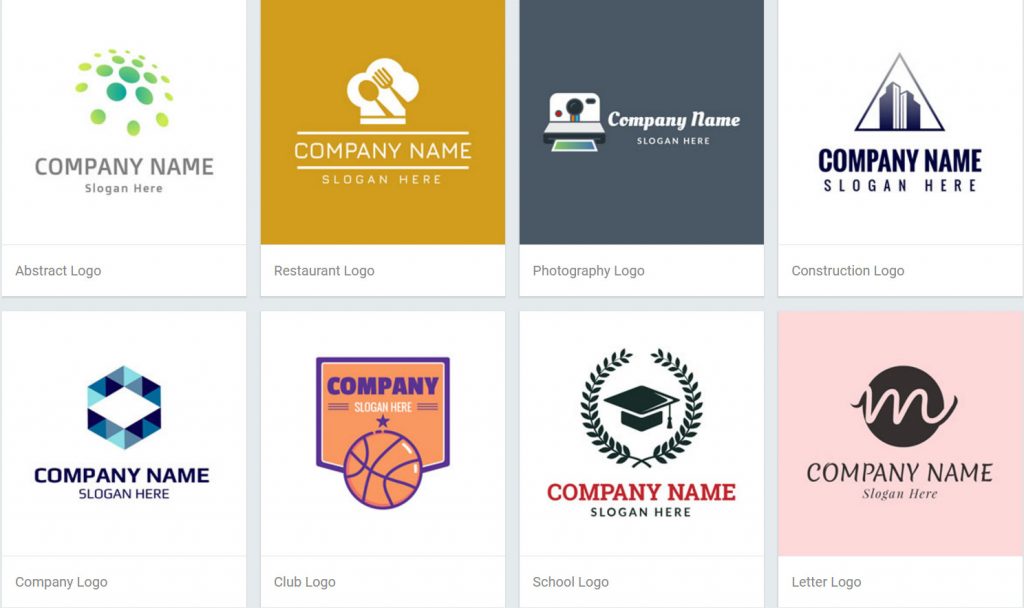 How to Design A Logo with DesignEvo Logo Maker
To get started, you should know the basic logo principles: what is a must for a logo? Normally, there are two elements that a standard logo must have: logo shape and logo text. Logo text should be brief and spiritual, which speaks volumes for your business. Likewise, logo shape helps to make your logo unique & memorable. In order to create a nice logo, it's necessary to keep the text and shape in a uniform style, which contains the colors and looks.
DesignEvo is such an easy logo creator that gives a variety of logo shapes and logo fonts. Besides that, it has a practical function for icon search. All of these features make logo creation convenient and joyful.
In case you want to try it yourself, we've attached its homepage below:
DesignEvo: https://www.designevo.com/
How to Use DesignEvo to Add Logo Text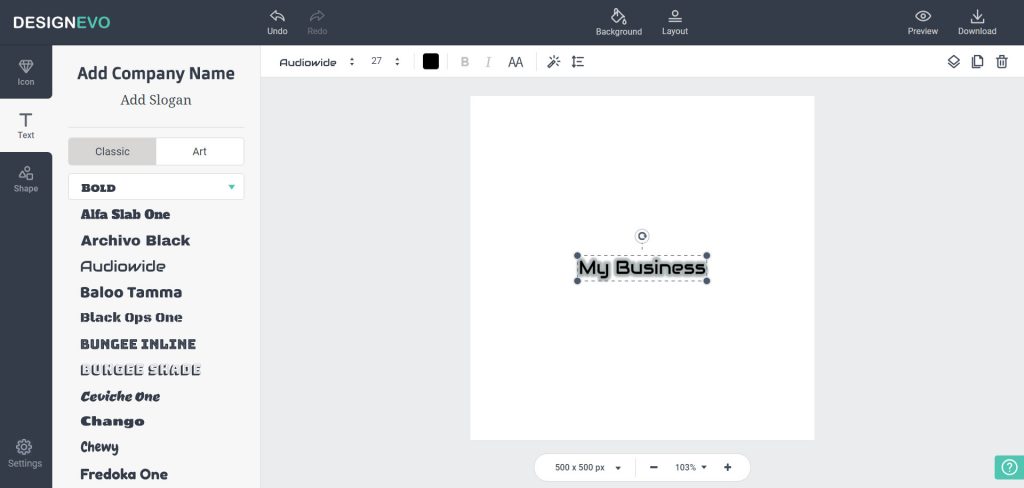 It's way simple to add logo text via DesignEvo. Merely go [Text], two options show there. The Classic choice is for text fonts, and Art selection contains a group of ready-made beautiful texts. Click to make an instance of your text in the canvas. Double click to input your branding words, here I use "My Business" as the example. Note that your logo text is scaleable as well, drag the corner dot to resize it.
There are other items in logo text, like text color, text style, and text effect. The magic pencil lets you add outlines and glows to your logo text.
DesignEvo, Adding Logo Shape with Ease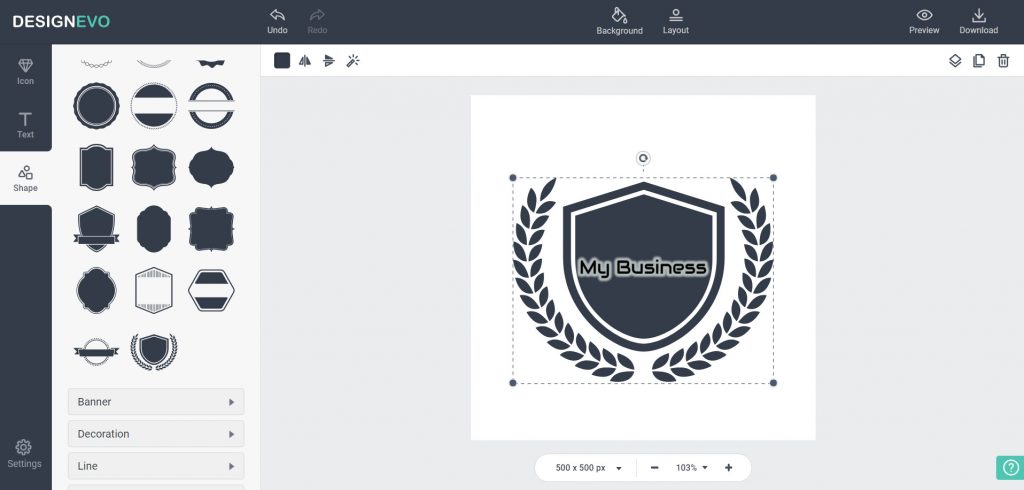 Adding shape in DesignEvo is a piece of cake. In its Shape category, it lists hundreds of shapes in different categories. There are Solid shapes, Outlined shapes, Badge shapes, Banner shapes, Decoration shapes, Lines, and symbols, which is guided and self-directed. Giving it a try, we view it as a stardom product for anyone who wants to design a logo on his own.
The function bar on the top can be quite useful since it gives layer management, clone, rotate and effect. If your shape appears above your logo text, [Back] choice in layer management can help your logo text float above.
Massive Icons
In addition, there are a wide variety of online icons those can be easily searched through and applied. Being powerful and smart, the image search engine gives you the freedom to type anything you can name of and retrieve with a group of related icons to choose from.
Easy-of-Use Layer, Alignment Control
Once selecting an object on the canvas, you can modify its layer sequence, either via [Forward] it or through [Back] it. Therefore, you are entitled to manage the looks of the overlaps. DesignEvo alignment system is quite intelligent. By dragging and moving an instance, you will see the center cross line for adjustments.
Practical Preview & Output
DesignEvo gives tens of practical previews, e.g. printing logo on a T-shirt, using it in a site, showing on a book cover, etc. The purpose of these previews is to let you know how it will look on such occasions, avoiding time wasting. Additionally, the output service is more delightful. DesignEvo offers jpg, png, and png with a transparent background respectively as default logo downloads. For those who want a smaller size logo, jpg can work for them. More commonly, png with a transparent background is widely used among technology sites. From our perspective, png is best for T-shirt company as the logo automatically carries a white background.
Final Words
In a nutshell, DesignEvo is such a helpful online logo maker with the simplest interface. It has icons, texts, shapes for logo design. It's all-inclusive features make it a good logo maker for flat logo designs. We find it incomparable in the simplicity. It's joyful to play with it!