Hello Instagram lovers. Many of you have a habit of posting Instagram photos and videos daily. It's pretty common nowadays to take a selfie and post it on Instagram, Snapchat, Whatsapp, Facebook, etc. But sometimes you have faced problem to post a full photo on the Instagram post. Yes, Instagram crop our photo while posting and it's annoying. Our good part of the photo gets cropped and we can't do anything. No, There is a way to post a full photo on Instagram and Whatsapp without a crop. That's why we are here to provide you 5 Best No Crop Apps for Instagram and Whatsapp.
You don't have to worry about the shitty cropping of your lovely picture. The No Crop Apps will allow you to post a full picture on Instagram. If you search on iTunes or Playstore then you will find many no crop apps there. But few of them are good and effective. So, Here we will provide you the list of no crop apps or you can say the square photo editors to make your photo square without any cropping. Check square photo apps with their features and of course direct Playstore / iTunes links.
5 Best No Crop Apps for Instagram & Whatsapp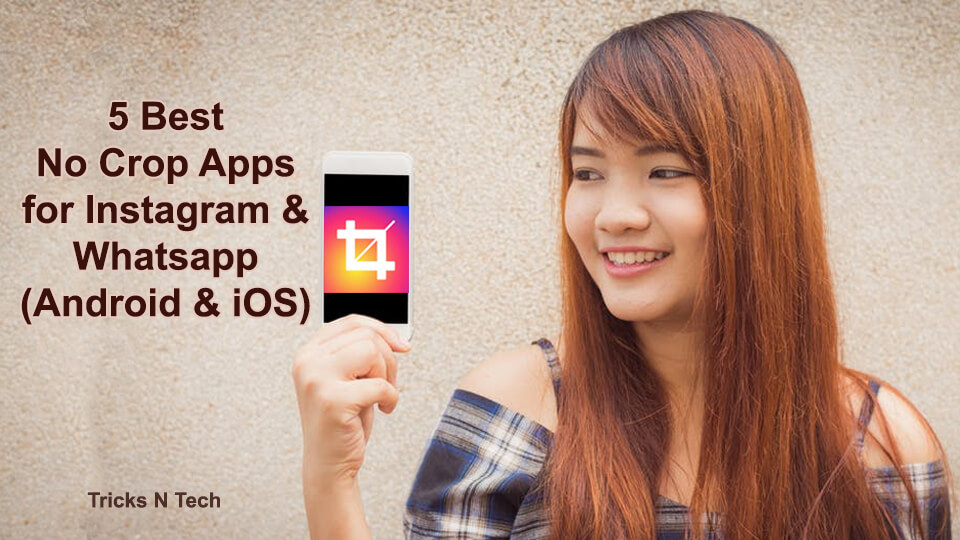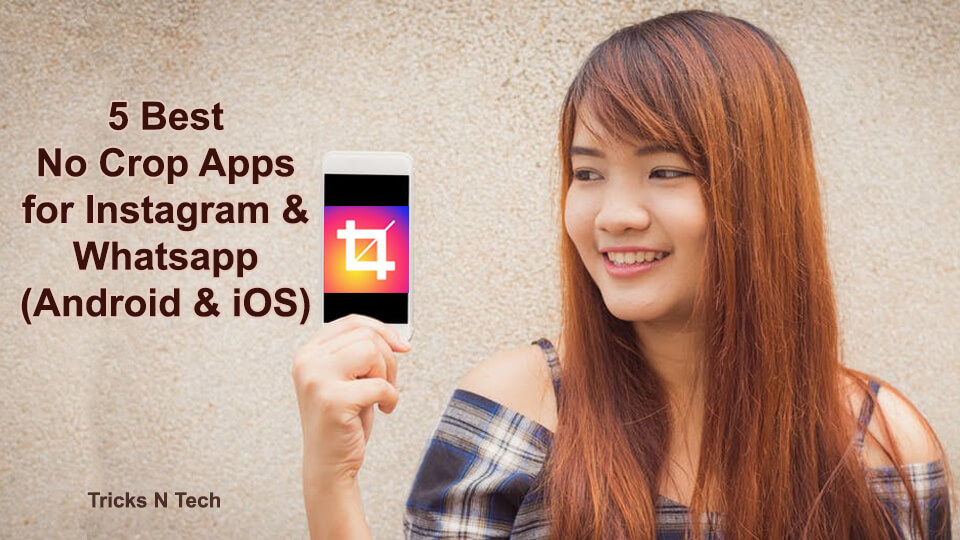 You can easily make a square image with these no crop apps given below.
No Crop & Square for Instagram


No Crop & Square for Instagram is the no.1 app for posting full sized pics on Instagram without cropping. The No Crop is a highly customized pics editing app with a user-friendly interface. Its special effects make your photo more special. Not only special effects but it has multiple filters, smiley emojis, 3D emoticons, Stylish fonts, etc to make your photo more amazing.
Features:
No Crop feature – Post full sized photos on Instagram & Whatsapp
Rotate, flip and resize photos
Choose over 200 free background patterns
Select other gallery photos as background
Add templates and make your own collage function
30+ filters to make your photos beautiful
More than 400 emoji stickers & free stickers to personalize your image
Add text with different fonts
Share photos to Instagram, Whatsapp, Facebook, Twitter, Google+ or anywhere else
InstaSize: Filters for Pictures Frames and Collage

InstaSize is a very good photo editor and collage maker packed with exclusive filters for pictures, picture frames, grid and text editor+. It offers easy to use interface that integrates a pic editor, collage maker, and text editor. This app has 200+ million downloads till now. The precise editing tools and photo collage will help you to create perfect images to share with your friends.
Features:
No Crop feature
Free and Premium next-generation photo effects created with AVA Technology
Easily make collages and layouts with your photos
Create and organize edits with your own photo grid
Capture a bigger picture with full screen camera
Resize pictures with borders to fit within Instagram and Facebook
Save pictures and collages at high resolution
Share your photos and collages on Instagram, Facebook, Snapchat and WhatsApp
Square Size – Collage Maker Photo Editor

Square Size is the best photo editor for posting full square size photo without cropping on Instagram. Here you can collage your photo with the SquareLite feature. They have 100+ designed layouts, emoji tags & smileys to make your photo more attractive. You can add snap text with blur background, pip effects, emoji and cool stickers.
Features:
No Crop feature (Square)
Blur, Solid, Pattern, Gradient background
100+ cute stickers to add instantly
Round Corner, Drag & Drop, Zoom In & Zoom Out and Rotate
20+ fantastic filters for no crop images
Adjust the Brightness, Contrast, Highlight, Shadow, Hue, Sharpen
Creative collage shadow 3d effects
One tap to share on Instagram, Facebook, Twitter, Whatsapp, etc.
Square InPic – Photo Editor & Collage Maker


Square InPic is very easy to use photo editor & collage maker. With Square InPic, you can make amazing high-quality photos and collage photo grids. Square InPic have many cool filters, backgrounds, texts, and emojis to add in the photos. You can add custom background images as borders to make your images more amazing & unique.
Features:
No Crop feature
Photo Grid maker
Add filters & text to your images
Blurred background
Emoji stickers
Contrast, Brightness, Saturation, etc adjustments
Simple & easy to use
PICFY: Photo Video Collages & Square Size Editor


PICFY is Square Size Editor & Photo Video Collage Maker. With the help of this app, you can create killer photos using an unlimited collection of Effects, Filters, Backgrounds, Fonts, etc. PICFY includes Photo Layouts, Selfie Camera, Photo Cropping, Ready Made Designs, Photo Frames, 9 Cut Photos For Instagram, Photo Mirror, etc.
Features:
No Crop feature
High-Quality Photo Effects Like Bright, Warmth, Black & White, Due Tone, Color, Retro, Vintage.
50+ Live Photo Effects for Selfie camera
More than 200 different layouts for Instagram Collage
Upload Full-Size Photo on Instagram Post, Whatsapp Story & Instagram Story
Fine Tune Your Photos with Brightness, Hue & Saturation
Adjust Highlight, Tint, Shadow, Sepia Tone & Warmth Effects
Lots of stickers to decorate the photos
Hashtag manager will suggest you best hashtags
Summing Up
So, These are 5 Best No Crop Apps for Instagram and Whatsapp. All these no crop applications are really good to make a square photo without cropping it. We have personally tried every photo editor app and after that, we are recommending you these cool no crop apps. So, Try these top no crop apps one by one and edit your photo like never before.
If you are using any other good no crop app then please let us know in the comment section. If this article helped you to make a square photo without crop to upload it on Instagram and Whatsapp then please share it with your friends.