Hello Peeps, Are you getting err_spdy_protocol_error when you are trying to visit sites like Gmail, YouTube, Facebook, Reddit, Wikipedia, Tumblr, etc? Stuck at the spdy protocol error in chrome? Want to solve this err spdy protocol error permanently? You are at the right place. Here, we will give you 100% working methods to solve err_spdy_protocol_error for the Chrome browser. "This webpage is not available ERR_SPDY_PROTOCOL_ERROR" you will get this message while opening some websites. It will look like the image given above.
What is "ERR_SPDY_PROTOCOL_ERROR"?
Before solving this error, We should understand why this error occurs. ERR_SPDY_PROTOCOL_ERROR is an error in the Chrome browser which can appear for some different reasons, both with and without the VPN. SPDY is the protocol of the Chrome browser which was designed to speed up the web pages and improve web security. But due to vulnerability issues, Google stopped supporting SPDY protocol. Sometimes this error happened with https websites too.
Some more reasons for "ERR_SPDY_PROTOCOL_ERROR"
Outdated Google Chrome Browser
Firewall Blocking
Antivirus Blocking
How To Fix err_spdy_protocol_error in Chrome
We have mentioned methods to solve spdy protocol error. Follow these methods to get rid of error "ERR_SPDY_PROTOCOL_ERROR".
1. Flush Socket Method
The problem will solve by this method mostly. Flushing the socket will solve the spdy protocol error instantly in most cases. So, You should try this method first.
Copy and paste this URL into the address bar – chrome://net-internals/#sockets and hit Enter. You will see the screen below.
Now, Click on the right arrow and from the dropdown, select 'Flush Sockets'.
Check the website in which you are having the problem to see its loading properly or not. If working properly then it's done otherwise try below methods.
Click on "Flush socket pools" and check the website is working now or not.
If the problem still persists then go for the other methods given below.
2. Restart The Browser
When you face this spdy protocol error, you should close your Chrome browser and start it again. It should fix ERR_SPDY_PROTOCOL_ERROR. It is pretty simple to fix but it is the quickest way to solve the error.
3. Update The Chrome Browser
As we said earlier, Chrome stopped supporting SPDY protocol. So, If you have an older version of Google Chrome then update it first. You can update your chrome from Menu -> Help -> About Google Chrome. There you can see that your Chrome is updated or not. If not updated then update it.
4. Try Incognito Mode of Chrome
If you are facing err_spdy_protocol_error for any particular websites like Facebook, Reddit, Tumblr, Quora, Twitter, etc. then you should try to visit that website in Chrome's Incognito mode. You can open Incognito mode from Menu -> New incognito window or shortcut key is Ctrl+Shift+N.
5. Flush DNS Method
Sometimes flushing DNS can solve the err_spdy_protocol_error easily. So, Try to flush DNS by following the below steps.
Open Command Prompt. You can open it from Run -> Type cmd and press Enter

or

Windows -> Type cmd and press Enter.
Command Prompt window will open now.
Type ipconfig/flushdns and press Enter.
Now try to open the website in which you are getting error. If the problem solved then it's cool otherwise try the below methods.
6. Renew IP Method
Renewing IP can help you to get rid of the err_spdy_protocol_error chrome. But here you may need to configure your Internet Connection because of renewing IP. Follow the below steps to Renew IP.
Open Command Prompt. You can open it from Run -> Type cmd and press Enter

or

Windows -> Type cmd and press Enter.
Command Prompt window will open now.
Type ipconfig/release and press Enter. It will release your IP.
Now type ipconfig/renew and press Enter. It will renew your IP.
Check for the error now. If your website is opening now then your problem is solved otherwise go for further methods.
7. Check Firewall & Antivirus Setting
There is a possibility of a firewall blocking some of the websites. Check the firewall is blocking your site or not. If you are using any antivirus then might be possible that your antivirus is blocking the website to visit. Here, You have to add those websites to the exclusion/exception field of your antivirus. Most probably Avast antivirus is blocking those websites. So, you have to add those websites in Web Shield exclusion of Avast Antivirus.
Fix – 1:
If you are getting an error for lots of websites with https enabled then you should disable HTTPS Scanning in Avast Web Shield -> Main Setting. Refer below image for the reference.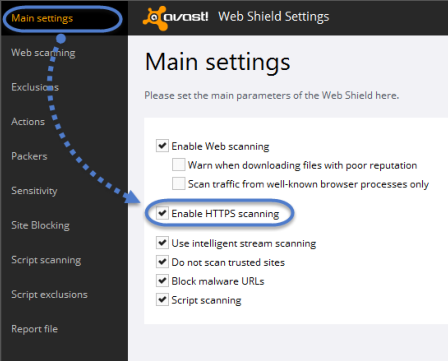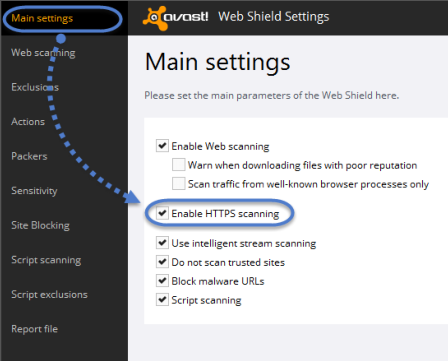 Fix – 2:
First, enable Avast Antivirus Protection and then Customize for Web Shield option. Go to Exclusion tab and add your blocking websites to the exclusion list. Now check those websites in Chrome after clearing the cache. In most cases, The websites are opening. If still not then move forward to the next method.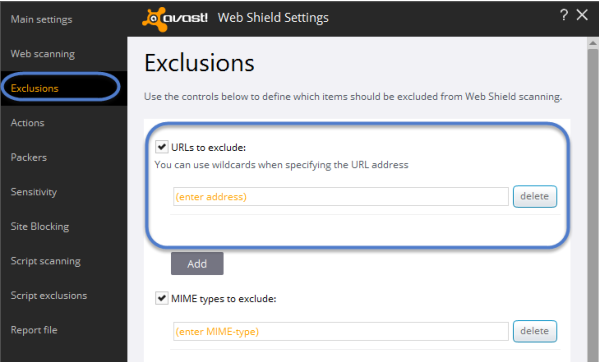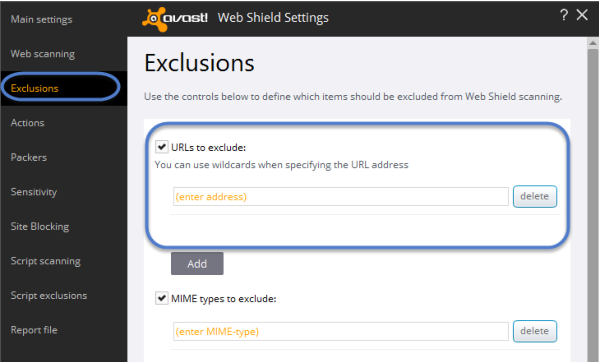 8. Chrome Cleanup Tool Method
The chrome cleanup tool will clean issues that are causing the problem and solve the problem. Download Chrome Cleanup Tool and run the utility to cleanup chrome for the extension. Check blocked websites now. It should open now. If not then move forward for another method.
9. Clear Cookies Of Chrome
In this method, We will clear some cookies of Chrome browser and then check with blocking websites. Follow below steps to clear the cookies from Chrome.
Go to Menu -> Settings.
Scroll down and you can see "Show Advanced Settings…" Click on it.
Under the Privacy section, click on "Clear browsing data…"
Now, Select the following: "Cookies and other site and plugin data" and "Cached images and files" & Deselect everything else.
Make sure that "Obliterate the following items from:" is set to "the beginning of time"
Click on "Clear browsing data".
You have cleared the cookies.
Now, Restart the Chrome browser & check the websites which are blocked due to err spdy protocol error. Your error should be solved now.
So, here we have mentioned different methods to solve err_spdy_protocol_error. We hope your error fixed by the methods given by us. If you have any other method to solve the spdy error then share it with us in the comment box.