Hey folks, you are probably reading this article because you could use a word of advice on something called Adobe GC invoker utility popularly seen as AGCInvokerUtility.exe. It is an executive file that sometimes proves to be irksome to the users. And, it may pose actual trouble in some cases. But if that is the case, then there are plenty of methods which you can use to deal with it.
But before you get all ready to fix it, there are a few basic things you need to know. Just a little about Adobe GC invoker utility and its nature. You might also want to know when it becomes troublesome. Later, we will be having a walk through getting rid of this utilizing multiple methods.
What is Adobe GC Invoker Utility?
To begin with, you might often see it as "AGCInvokerUtility.exe". The '.exe' part refers to the fact that the program is an executable file. It basically means that it is a file that is capable of being executed or run as a program on the computer.
Though there are many queries in the name of GC Invoker Utility, it really is called Adobe GC Invoker Utility. In reality, it is the process or file name. AGC Invoker Utility is the product or software itself and belongs to Adobe Systems Incorporated with its internal name being AGCInvokerUtility.exe.
You can easily see it working. All you have to do is open the Task Manager and go to Startup Processes. There you can see  'AGCInvokerUtility.exe' file. The file will be stored in the location C:\Program Files (x86)\Common Files\Adobe\AdobeGCClient by default.
Is Adobe GC Invoker Utility Harmful?
AGC Invoker Utility is not considered to be a Windows-based process. But you can just leave it alone unless something goes wrong with it. So what are the things that can go wrong with it?
Well, under normal circumstances, it will not harm your system. But things can get messy when some programs disguise them as Adobe GC Invoker Utility and import viruses into your system.
Do you need to disable it?
Under the above-mentioned case, your best bet is to disable AGC Invoker Utility. Other than this is quite better to let it be on Windows 11, 10, 8, and 7.
How to Disable Adobe GC Invoker Utility?
Method 1: Restart the computer in safe mode
This is the first thing you should try before doing anything else. You have to give restarting your computer in safe mode a shot before trying to disable it. Most people don't try this method but you really should. If it does not solve the problem at hand then go to the other methods.
Restarting in safe mode is done differently in different windows. Here's how it is done on Windows 10 and 11:
Click on the Start menu.
You need to view the power options, for that select the power button option.
Now click on the restart button while pressing down the SHIFT key.
You are now done with your reboot. Select the Troubleshoot icon and scroll to Startup Settings.
Now choose the Advanced option followed by the Restart option.
Choose the reboot option.
Choose the Enter Safe Mode with networking.
And that's it. If your problems have not been solved then proceed to the following methods.
Method 2: Uninstall AGCInvokerUtility.exe using Task Manager
By deleting the Adobe GC Invoker Utility from the Task Manager, you can easily avoid it from running at startup. Just follow the steps.
You need to open the Task Manager. Pressing Ctrl + Shift + Esc together will do the job.
Under the Processes tab, scroll down and go to Adobe GC Invoker Utility.
Now right-click on it.
Now choose the Disable option.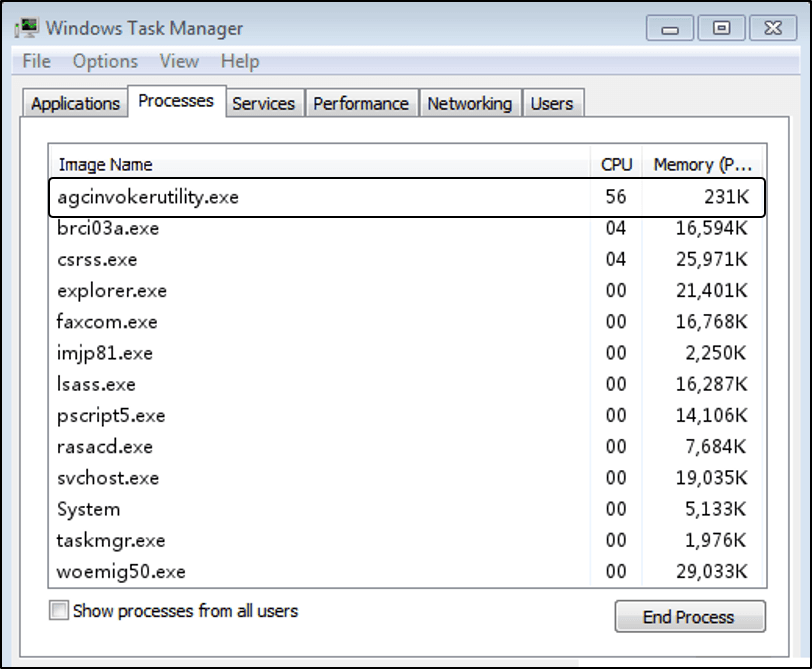 Method 3: Uninstall AGCInvokerUtility.exe using Control Panel
For Windows 10 users
Open the Start menu.
Go to Settings > Apps.
Click on the Apps & features option.
Now you can choose the program that you think is a threat. In this case, AGCInvokerUtility.exe
Now, click on it, and from the options that appear choose to Uninstall.
For Windows 8 users
Press Windows + C on your Windows 8 OS.
Choose the Settings Option.
Now select the Control Panel.
Now select the Uninstall a Program option.
Search for the program related to AGCInvokerUtility.exe and choose the Uninstall option.
Methods 4: Delete all files created by AGCInvokerUtility.exe from registry
Follow the steps below to delete the entire file collection from the registry.
Open the Run dialog box. Press "Windows + R" to open it.
Type regedit and click on OK. The registry will open.
Press CTRL+F.
Type in AGCInvokerUtility.exe to reveal the files.
Now proceed to delete all dangerous files.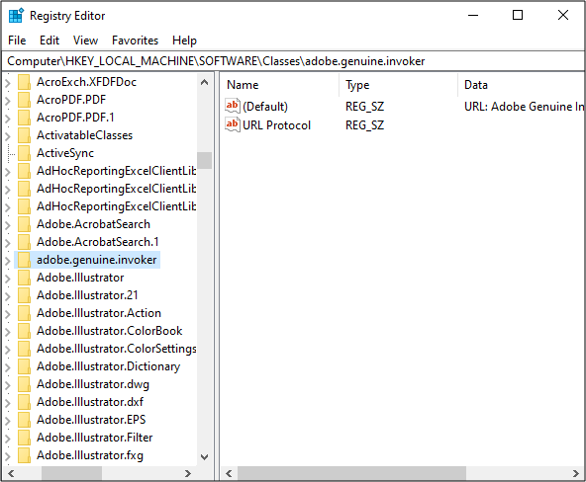 Wrapping up,
So, it was all about Adobe's invoker utility. Though it is not harmful to your system, there are some instances where it can lead to some trouble. This is due to the fact that some harmful programs use it as a disguise. Just follow the above-mentioned guides to remove it and let us know if you are facing any errors in between.